Issuance is approaching record levels
From a default perspective, CLOs have proved to be relatively low risk
New managers are entering the market
Issuers and buyers expect transparency on underlying loans
Exactly a decade after the collapse of Lehman Brothers, the collateralised loan obligation (CLO) market was breaking records. In 2018, nearly $130bn (€113.6bn) worth of CLO paper was issued in the US and €45bn in Europe, a sign that the crisis of confidence caused by the Great Financial Crisis was over.
Issuance slowed down slightly in 2019 and then came COVID-19, bringing fears of a long, painful default cycle. However, thanks to government and central bank support, default rates among US and European businesses were lower than forecast.
In fact, despite being a complex asset class, from a default perspective CLOs compare favourably with investment-grade credit and high-yield bonds, says Shakil Shah, responsible for credit and strategy for European structured products at Payden & Rygel.
This stands to reason, considering that the pooling and tranching of diversified underlying loans bought by CLOs are a means to spread and therefore minimise credit risk.
Even at the height of the financial crisis, the default rates of CLOs were relatively low, according to Shah. He says: "If you consider the structural protection they offer, CLOs are actually a very safe asset class. Even looking down the credit spectrum to the double B and single B space, defaults have been 1.9%, going all the way back to 1996. By the end of 2020, the cumulative 12-month default rate on the underlying loans reached around 4%, compared with 11% during the financial crisis."
This year, thanks to a fortunate combination of low interest rates, ample liquidity and a relentless search for yield by institutional investors, businesses have continued to issue loans in growing volumes, most often with the backing of private equity sponsors.
CLO managers have seized the opportunity, issuing a record $126.8bn worth of US CLOs in the year to the end of September, according to S&P Global. In Europe, issuance reached €34bn in the year so far, according to Payden & Rygel data. The total amount of CLOs outstanding is worth well over €1trn and overall issuance is approaching new highs for 2021.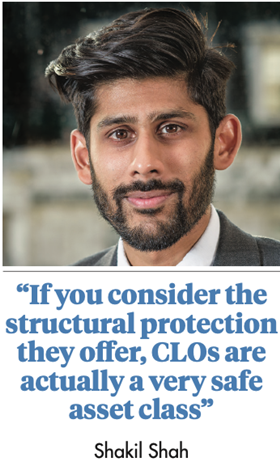 Industry veterans such as Japan's Norinchukin Bank, which at one point was the world's largest owner of CLOs tranches, and PIMCO, which last year issued its first CLO in a decade, are supporting the market in this phase of growth. But the appetite for CLO issuance is so strong that institutional managers are launching new CLO platforms.
Managers are taking advantage of diversification within the investor base. Shah says: "If you look back at 2017, 40% of the investor base in the triple A space consisted of banks. It is far more diversified today, with a fairly equal share between asset managers, banks and insurance companies, even in lower-rated tranches. That is a positive trend that can only hold CLOs in good stead in the future."
Credit specialist Muzinich & Co recently launched a CLO platform, hiring Brian Yorke, who has two decades of experience in the area, as global head of CLO management. The New York firm specialises in high yield and loans, and Torben Ronberg, head of syndicated loans, says: "Launching the CLO platform is a natural extension of what we already do. It makes a lot of sense at this juncture in the economic cycle."
Yorke says that Muzinich intends to become a "consistent and regular" issuer of CLOs, starting with two US-based deals next year, and turning to Europe and eventually Asia thereafter.
"In my whole career, and definitely in the last decade, I have not seen demand for CLO equity as robust as it is today. It is because of the convergence of low rates and really strong economic growth, as well as the fact that private equity firms are sitting on record levels of dry powder," says Yorke.
"The rising rate environment also drives demand for CLO debt, owing to their floating-rate nature. Thanks to low defaults and strong credit performance, CLO debt tranches compare extremely favourably to their corresponding corporates on a relative value basis and across the debt stack," Yorke adds.
The European market, in particular, has grown so quickly that the infrastructure supporting it is feeling the pressure, according to Deborah Cohen Malka, deputy portfolio manager at AlbaCore Capital.
AlbaCore, a credit-focused investment firm founded by a team of former Canada Pension Plan Investment Board (CPPIB) employees, invests opportunistically across the market and has launched three CLOs since it was founded in 2016.
Cohen Malka points out the leveraged loan market has grown so substantially over the past year that banks and agencies are not fully equipped to manage the flow of settlements, which means settlements take longer than CLO managers and buyers would expect.
"This affects distribution across the CLO structure. In our case, we have relied on our trading strategy and are making sure that the investor base is supporting us, by allowing a larger bond allocation within the CLO. That enables us to manage the longer settlement times," says Cohen Malka.
However, there is no suggestion that such rapid growth will dilute the attractive features of the asset class. CLOs will continue to remain attractive vis-à-vis other credit securities, according to Paolo Malaguti, CEO of Credit Vision, a provider of credit-focused portfolio analytics.
This is despite the tightening pricing of CLO tranches, particularly the higher-rated ones, driven by continued, robust demand.
Competition heats up
Competition for assets among credit managers is also growing, with direct lending managers luring borrowers away from broadly syndicated loan syndicates. As a result, differences in portfolio allocation strategies among CLO managers are becoming more apparent, says Malaguti.
"Because of the growing pool of available opportunities, issuers and buyers of CLOs are stepping up their efforts to analyse underlying portfolios in a granular way to accurately determine their risk-reward profile.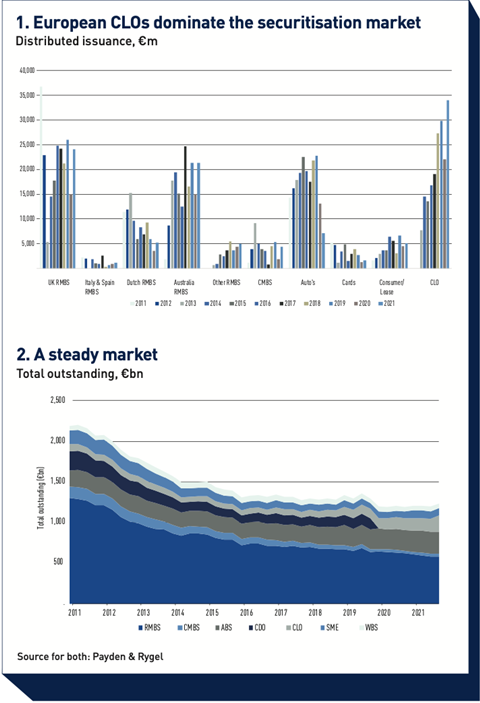 "For instance, CLO managers are keen to show that leverage in their underlying loans is lower than their peers but with similar yields. We see a lot of investment in portfolio analytics," Malaguti says.
Transparency on the underlying loans can prove harder to get than in the past because of the looser loan terms that lenders agree to.
"The maintenance covenants that were once used to regularly monitor leverage on the underlying loans are no longer there as borrowers are no longer required to provide that information. When present, maintenance covenants are often set at loose levels that make them almost meaningless for the purposes of assessing the credit quality of the underlying borrower," says Malaguti.
"That said, CLO managers tend to be very thorough in the way they select the underlying loans in terms of credit risk. It is difficult to foresee waves of defaults triggered by excessive leverage," he adds.
The differences in risk-reward profiles between CLO portfolios will be reflected in the pricing of the underlying loans on the secondary market, according to Malaguti.
Transparency is important, but getting to grips with a CLO manager's investment process is crucial, says Payden & Rygel's Shah.
He says: "We have visibility of the underlying loans. However, from our perspective, we're not necessarily looking to second guess what the CLO manager is doing and how they're managing their portfolio. We work with our credit team to understand loan and sector risks in the collateral pool, but it's more a case of us getting comfortable with their investment process, and really intimately understanding and knowing the managers and the analysts that are involved."
Inflation headache
AlbaCore's Cohen Malka believes CLO buyers are more concerned about inflation. She says: "We have been focusing on how inflation may affect our portfolio companies, reviewing their earnings, making sure they are protected by pass-through mechanism or cost savings initiatives.
"We have a conservative lending strategy and an active trading strategy, which means we can rotate our portfolios if we see pressure on margins or leverage."