The energy sector is the source of about three-quarters of greenhouse gas emissions at present and yet until only recently, the influential International Energy Agency (IEA), an inter-governmental group, had not produced a fully-fledged aligned pathway with the goal of limiting the rise in global temperatures to 1.5°C above pre-industrial levels.
The International Energy Agency has produced a full-blown pathway for the global energy sector to reach net-zero by 2050
In the scenario, no new oil and gas upstream projects are developed beyond those already committed as of 2021
That changed with the publication in May of what has been called a bombshell report – Net-Zero by 2050: A Roadmap for the global energy system.
The bombshell effect came from its pathway calling for an immediate end to investment in new oil and gas. By 2050, fossil fuels fall from almost four-fifths of total energy supply to slightly over one-fifth.
Another feature of its net-zero pathway is that most of the global reductions in carbon dioxide emissions between now and 2030 come from technologies readily available today. In contrast, in 2050 almost half come from technologies that are currently only at the demonstration or prototype phase.
It is also worth noting that in the scenario, dubbed NZE by the IEA, there would be a large increase in nuclear output, nearly doubling in 30 years. Gilles Moëc, group chief economist at AXA Investment Managers, pointed this out in light of discussions around the treatment of the nuclear industry in the EU's green framework.
"The IEA report will, in all likelihood, add its weight in the debate ahead of the final decisions on the taxonomy," he said in a note shortly after the report's publication.
Fatih Birol, IEA executive director, says that the pathway to net-zero by 2050 that the IEA has focussed on is, in its analysis, "the most technically feasible, cost-effective and socially acceptable".
He says: "Even so, that pathway remains narrow and extremely challenging, requiring all stakeholders – governments, businesses, investors and citizens – to take action this year and every year after so that the goal does not slip out of reach."
The IEA's 2050 net-zero scenario is but one 1.5°C-aligned scenario, and not a forecast. According to reports, the Organization of the Petroleum Exporting Countries (OPEC) has disputed it and some IEA member countries have pushed back.
However, it is important because many policymakers and companies use the IEA's scenarios for strategic planning. And campaign group ShareAction notes that, owing to their granularity, the IEA's scenarios form the basis of most efforts to benchmark companies on their plans to support the goals of the Paris Agreement.
Why investing in oil and gas companies can make sense
According to grassroots movement 350.org, asset owners representing nearly $14trn (€11.5trn) – 1,192 institutions and 58,000 individuals – have either begun, or are committed to, divestment from fossil fuels as of April 2021. That is up from roughly $50bn in global assets that had divested from fossil fuels as of 2014.
The International Energy Agency's (IEA's) new net-zero scenario may or may not be used to argue for fossil fuel divestment. Either way there are still reasons why some oil and gas companies are not necessarily intrinsically a bad investment, according to LGIM's Nick Stansbury.
One point he mentions is that, historically, industries that stop growing and start shrinking tend to be cash-generative. "This is doubly true of a sector which is already very cash-generative and a big dividend player through the lens of history," he says.
"And we need to stop and realise that the other side of the energy transition, the place where we need to invest lots of growth capital, is a place which is deeply capital-intensive and isn't going to be returning surplus cashflow to investors for a long time," he adds.
"Renewables, hydrogen, low-carbon technologies, these are things that will grow rapidly, which is not consistent, typically, with massive dividend payments, and therefore we need the money to come from somewhere."
But it does not have to be about becoming a cash engine. Stansbury says he has refined his thinking over the past year. He now considers that for a small number of the world's largest oil majors, reinventing themselves as providers of integrated energy "solutions" may be an interesting strategy from a shareholder-value perspective.
Asked if it can still make sense to invest in oil and gas companies, Randeep Somel, equities portfolio manager at M&G, says this depends on your time horizon.
"Longer term, there clearly needs to be a move away from oil and gas to renewable sources of energy," he says. "Carbon-emitting activities will remain in the crosshairs of regulators going forward and are likely to face restrictions and/or penalties on their activities, such as higher taxation.
"This will increase the business risk associated with these investments."
Shorter term there will be opportunities, as there are with any investments, Somel adds.
"Nearer term, natural gas will continue to play a vital role as a transition fuel, as we build out the infrastructure for renewables and transition away from coal and oil.
"Engaging with oil & gas companies is and will continue to be very important," he says.
Climate Action 100+ has already said that its investor networks would be working closely with signatory investors in evaluating what the roadmap and its milestones mean for engagement with companies and the initiative's net-zero company benchmark.
"The report is hugely significant," says Nick Stansbury, head of climate solutions at Legal & General Investment Management. "The IEA are probably the most respected energy forecasters in the world, and we should take this report very seriously."
He adds: "The changes that are laid out in the report would require a complete reinvention and rebuilding of the world's energy system. Very few, if any parts, of the global economy would not be impacted and this is also true of almost all parts of an investor's portfolio."
Mark Jeavons, head of climate change at Aon, tells IPE the IEA net-zero scenario "hammers home the sense of urgency needed to tackle the climate change problem – reaching net zero by 2050 is achievable, subject to considerable, accelerated, efforts."
Again, however, the NZE is just a scenario and not the only pathway to 1.5°C.
At Nuveen, the investment management arm of TIAA, global head of responsible investing Amy O'Brien says that while the asset manager welcomes the IEA NZE, it is also exploring other policy-driven net-zero scenarios. These include the forthcoming 2021 Forecast Policy Scenario from the Inevitable Policy Response project, commissioned by the Principles for Responsible Investment.
"As a strategic partner with Inevitable Policy Response, we believe there is value in understanding a variety of possible pathways to net zero, including those that reflect realistic climate policy assumptions in addition to those that use global temperature constraints," says O'Brien.
'Reality check'
Many observers critical of the IEA were pleasantly surprised by the scenario's attention-grabbing verdict on fossil fuel investment. However, they are less convinced by other assumptions, such as those relating to carbon capture and storage (CCS) and bioenergy.
The UN-convened Net-Zero Asset Owner Alliance (AOA) is in the process of taking a closer look at the IEA's assumptions. On a preliminary assessment they appear to diverge in some respects from academic modelling it supports.
"There are some areas where it looks like there is less consistency, and we still need to figure out why, and which assumptions the asset owners would find more plausible," says Remco Fischer, climate lead at UNEP FI and co-head of the secretariat for the AOA.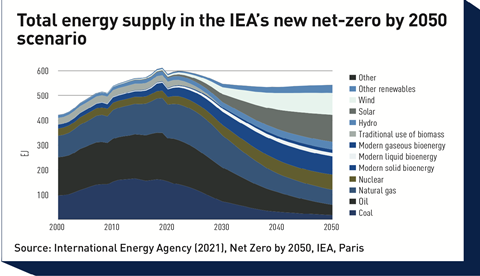 With respect to CCS, for example, there is less reliance on it, especially in the short term, in the University of Technology Sydney model used by the AOA, than in the IEA's scenario, he explains.
Fischer also says there are apparent differences in the role played by bioenergy. He speculates that this could have something to do with the IEA's scenario not being an integrated assessment model, so it does not address land use or transport.
Looking at the big picture, however, even if those divergences are corroborated, the IEA producing a credible pathway to net-zero emissions by 2050 is "massive support for everyone in the private and public sector pushing the net-zero agenda and wanting to achieve it," Fischer says.
Chris Kaminker, head of sustainable investment at Lombard Odier Investment Managers, says the roadmap provided by the IEA provides a clear insight into what may be expected of each industry and by when. It includes the critical oil and gas industries.
"Whereas in some industries, the transition to net zero will involve investments in energy efficiency and the circular economy, in other sectors – such as oil and gas – a more extensive transformation of business models is required. That transformation is a difficult one, but an essential one, and one that is still unfolding too slowly."
Investor engagement with companies has come to the fore in recent years. The IEA's new scenario is anticipated to have a big impact here. Just over a week after the net-zero roadmap was published by the IEA, a statement from more than 30 Climate Action 100+ signatories at the Total AGM asked the French major if it would be reviewing its investment strategy in light of the scenario.
At investor network Ceres, Andrew Logan, senior director of oil and gas, says the new IEA scenario will be "an interesting reality check for companies, but also for investors, and will put engagement in very stark terms".