New EU law incorporates extended taxonomy containing four new green objectives
Investment firms now need to consider water and marine resources; circular economy; non greenhouse-gas pollution and biodiversity
Various data concerns obstruct alignment preparation
Taxonomy requirement ambiguities could affect its integrity
Investment firms need to familiarise themselves with a range of new environmental issues to prepare for a European Union law aimed at consistent environmental disclosures that also support investment decisions on environmental sustainability.
By January 2023, sustainable use and protection of water and marine resources; transition to a circular economy; pollution prevention and control; and protection and restoration of biodiversity and ecosystems will all have to be examined before a fund can be labelled green. The set of rules complements existing EU policy on climate change mitigation and adaptation.
Thresholds and data surges
At the core of the legislation is the extended green taxonomy that underpins investment labelling on the environmental theme. This lists minimum thresholds (technical screening criteria or TSC) for the additional four environmental indicators, complementing the existing climate taxonomy. Around 100 economic activities are included in the draft list published by the European Commission's Platform on Sustainable Finance in August 2021, but more will follow.
Policy makers hope this will lead to a surge in new environmental data to help investment firms comply.
Isobel Edwards, investment analyst at NN Investment Partners covering green bonds, says: "When it gets to 2023 onwards, when everyone's disclosures are going to be made public, that's when interest will pick up more because everyone will know what everyone else's alignment is and that's when there will be more public pressure."
Investment firms will have to decide to which environmental objective a company is making a substantial contribution. In many cases, they take their cue from the bond or equity issuer. In the short term, this causes problems because the financial sector has to disclose first.
The investment firms must also show that the activity does no significant harm (DNSH) to any of the other objectives, and also meets minimum social safeguards on issues such as employment rights. Using that information, they can disclose alignment with the taxonomy.
The requirement is already causing problems for first movers preparing responses to the draft law. Some use their own methods to evaluate alignment alongside products from data providers. The task will increase as economic activities and environmental objectives are added. However, researchers are faced with inconsistencies from data companies; uncertainties that could affect the integrity of the green taxonomy; and deficient data from industries that make a critical difference to the environment.
Lennart Hermans, environmental research director at specialist asset manager Osmosis Investment Management, explains the process. "We assess every company in the fund, map where its revenues are coming from and which economic activities the company is involved in, and then apply [the criteria] and indicators or principles to those activities in the taxonomy to determine whether it is green." Hermans then calculates revenue percentages across companies to produce an overarching alignment figure for each fund. Osmosis tilts investment according to resource efficiency in carbon, water and waste.
But probing performance on different environmental objectives data has already revealed problems. For example, few doubt that wind farms or solar installations reduce carbon emissions, thus helping mitigate climate change. Investment firms therefore tend to overlook green performance in other areas, such as the circular economy transition. These objectives will become more prominent due to the taxonomy extension.
But the combination of evaluations of environmental objectives to make such judgements is complex, and the taxonomy's requirements are already ambiguous in places, says Hermans. The solar energy sector makes significant impacts through mineral extraction, which affects how the circular economy connected with the sector is evaluated. The taxonomy states that "the activity assesses availability of and, where feasible, uses equipment and components of high durability and recyclability and that are easy to dismantle and refurbish" in order to meet the criteria to do no serious harm in solar power generation.
Hermans considers this too vague. "On the second step of identifying whether the company does no significant harm it's much more open in terms of how you apply that principle to your analysis. It's possible to come to different conclusions. That's the main problem with this regulation – there are a lot of open-ended discussions," he says.
Different qualitative assessments of the manufacturing process might mean including companies in a portfolio whose activities could undermine the circular economy transition, says Hermans, suggesting they might not be green players after all. "Solar energy production is full of rare metals and elements coming from many places in the world… At the moment there is no alignment on how to do that," he says.
Companies manage materials and minerals through different, often undisclosed, methods. Consequently investment firms cannot make consistent evaluations for the company's effect on the circular economy, an objective relating to waste management. Criteria for the circular economy are often not met, says Edwards at NN IP. This creates dilemmas for those attempting to accurately assess the environmental performance of issuers.
In some activities, data is inadequate, according to Edwards, and may not change overnight. Forestry is one example. As carbon sinks, tree plantations make a substantial contribution to climate change mitigation. The forestry TSC for substantial contribution to climate change mitigation are rigorous but NN IP notes a limited issuer response.
"When we see bonds issued in forestry we get one line only saying they are certified… No forestry issuer is at the level required now. That will have to change if these companies issue green bonds," Edwards says. Hydropower and bioenergy installations also often fail on data provision, she notes, despite being required to meet less demanding criteria than some sectors. "A lot of the time it's not that it's hard [for certain industries] to meet the [screening criteria] but that the issuers are not providing us with that data."
Weaknesses in the environmental effectiveness of the taxonomy may also occur as a result of issuer decisions on substantial contribution. Water utilities and wastewater facilities may not have met climate change mitigation criteria due to the lack of recorded metrics. However, they can select another environmental objective instead.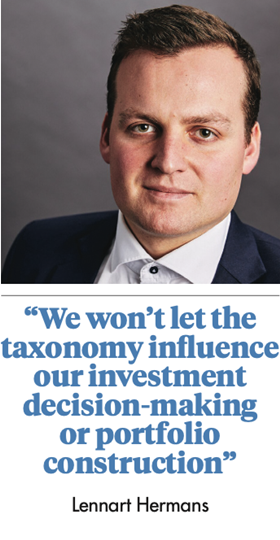 "We've engaged a lot with issuers [on climate change mitigation] that have water in their bonds… and there's not a whole lot of alignment at the moment, so with the water objective perhaps they are going to take a look at those criteria and see if they substantially contribute," says Edwards.
Most decisions on what constitutes a substantial contribution are predictable, though. Sovereign bonds are expected to opt for the biodiversity and climate change adaptation objectives because they tend to feature real estate and infrastructure more frequently. Manufacturers are expected to use pollution prevention and control, which relate to volatile organic compounds – for instance, chemicals with harmful effects if not well managed,
Analysts are also faced with discrepancies in EU taxonomy databases marketed by data providers, which can provide different assessments of an issuer's revenue despite using an identical revenue report.
Some of these problems will resolve over time as laggards become more easily detectable. "By 2023 it will become clearer which companies were lacking data and which were doing too much of an unaligned activity," says Edwards.
Nonetheless, few managers admit to any great revelations from their experience thus far of aligning with the taxonomy on climate change although they commonly acknowledge the long-term usefulness of the disclosure and selection tool. Laurence Caron Habib, head of public affairs at BNP Paribas Asset Management, is among the sceptics. "I personally do not think this will drastically change the way we are going to invest," she says.
Hermans agrees: "We won't let the taxonomy influence our investment decision-making or portfolio construction. We will be using it post construction to analyse our funds and then disclose as necessary to comply with regulation."