Private equity may have a reputation for buying cheap, levering up and selling high. But with a record $30bn (€25bn) sitting in European growth vehicles, true business growth is expected to play a greater role in coming years.
Economic conditions are creating tailwinds for PE funds focused on revenue growth
Fundraising for growth-type deals has been strong
PE managers emphasise that margin expansion and revenue growth are not mutually exclusive
Value-style investing – acquiring a company at an attractive valuation and improving margin – is getting harder, say private equity managers and investors. Factors include high competition for deals, challenges posed by the pandemic and concerns that higher inflation will have an impact on businesses.
Hamilton Lane, the US investment manager with about $88bn in discretionary assets under management, is among those shifting its attentions to revenue growth.
The low-interest-rate environment, coupled with expectations surrounding continued strong fiscal stimulus, "creates a strong tailwind for growth", says Brian Gildea, head of investments at Hamilton Lane. "I would say that also makes it harder to think about a world where margin expansion is likely to be the big driver of returns in the coming years."
With that backdrop in mind, Dan Aylott, a managing director at Cambridge Associates says: "We don't know what the impact will be on inflation and interest rates and all that could impact valuations. It would be imperative for [firms] to seek companies that still have growth attributes and tailwinds behind them."
According to Paul Newsome, head of investment solutions for private equity at Geneva-based Unigestion, "investors need to focus on resilient companies which are able to survive all environments. If you're just focusing on companies where the upside comes only from trimming the fat and increasing margins, it may be short-sighted," he says.
Increased firepower
Investors appear eager to tap the higher returns associated with growth deals. Dry powder for Europe-focused growth private equity funds is at a record high, according to Preqin, which partly defines growth as minority positions in companies with significant scope for growth.
As of May 2021, there was $30.2bn of committed but uncalled capital, up from $28.8bn in December and just $11bn in December 2016 (figure 1). Meanwhile, the average size of a Europe-focused growth fund almost tripled to about $280m last year, from $95m in 2015.
A total of 10 funds raised an aggregate $4.26bn for Europe-focused growth strategies between January and May this year (figure 2). Providence Equity's $1.5bn IT-focused vehicle was the biggest fundraising; its final close was in February.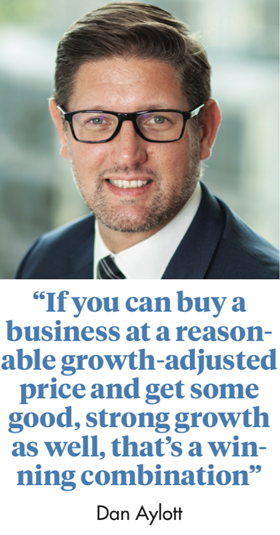 Tikehau Capital had raised the second-largest fund, a $1.2bn energy and utilities vehicle that held a final close the same month, while venture firm Forbion ranked third with a $433m healthcare fund that closed in April. Forbion said in a statement that month that the fund had well exceeded its €250m target to close on its hard cap.
Shift to revenue growth
Hamilton Lane said in a private markets overview earlier this year that growth-oriented strategies – which it defined as paying higher prices and increasing revenue – would be its focus in the coming cycle. Its global database, spanning $13trn in fund commitments and 10,000 private equity fund managers, shows a clear shift in the source of value creation among its best-performing deals.
Growth-oriented deals have increasingly focused on increasing revenue in a relatively low-growth environment since the global financial crisis, while value-oriented deals have turned from finding new revenue sources to improving margin.
It says revenue growth accounted for 98% of the value in the 10% best-performing realised growth-oriented deals between 2010 and 2019, up from 73% between 2000 and 2009.
Meanwhile, revenue growth accounted for just 47% of the value creation from value-oriented deals between 2010 and 2019, down from 98% in the previous period.
But margin improvement as a standalone strategy leaves little room for manoeuvre in a market facing higher inflation – and potentially rising interest rates.
"The last 12 months has really demonstrated the power of investing in certain sectors which grow come what may. If you look at the drivers of our performance it has mainly been organic growth" - Paul Newsome
"If the top line is being challenged it's a lot more difficult to keep reducing what you've got control over, which is generally the fixed costs," says Corinne Philipps, head of UK private equity at growth specialist Tikehau Capital. "The mix between variable and fixed costs will get you to a point where it's difficult to improve margins at all."
Gildea at Hamilton Lane says: "Our view is that investors should consider incorporating growth managers or growth competencies into their private markets portfolio in a bigger way than before. This means adding new managers or understanding what your existing managers are doing to make sure you're picking up that exposure in your buyout managers."
Newsome at Unigestion adds: "The last 12 months has really demonstrated the power of investing in certain sectors which grow, come what may. If you look at the drivers of our performance, it has mainly been organic growth. It has been less about operational improvements, and certainly not leveraging companies to the hilt."
One software company that Unigestion invested in late last year has grown revenues by about 50% in the past 12 months, according to Newsome. It has also improved its margins, leading to an improvement in valuation of about two times since Unigestion's investment.
"Investors should consider incorporating growth managers or growth competencies into their private markets portfolio in a bigger way than before" - Brian Gildea
The returns shift
Growth – often but not exclusively considered a characteristic of venture and early-stage investment – is known for its relatively high returns.
Hamilton Lane's data set, which spans all deal sizes, indicates that growth-oriented deals between 2010 and 2019 generated a 6.1 times multiple of total value to paid-in capital on average, down from 11.8 times between 2000 and 2009.
Meanwhile, value-oriented deals returned 7.4 times between 2010 and 2019, compared with 7.6 times in the previous period. However, its report estimates this was down to "the growing number of value managers trying to do growth – and not doing growth well".
Preqin says 2018-vintage Europe-focused growth funds generated a median net internal rate of return (IRR) – an annualised measure of performance – of 24%, compared with the 20.18% generated by buyout funds of the same vintage (figure 3).
Cambridge Associates' data shows the higher a company's revenue growth, the higher the percentage of outsized returns achieved at exit. "The most stark stat is that for companies where revenue was growing at more than 20%, 70% [of those companies' returns] were above two times," says Aylott.
However, looking further back at the Preqin data, the returns figures show a shift in performance that supports Hamilton Lane's investment hypothesis.
Growth funds outperformed buyout vehicles in 2014 to 2017 vintages. But buyout funds generated the higher returns for 2010 to 2013 vintages – post global financial crisis, when more firms were likely to have picked up deals at more attractive enterprise values.
Margin and multiple
Market participants remain open to incorporating margin improvement into their growth strategies. "We have a number of examples where we have invested at attractive valuations and improved margins as well as improving top line," says Tikehau's Philipps.
Tikehau's portfolio company Addev Materials, a French business with international operations, is an example of the dual impact of margin and multiple. Tikehau invested in Addev in April 2019 at an eight-times multiple with a margin at the time of 8%. Two years on, the firm has effected a change in its business model from distribution to more product ownership, and backed bolt-on acquisitions, leading to top-line growth of almost 50% and an almost 12% margin, according to Philipps.
"Our approach is not just improving margin on a like-for-like basis – saving costs [and so on]." she says. "It's improving margin through effectively repositioning the company with a more attractive business model that we tend to like because then the effect is double. Higher-margin business and greater recurring, higher-quality EBITDA [earnings before interest, tax, depreciation, and amortisation], which results in a higher exit multiple."
Aylott adds: "If you can buy a business at a reasonable growth-adjusted price and get some good, strong growth as well, that's a winning combination. Strategies where you're going to have a good chance of achieving that growth are through buy-and-build or growing organically in your home market and internationally."
Newsome does not see an end to leverage-driven strategies. He says: "I wouldn't go as far as to say it's all about growth. Firstly, especially with upper-mid and large-cap companies, you still get investors who use leverage to drive their returns. Leverage is still very cheap and very available. I don't think that will go away any time soon.
"Secondly, in Europe there is still the opportunity to improve these smaller companies. At the small end of the market, many of the opportunities are still buying from family-owned businesses, which are single-country-focused, [with a] concentrated customer base, and you can make simple improvements to these companies through professionalising them."