Institutional investors have piled into insurance-linked securities (ILS) with the goal of adding reliable returns and a touch of diversification to their investment strategies.
● A series of natural catastrophes has made investors more aware of the risks embodied in insurance-linked securities
● ILS have proven less liquid than expected in the wake of these disasters
● Catastrophe bonds are the most traditional and most liquid ILS instrument
A series of natural catastrophes that hit the world in the past three years has taught them that they have incorporated the potential for large losses into their portfolios.
A relatively young asset class, ILS investments have been put to test since the summer of 2017, as a destructive series of hurricanes, earthquakes, floods and wildfires shot insurance losses through the roof. They also affected investments that, to some extent, constitute a bet that catastrophic events will not happen, or at least will not be too severe in terms of property destruction.
This bet went spectacularly wrong in 2017, when insured losses caused by natural catastrophes reached $145bn, the highest nominal value ever recorded by Swiss Re. The following year, the figure was $84bn, still higher than the average, before dropping to $52bn in 2019. Some pension funds have reportedly withdrawn capital from ILS investments as a result. The run for liquidity triggered by the early stages of the COVID-19 pandemic has exacerbated that movement.
But the withdrawal of liquidity have often proved difficult. In another surprise for many investors, ILS investments have proven to be less liquid than they expected. They have realised that investments can become trapped in loss reserves that will not be released until the full extent of the losses covered by an ILS placement is assessed by the insurance market – which, in some cases, can take a while.
However, recent indications suggest that ILS is strong again. The factors behind the recovery are the same that have unnerved inexperienced investors in the past three years.
"Given the level of insured losses in 2017 and 2018, I think it's fair to say that ILS has performed broadly in line with what you would expect over that past two to three years " says Vegard Nilsen, the CEO of London-based Securis Investments. He adds that "2017 and 2018 was, to ILS, the equivalent of 2008 for global financial markets. With significant nat cat [natural catastrophe] losses, one should expect the asset class to suffer."
And suffer they did, with losses registered by ILS-focused funds reaching double digits as the nat cat losses piled up. But the same catastrophic events that generated those losses have fuelled a downturn on the property and casualty insurance market rates that underlie ILS vehicles.
According to broker Marsh, global insurance rates rose by 10.4% in 2019 and 17.7% in the first half of 2020. It is a reversal of a more than decade-long trend when insurance prices fell, which also affected the returns delivered by ILS investments.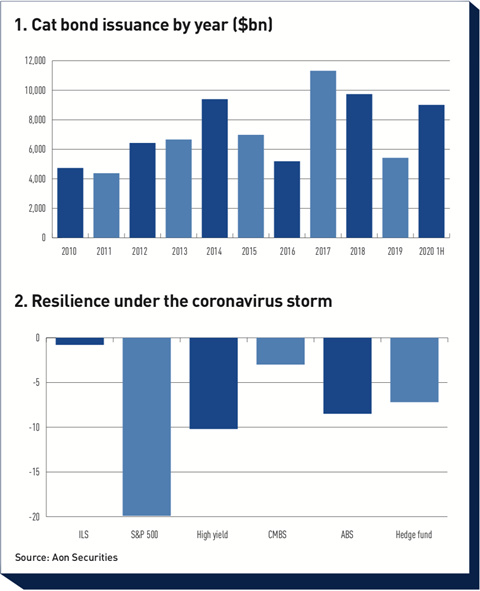 In this environment, Securis expects ILS to perform well in 2020, a view shared by other fund managers and investors. "Market hardening is looking likely in 2021 across the entire P&C universe " says Herbie Lloyd, CIO of non-life at Securis Investments.
"For many ILS-relevant classes, this will be the third consecutive year of price improvements. In some areas of the market, dislocation is expected, which typically brings innovation as market participants explore different ways to transfer risk. This innovation could set the scene for ILS growth."
"For many ILS-relevant classes, this will be the third consecutive year of price improvements" - Herbie Lloyd
In fact, numbers by Aon show that ILS is in line to have a strong year, in terms of new issuances, despite a COVID-inspired interruption of deals in March. By the end of June, there were $9bn in issuances of cat bonds, the most popular ILS vehicle. It was already a higher number than in the whole of 2019.
"The catastrophe-bond market, which works almost exclusively on a 'named-perils' basis, has been quite robust this year and continued to trade through the peak of the pandemic in late March " says Shiv Kumar, president of GC Securities. "This demonstrates that investors' appetite for reinsurance assets remains healthy."
Cat bonds are the most traditional and most liquid ILS instrument, with a solid secondary market. But the ILS market has become ever more diversified, with underwriters placing risk portfolios directly into the hands of investors via instruments like sidecars, collateralised reinsurance and industry loss warranties.
Private placements often offer higher rates of return. However, the past three years have stressed how they can trap capital in loss reserves to account for the development of losses linked to the insured risk.
According to Standard & Poor's, $20bn of capital linked to such vehicles cannot be assessed by investors. There is still uncertainty about whether they will have to be used to pay for losses caused by past catastrophes. Market players say that this is one of the main reasons why several investors have left the asset class in the past couple of years. However, some attribute the disappointment to a misunderstanding about the role of ILS in a portfolio.
"The risk of trapped collateral is inherent in ILS. In my opinion, the main problem has been that the risk of collateral trapping has not been correctly priced and many investors have faced unpleasant surprises from their managers " says Dan Bergman, the head of ILS and timberland investments at AP3, one of Sweden's national pension funds. "If you want to invest in pockets of ILS such as traditional sidecars with significant collateral trapping risk, I think the key is to price for that, if the market allows you, otherwise you have to step back."
Also, advisers say that investors must keep their sights fixed on the long term. This view can be hard for them to fathom, as ILS vehicles are usually one-year plays. The non-life insurance contracts that underlie ILS structures are renewed every year . This means that private placements of risk have a similar duration. Many investors therefore expect to get their money back, plus interest, at the end of the year period. If a loss takes place, however, the timing can be disrupted.
To avoid this kind of problem, Lorenzo Volpi, managing partner at Leadenhall Capital Partners, says investors must build their ILS allocations over time. If they want to have an 8% exposure to the asset class, for example, they should start with something like 4%, and then increase the share gradually. It reduces the risk that a big natural catastrophe event will drain the whole allocation or trap it into reserves. Volpi estimates that private risk placements amount to some $500bn-600bn, while outstanding cat bonds reach about $30bn.
In a low-interest-rate environment that looks set for the foreseeable future, interest for ILS looks set to be strong, despite the thrills of the past couple of years. Many will be attracted by the resilience of the asset class in times of crisis. According to broker Aon, ILS vehicles delivered returns of -0.8% between February and April, the worst of the COVID-19 crisis. In the same period, the S&P 500 dropped by almost 20%.
"The asset class has been tested in the past two or three years and should emerge stronger than before " says Stephan Ruoff, the head of Schroders Secquaero.
The experience of some investors in this area could also help to make this case. AP3, for example, has been active in the segment since 2007, and today has a target of 2% ILS allocation. Bergman says that it has a long-term horizon, in the knowledge that it will deliver good returns in most years, even if there is a risk of significant losses in others.
"On balance, we expect the good years to more than compensate us for the bad ones, resulting in strong risk-adjusted returns over time " he says. "This strategy looked good on the drawing board in 2007 and it has delivered well above expectation, at 7.4% per year on average, with positive returns every year from 2008 through 2019."
"The recent years' loss activity has reinforced our view that our selective and direct investment strategy investing relatively high up in the reinsurance towers can deliver the risk adjusted returns we seek " Bergman says. "We are looking into different possibilities of using our AAA-rated $40bn balance sheet to create more efficient direct structures together with one or two strategic partners."
Briefing - ILS: resilience despite the thrills
1

Currently reading

Briefing - ILS: resilience despite the thrills

2