In today's low-interest-rate and low-return environment, investing in private markets has become a requirement for virtually every institutional investor. Private markets are where investors can obtain the extra returns they need and can no longer earn from listed assets, thanks to the liquidity premium and higher risk/return profile of non-listed assets.
High demand for private market funds means investors have little leverage over fees
Successful private equity funds are still charging traditional two-and-20 fee structures
The debate over fee structures and fee levels is ongoing
Transparency over fee terms and other elements has improved
But the cost of investing in private markets remains extremely high. Naturally, the greater governance resources needed to oversee a private market portfolio come at a cost. But the fees charged by managers are often so high that many investors are unable to maintain their allocation at an optimal level.
In the listed universe, pressure from investors has compelled active managers to reduce fees. This is mainly because of two factors. First, there is the growing popularity of passive or 'smart beta' strategies. These often present a valid and cheaper alternative to traditional active management.
Second, there is a healthy debate over cost transparency. Over the past decade or so, investors have become more aware of the various layers of costs charged to them, including transaction costs. Managers have responded by offering greater efficiencies.
In the non-listed universe, however, fee levels are consistently high. Jared Bochner, senior associate, research insights at data provider Preqin, says: "There are no material signs of fee pressure across private capital funds yet and we do not expect fees to move significantly lower until the industry is more mature, and most investors are fully allocated."
"Investors can reduce the overall fee burden by adopting co-investment strategies but, realistically, those are accessible only by the larger investors"

Trevor Castledine
This does not mean investors are content with the level of fees they pay, or that there is no debate on the issue. In fact, it is over a decade since consultancy Willis Towers Watson published a document titled 'A fairer deal on fees'. This analysed fee structures in private market funds. It concluded that, among other things, "fees are too high for the value they currently represent, particularly if we are moving to an environment in which market returns are lower."
The paper, first published in 2008, focuses on the share of the outperformance that managers keep for themselves. It showed that investors at the time would often give up well over half of it.
"The industry needs to act now to get fees back into line, and the first step is for investors to understand what proportion of alpha their managers are taking in fees, even if they are doing a good job," concluded the authors.
The document offered several possible solutions to the issue. These included setting high hurdle rates and calculating performance fees over periods longer than one year. It also made sure ad-valorem fees charged on a fund's asset under management reflected the costs and capacity of a strategy.
The reason why a debate that started over a decade ago has apparently not borne fruit in terms of a generalised reduction in fee levels is perhaps self-evident. Preqin's Bochner says: "For now, general partners [GPs] still have pricing power, as there is still significant demand relative to how many funds are available, particularly among top-performing managers, in a favourable exit environment as we have seen in the past few years."
"There is certainly always a healthy debate on fees. However, investors are usually eager to deploy capital with top-performing managers, a competitive process which limits their negotiating power," he says.
PE holds firm
Trevor Castledine, senior director at Bfinance within the company's private markets team, says that there has been some moderation of fee levels. However, this is mainly in private credit and infrastructure, where fee levels were lower from the start. Unsurprisingly, it is in the asset class that provides the highest return expectations that managers have resisted the pressure on fees.
"While there is great dispersion in terms of returns between private equity managers, there is a belief that investors can get their money back. If a private equity firm can credibly claim to be at the top of the pile, they will just maintain their pricing where it is. Investors can reduce the overall fee burden by adopting co-investment strategies but, realistically, those are accessible only by the larger investors," says Castledine.
"There are nuances to the narrative that investors are happy with fee levels across private market funds. There is a passionate debate about the fairness of performance fees in certain asset classes, such as real estate debt. Investors and managers also debate whether fee structures and fee levels in private equity are fair, particularly considering the profits that accrue to managers. But ultimately, investors understandably feel that they have to pay the fees, or risk forgoing the returns on offer," he says.
Indeed, instances of unconvinced investors are not hard to come by, according to the results of a Preqin survey carried out in June. Among the limited partners (LPs) that responded to the survey, 57% have occasionally decided not to invest in a fund because of the proposed terms and conditions. Some 24% frequently decide not to invest in a fund for the same reason.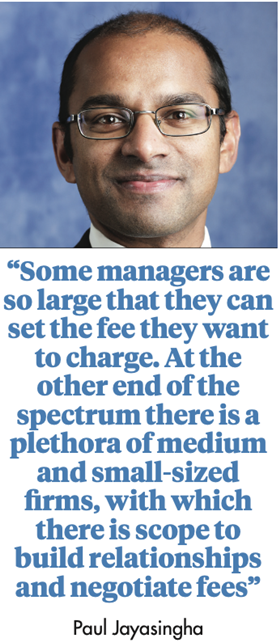 Paul Jayasingha, global head of real assets manager research at Willis Towers Watson, argues that the market's structure has evolved in a way that allows certain managers to dictate fee terms.
He says: "The real assets industry has become incredibly bifurcated in recent years. Some managers are so large that they can set the fee they want to charge. At the other end of the spectrum there is a plethora of medium and small-sized firms, with which there is scope to build relationships and negotiate fees. Part of our job is to use the collective scale of our clients to get the best deals from managers."
However, according to Jayasingha, there are pockets of the real assets industry where fee levels may indeed have been reduced as a result of shifting investor preferences.
"Over the past 10 years, the average real estate fee has come down because investors have moved down the risk/return spectrum. Investors have shifted towards secure income, low-risk strategies where fee levels are lower because they are commensurate with the lower level of risk", he says.
In the private equity market, the situation is similar, but perhaps less favourable for investors, says Andrew Brown, Willis Towers Watson's head of private equity manager research.
Brown says: "Most managers offer the same fee structure as they did two decades ago, consisting of 2% of assets under management and 20% of profits. Thankfully, we have started to see some differentiation, which is long overdue. However, the supply-and-demand dynamics meant that for every $2 raised in the asset class, $1 flows to the funds that are $5bn or larger in size, and there are not many of those funds.
"In some cases, those larger funds can actually raise fees by doing away with preferred returns. At times, items that were once considered part of the management fee, are now quoted as funded expense, which means that the cost for limited partners goes up."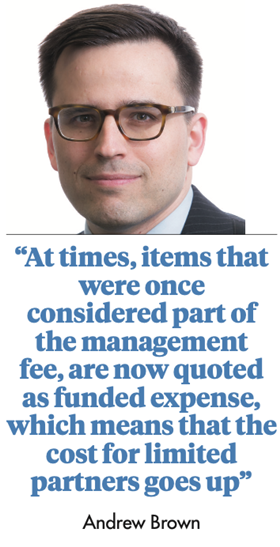 Brown notes that the firm has succeeded in negotiating fees down with smaller managers. "There has been some differentiation in terms of fee structures, but that is from a base where there was zero differentiation," he says.
At the same time, transparency in private equity has improved significantly over the years, says Brown, which undoubtedly benefits investors. "Both in the early stages of negotiating a private equity investment, and through the final audit processes, we are able to discuss all the expenses incurred by managers," he says.
Jayasingha adds: "Transparency, and not just about fees, is the first step in every relationship with the managers we work with."
Preqin's June survey of institutional investors offers some perspective. It found that 34% of respondents say that they have seen a change in transparency at the fund level in the past year.
However, the survey also found that 54% of investors believe that alignment between GPs and LPs can be improved in terms of transparency at the fund level. The same goes for other categories relating to fees and charges, including hurdle rate, management fees and performance fees. In these areas 40%, 49% and 36% of investors, respectively, say that alignment between GPs and LPs can be improved.
A key reason why managers are able to maintain high fee levels is the absence of a proxy for private market beta. Investors have no choice but to choose the managers that they believe will outperform.
Ideally, investors should be able to select and buy, at a reasonable price, a portfolio of funds that can deliver a return that is close to the market's overall risk/return level. In that case, they would gain leverage to reduce fees. That is one of Willis Towers Watson's ongoing projects, says Brown: "We are meeting with managers to find out whether there is an off-the-shelf product that can achieve what we believe would benefit investors."