The next awaited US stimulus programme remains a mystery. Congress must agree on funding specifics, but the final composition of the Senate will be unknown until this month. Republicans and Democrats have been battling over spending priorities since COVID-19 struck last spring, with competing priorities.
The 2020 emergency stimulus worked relatively well
This year's stimulus, if it happens, is likely to be temporary and income-supportive
Political gridlock could mean no new stimulus at all
Conflicting approaches date back over a decade, even among fellow democrats. President Barack Obama's chief of staff Rahm Emmanuel advised in 2008, "never let a serous crisis go to waste". He meant legislation should ideally be packed with a medley of spending ambitions. That same year, Treasury secretary Lawrence Summers, by contrast, insisted that stimulus should be "timely, targeted and temporary".
When those theories played out in February 2009, Congress ultimately passed a $787bn programme, with many spending authorisations and long spend-out rates. It turned out to be inefficient and kindled deficit concerns well before the economy had recovered.
Last March's stimulus, known as the CARES Act, was signed into law after bipartisan negotiations. The $2trn bill provided one-time $1,200 cash payments to individuals, increased unemployment benefits, and established the Paycheck Protection Program (PPP) designed to funnel forgivable loans to businesses. State and local governments also received $339.8bn.
"There were hitches with the execution and getting the money out, but the concept worked well," says Michael Kosnitzky, partner and co-leader of the private wealth practice at Pillsbury Winthrop Shaw Pittman. "It was a well-thought-out process and the mechanics were correct," he says. "Otherwise we would have had massive unemployment and people in the streets."
Size, shape and timing
A further stimulus in 2021 is likely to be more temporary and income-supportive. "That's good news," says Vincent Reinhart, chief economist at Mellon Bank. "If Congress had the time and luxury to write legislation with all they want, it would be less effective."
The right mix is key. The longer it takes for money to flow, the longer businesses will remain shuttered, and those relying on leverage will struggle in particular. Slower growth would mean a longer time to recover output levels from early 2020. The US has, indeed, been rebuilding, but most forecasts of actual recovery to 2019 GDP levels point to the end of 2023.
More stimulus money would hopefully bolster consumer confidence levels directly, forestalling a wave of bankruptcies and a dreaded economic double dip. While its form is unlikely to be known until 2021, Richard Saperstein, chief investment officer at HighTower Treasury Partners, expects a "modest" $1trn package with no material tax increases. Saperstein foresees a further round of PPP loans, an extension of unemployment benefits, state, local and COVID-related aid.
Yet the US is reaching a critical juncture with several significant programmes that were set to expire at the end of 2020. A national eviction moratorium on landlords finished in December, along with student-loan forbearance. Most notably, unemployment benefits ended, prompting a base case for a stopgap extension for a few months via an omnibus bill designed as a catch-all for several measures.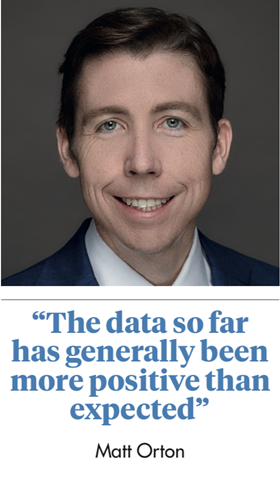 Timing will affect the magnitude of a 2021 package. "The longer you wait to pass a bill, the more data will roll in, and the data so far has generally been more positive than expected," says Matt Orton, director and portfolio specialist at Carillon Tower Advisers. Those results could create challenges to passing the larger bill Democrats advocate. And the longer the wait, the better the chances of COVID-19 vaccines being deployed. Efficacious vaccination results may dilute the arguments for a larger package.
In the less likely event of no stimulus at all – which could ensue from prolonged negotiations and political gridlock – what would happen? "Consumer confidence would be further dented, with people more hesitant to open their wallets," says Orton.
Political calculus
Expectations for improved economic data rely on several elements of downside momentum, such as lower rates of unemployment and fewer benefit claims. Politicians, of course, are less focused on such second-order derivatives, preferring to look at headline numbers.
All eyes are fixed on Georgia's pivotal Senate elections. Under that state's law, if no candidate receives over 50% of the vote, the top two contenders must compete in a subsequent poll. On 5 January two runoffs will determine which party controls the Senate. In any case, Republicans already gained seats in the House of Representatives in November. "With a narrower majority at the margin, how many moderate members can Democrats afford to lose?" asks Jon Adams, senior investment strategist at BMO Asset Management.
Whatever the election outcome, "Biden is a long-term DC insider who knows he must compromise to get something done," Saperstein says.
The details of what most matters to him and Republican Mitch McConnell, the Senate majority leader, remain undefined. In general, though, "the theory under Democrats has been to give money directly to people; the contrary philosophy of the Republican party is that money is better spent on supporting businesses", says Kosnitzky.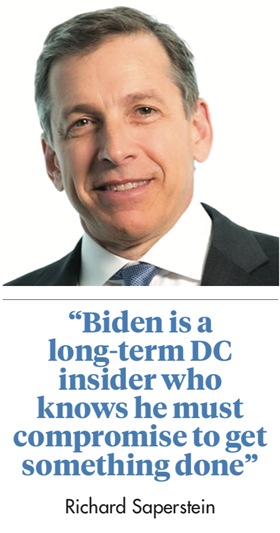 Unemployment benefits are a central contention. Democrats want to pay recipients $600 a week, while Republicans would provide about half of that. The latter argue that those benefits disincentivise cash-flush workers, pointing to median claimants who received about 140% of their wages until July. Thereafter, they were being paid less than 50% of former income. "It was too high before and now is too low. There's room to meet in the middle," Orton says.
Increased unemployment benefits are intended to put money in the hands of those with a higher propensity to spend. One feature of this year's stimulus was a surge in the savings rate, which went from an April peak of 33% (twice the historical average) to 14% currently.
As other priorities, Democrats want extra support for social, educational and childcare programmes. Republicans seek liability protection for businesses against a wave of employee lawsuits over contracting COVID. "Democrats will try to get infrastructure, green energy and healthcare into a stimulus bill, as they know they will have maximum leverage when Biden takes office," says Adams.
Republicans are more reluctant to provide aid to state and local governments, whose budgets they regard as bloated. Many budget forecasts were, in fact, overblown and based on overly dour predictions, like those of New York and California, which enjoyed a $26bn windfall above estimates, according to Saperstein. Other essential service monopolies like transport authorities have been battered by lost fares and reduced ridership.
Democratic states do have the highest deficits. If efficiency and fairness are cornerstones, Reinhart considers: "Is it fair to transfer federal funds to localities that haven't managed properly? Does it create bad incentives?"
Stimulus is not a panacea, nor even very stimulating for short-term economic activity. Payments may lend themselves to some companies that support small businesses, like payroll or food services. They should also help certain service sectors, like retailers and tourism (which are ultimately more dependent on a successful vaccine). Infrastructure spending, by contrast, would take longer, boosting construction and materials.
Yet prompt and timely stimulus legislation will be vital from a humanitarian standpoint for millions of Americans who are unable to work electronically. It can also preserve businesses from bankruptcy, enabling them to rehire. Individual payments and business payments should logically proceed hand-in-glove, to restore economic health.