UK fiduciary managers are bullish about future demand prospects
BlackRock thinks 8-10 of the largest schemes will consider fiduciary in the next five years
Investment consultants can provide oversight but can also collaborate with fiduciaries
In 2019, the UK government introduced reforms to the investment consultancy and fiduciary management sector. That followed a review by the Competition and Markets Authority (CMA) that identified competition problems.
The purpose is to help pension funds select and monitor fiduciary managers. The rules require competitive tenders for mandates which delegate investment decisions for 20% or more of scheme assets.
Existing mandates of that size awarded without a tender must be re-tendered within five years of their commencement.
Fiduciary managers must provide itemised information on fees and performance to potential new customers. They must also give more detailed information on fees to existing customers.
The rules are already bolstering the market.
The rate of schemes converting to fiduciary has largely recovered this year from the dip prompted by COVID-19 in 2020, according to the IC Select Fiduciary Manager Survey 2021.
Meanwhile, assets under fiduciary management had grown by 15% in the year to 30 June 2020. This was driven in particular by growth of 19% in full fiduciary assets, according to the Isio UK Fiduciary Management Survey 2020.
Nikesh Patel, head of investment strategy, Kempen Capital Management, says: "We expect core fiduciary management growth to return to levels slightly higher than before the CMA review. We estimate around 20% to 25% growth per year, with, annually, £20bn (€23.5bn) to £30bn of new full fiduciary appointments, and potentially space for £10bn to £40bn of other mega-appointments which might be described as more bespoke versions of fiduciary management."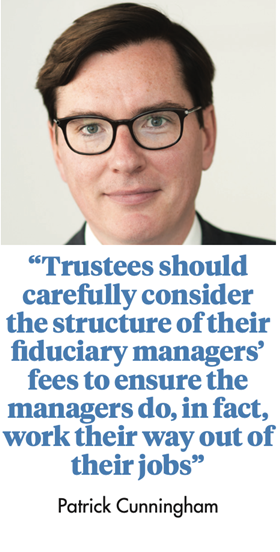 Simon Partridge, head of fiduciary management solutions, Russell Investments, says that fiduciary management has grown steadily in popularity, by about 10% a year for the past 10 years. After slowing slightly in 2020 due to the pandemic and the CMA retenders, activity has picked up again this year.
He says: "Our expectation is that the market will grow by 10 to 15% annually for the foreseeable future, driven by trustee and sponsor demand for a more nimble and risk-managed approach to asset allocation."
Russell has picked up fiduciary mandates for several large pension schemes over the past year.
The IC Select survey also found that about 78% of schemes completing the retender process – because of the CMA regulation – by 30 June 2021 are staying with their incumbent managers.
Journey planning with buyout trajectory proves decisive for £32m scheme
Punter Southall is a group of UK companies offering consultancy services which include governance, pensions provision and investment management.
One of its clients is The Glass's Guide Ltd Pension Scheme 1978, a defined benefit (DB) plan established in 1978, with about 170 members.
The fund's £32m portfolio is split between growth (55%) and liability-matching (45%) segments.
Before the Competition and Markets Authority (CMA) review, the scheme's trustees had already decided to embark on a fiduciary strategy.
"We decided that it would be beneficial to delegate the investment management function to experts," says Alex Davies, director, Punter Southall Governance
Services (PSGS), and the scheme's chair. "We considered this would give us opportunity capture [having the governance budget to be able to access investment opportunities as they arise], faster decision making and efficient adherence to a derisking flight plan. However, this was given impetus by the CMA review, and earlier this year the trustees decided we had to update our fiduciary provision."
The competitive tender was launched last February 2021, managed by PSGS as professional independent trustee. PSGS also ran the selection and implementation process, supporting the trustee board throughout.
The selection process itself lasted about six weeks. It concluded with the trustee board's decision to appoint Legal & General Investment Management (LGIM) as fiduciary manager for the entire pension fund portfolio.
"LGIM impressed the trustees with their presentation, the quality of their offering and the ability to link their product to their buyout pricing and annuity business," says Davies. "This latter point was a clear differentiator compared with other providers."
The trustee board's approach to the tender process and final decision were fully supported by the scheme sponsor. In June, the formal appointment was made. The trustees have not as yet appointed an independent overseer.
"PSGS has sufficient expertise to perform this role," says Davies. "However, this will be kept under review and may change in the future."
"This means one in five are making a change – that's significant," says Sion Cole, head of UK fiduciary business at BlackRock. "Based on experience to date, we can expect at least 100 pension schemes every year to appoint an outsourced provider for the first time. For the pensions industry this is a rapid rate of change."
Larger funds may outsource
Earlier this year, British Airways' pension schemes trustees sent shockwaves through the UK pensions sector by announcing their plan to outsource all directly managed assets to BlackRock, in the UK's largest outsourced chief investment officer (OCIO) deal to date.
"The success of the BA transition has made the industry aware of the opportunities available for larger pension schemes and third-party evaluators alike," says Cole. "We are anticipating in the next five years that one-third of the 28 largest pension schemes will consider some form of outsourcing.
The IC Select survey found that during the first half of 2021, the average size of a converting scheme increased by £120m (€141m), or 79%, to £270m, after several years when the figure was a relatively stable £150m.
According to Pieter Steyn, head of fiduciary management, Willis Towers Watson, larger funds or asset owners may have the scale to employ independent, in-house teams – possibly the gold standard – but this also presents challenges such as a scheme's maturing position, the increase in regulatory burdens and the retention of talent.
"An outsourced chief investment officer with a growing client base is often better positioned to address these challenges and it is important for large funds to remember that they do not need to sacrifice independence in the process," says Steyn.
Kam Chang, head of client advisory, SECOR Asset Management, says: "For very large schemes with existing in-house staff, decision-makers should be sure there is full alignment with the views of the trustees."
Patel says: "In very large schemes where fiduciary duties are undertaken in-house, responsibility and accountability for outcomes is often not clearly delineated between trustees, consultants, internal teams, and asset managers. Given rising pressures around regulatory and performance needs, we expect large schemes will increasingly start to outsource fiduciary activities to specialist providers."
He adds: "We expect there to be a wave of fiduciary management appointments by small and medium-sized schemes that have held back over the CMA window in the knowledge that they will get more bandwidth by outsourcing."
The need to improve governance in the light of increasing regulation is a key driver behind appointing a fiduciary manager; other motives include using economies of scale to drive down costs, improving reporting, and enhancing environmental, social and governance (ESG) performance.
Journey planning
End-game management is also a factor. "Most schemes are aiming for buyout, and for many this is in sight," says Tony Baily, Aon investment partner. "A fiduciary approach can help them reach this goal, but only a few managers offer solutions which reflect all the risks for the final leg of the journey. The best fiduciary manager will align a scheme's assets for buyout – integrating annuities and matching insurer pricing along the de-risking journey."
He says that expert daily management delivers the required returns with reduced risk and hassle. The cost is offset by the significant discounts negotiated with external managers.
A further driver behind fiduciary is self-sufficiency. "Most schemes are now aiming for this, not least because the regulator is driving low-dependency funding measures," says Patrick Cunningham, partner and co-head of clients at Cardano. "This journey requires transitioning from higher to lower-risk assets, structuring cashflows as schemes mature, and the sale or restructuring of assets to fund buyouts/buy-ins. These activities require careful timing and implementation, with which fiduciary managers can help trustees."
But he warns: "Trustees should carefully consider the structure of their fiduciary managers' fees to ensure the managers do, in fact, work their way out of their jobs."
In some quarters, super fund consolidators are considered as potential competitors but, so far, they have not had much traction with schemes.
"The key is to ensure clear accountability when schemes are using multiple advisers" - Ajeet Manjrekar
"That could change as regulations become clearer and schemes approach self-sufficiency, particularly in cases where the scheme sponsor's covenant is challenged," Cunningham says. "Super funds could be a welcome addition to the governance, investment and end-game alternatives available to schemes and their stakeholders."
Flexible models
A spectrum of fiduciary models is possible: Chang says that fiduciary management does not have to be "all or nothing", and outsourcing can be tailored to suit each scheme.
He says: "We are seeing increasing demand, particularly from larger schemes, for partial fiduciary management arrangements that offer a more flexible governance model. These can vary in structure, with some approaches separating the advice and implementation elements, and other models allowing trustees to retain control over the more important investment decisions such as strategic asset allocation."
Steyn says: "Most trustees evolve the level of delegation over time. Many of our early-adopter clients initially limited the level of delegations to the OCIO provider, for example, retaining asset allocation decisions. Now we have clients across the spectrum of delegation and, over time, they have generally increased delegation."
He says that where asset management firms are chosen as the fiduciary manager, a separate strategic adviser can be helpful in managing agency issues in asset allocation and product selection.
Ajeet Manjrekar, co-head of solutions, River & Mercantile Group, says flexibility is key. That is particularly the case for larger schemes to cater for existing governance arrangements where partial approaches may prevail.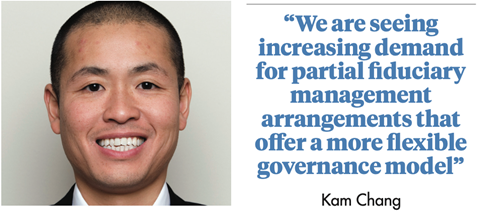 "The key is to ensure clear accountability when schemes are using multiple advisers and implementation models," he says.
He says the key advantages are tapping into the best thinking from across the market, using specialists for different aspects of the client needs from journey planning to private markets.
Samora Stephenson, senior investment consultant, Hymans Robertson, agrees: "Collaboration between fiduciary managers and consultants brings fresh ideas, allowing solutions to be thoroughly tested before implementation. Collaboration allows each to focus on the skill set in which they have a comparative advantage, that is, consultants on long-term strategic decisions and pension scheme knowledge, and fiduciaries on short-term asset allocation and implementation."
However, he cautions that this model could be challenging if there were to be competition or point-scoring between the fiduciary and investment consultant.
"To minimise the risk, it's important to set defined roles and responsibilities at the outset, as well as holding frequent, open meetings between all parties," he says.
Meanwhile, Cunningham says that one new model is the use of fiduciary managers by a sole (professional) trustee, increasingly replacing a trustee board because it is harder to find member-nominated trustees, or because a scheme's sponsor wants a full-time interlocutor.
"Professional trustee firms offering sole trustee services need to act in the best interests of each client, ideally with some scale or efficiency across clients," he says.
"Some sole trustees find fiduciary managers can help strike that balance."