---
Key points
Levels of interest rate cover among industry-wide funds vary widely
Dynamic hedging strategies are increasing in popularity
Interest rate swaps are increasingly preferred to bonds for hedging purposes
Levels of interest rate hedging cover used by Dutch industry-wide pension funds vary widely, according to figures published late last year by pensions supervisor De Nederlandsche Bank (DNB).
Cover ranged from 15.1% at Waterbouw, the scheme for the hydraulic engineering sector, to 67.7% at the scheme for the wood trade, Houthandel. The average interest rate hedge for schemes was 43.2%.
Meanwhile, the level of hedging cover for company pension schemes was generally higher than for industry-wide schemes, possibly because sponsors want to remove interest rate risk as they consider it to be unrewarded.
According to the DNB, seven company pension funds in the Netherlands have an interest rate hedge of at least 100%, with IBM's Dutch pension fund boasting the highest cover at 121.4%.
PMT, the metal sector pension fund, has an interest rate cover of 45% at present. The fund says this level is based on the premise that in a normally functioning market economy, long-term interest rates are positive in the long term as a result of positive economic growth.
It says that taking (nominal) interest rate risk on the pension fund's balance sheet is not appropriately rewarded in the long term.
"This, in combination with the ambition of indexation, is the basis for a substantial but not complete hedging of the interest-rate risk," PMT said in a statement. "At the moment, this belief leads to an interest rate cover of 45% on a market value basis, supported by a study in asset-liability management. Currently, we have no expectations of change."
Any kind of hedge naturally involves risks. By hedging the interest rate risk, the funding ratio is protected against further interest rate falls. However, with a full hedge, the fund is missing upside potential should the interest rate rise.
"It's extremely difficult to predict future interest rates," says Wouter van Noorloos, portfolio manager, Cardano. "As such, arguments for increasing or decreasing hedging should not be related to expectations of interest rate movements. They should rather depend on the development risk appetite of a pension fund over time."
Remmert Koekkoek, head of insurance and pension solutions at Robeco, says: "The main argument against hedging is the current level of interest rates – a belief that interest rates cannot get much lower and there will be a mean reversion to a long-term higher interest rate level.
Healthcare pension fund PFZW currently has a 32.5% interest rate hedge, lower than the industrywide average. The funds says this partial hedging approach gives some protection against falling interest rates but can also give recovery when interest rates rise.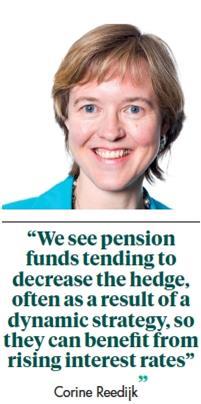 The basis for PFZW's decisions on the interest rate cover policy are risk assessments in an asset liability context.
"The effects that interest cover has on the expected growth of the pensions on the one hand and the risks of possible pension cuts on the other hand play a central role in the decisions of the board of trustees," PFZW states.
According to Corine Reedijk, senior consultant in ALM at Aon, most pension hedge by using a combination of swaps and fixed-income asset classes with a relatively high correlation to the euro swap rates. "These include euro credits, long-term government bonds and Dutch mortgages," she says. "A very few also use swaptions."
Koekkoek says: "AAA-rated European governments are seen as safe investments and they provide a relief on regulatory required capital, while swaps are a good match with the liabilities which are discounted based on swap rates."
Van Noorloos says that mainly because of quantitative easing in recent years by the European Central Bank, bonds have become an expensive hedging instrument compared with interest rate swaps: "So we see a trend towards hedging most of the interest rate risk using interest rate swaps," he adds.
About a third of PFZW's interest cover comes from bonds, two-thirds from swaps. "This is fairly constant but can vary in time," says the fund. "The target for interest cover is the total exposure from swaps and bonds together."
Actual cover is monitored on a monthly basis, with strategic cover evaluated annually.
So are pension funds generally increasing their cover?
"We are seeing that, on one hand, pension funds are limited in their ability to change the interest-rate risk hedge, because of reserve or funding deficits," says Reedijk. "On the other hand, we see pension funds tending to decrease the hedge, often as a result of a dynamic strategy, so they can benefit from rising interest rates."
Koekkoek says: "Most pension funds have a fixed level of hedge which is evaluated periodically. Some pension funds have moved this level somewhat lower because of the current level of interest rates. More and more pension funds are adopting a dynamic hedging strategy, depending on the level of the coverage ratio and the market interest rate level."
Cardano is also seeing a trend towards the use of dynamic hedging strategies, agrees van Noorloos. These strategies could lead to either higher or lower hedging levels, and he says his company is seeing movement in both directions.
But do Dutch pension funds generally have sufficient cover?
Koekkoek says: "While the weighted average hedge level in the Netherlands lies around 40%, we see quite a divergence between pension funds. In general, the interest rate cover for most pension funds is quite decent. At the same time we see quite low interest rate covers, especially for some of the largest pension funds."
He observes that predicting future interest rate levels with a high conviction is challenging. "Pension funds should therefore carefully assess their risk appetite and implications for the long-term carry premium they miss out on when lowering the hedge, also if rates stay at the same low levels for quite some time," he says.
In terms of allocation, Koekkoek advises taking an integrated approach to the matching portfolio, including the credit investments, to ensure optimal deployment of the available asset classes in terms of rating, tenors, downside risk, return and behaviour through the market cycle.
Cardano contends that Dutch pension funds act according to the prudent person principles as set out by the regulator: "And as such, they should have carefully considered their interest rate hedges, in line with their risk appetite," says van Noorloos.
Reedijk says pension funds should keep in mind their objectives – that is, granting nominal rights, or indexed rights.
"They then have to decide how much risk they can bear, given the fund's financial position, its risk appetite and demographics," she says.