Short of flying someone to Mexico City to knock on the door of the mining and transport company's headquarters, the Danish pension fund had done all it could. Selling off its DKK13m (€1.7m) block of shares in Grupo México was not what ATP really wanted to do at the end of last year.
ATP divested DKK13m (€1.7m) of Grupo Mexico stock in December after attempts to discuss environmental and safety concerns failed
Patience is important when attempting to discuss responsible behaviour matters with companies – but so is recognising when this is not working, says ESG chief Ole Buhl
"It was a sad thing," says Ole Buhl, head of ESG at the DKK934bn pension fund. "Whenever you have to divest, it's always a failure."
He relates the case study to IPE as an example of how the pension fund – which runs the Danish population-wide labour-market supplementary pension scheme – works out its ESG dilemmas.
"On the one hand, we want to support our responsible-investment guidelines, but on the other, those same guidelines say we should have a preference for active ownership," Buhl says.
"From a responsible-investment point of view, what we want to achieve is to encourage companies to move in a positive direction. That's our preference, so it is extremely important that the company wants to talk to us."
Buhl understands that reputation concerns hinder many businesses from talking openly about problems with outsiders, including shareholders.
For this reason, he says, part of the ATP's ESG strategy is to "create a room with them" where communication can happen in an atmosphere of trust. In concrete terms, Buhl's team lets the company know it will not make the issue public.
So what went wrong in the case of Grupo México, whose shares ATP sold soon after its supervisory board decided in December to blacklist the stock?
"We have policies in place and we know we have to live up to the OECD Guidelines for Multinational Enterprises," Buhl says, adding that ATP, like other institutional investors, has a role in overseeing this responsible business conduct code originally set out in 1976.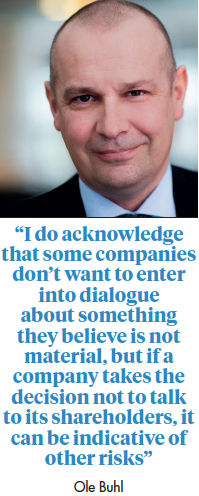 "We rely on people like you, journalists, and NGOs to screen our universe, because we can't know everything that goes on. We're looking for fires and, in practical terms, the way we and like-minded investors do that is through screening services.
"Using them as a screen is stage one, then stage two is a qualitative assessment and prioritisation," he says.
Screening results in a list of specific allegations against about 150 companies, and the team then swiftly assesses whether, if true, these misdeeds would constitute a breach of ATP's policy.
"We think about what kind of information we would need, but at this point there's no real fact-checking," Buhl explains.
"Then the team sits down in a group to discuss what they have so far, and we usually end up with 10 to 15 companies.
"This whittling-down exercise is crucial – if you have the best screening company, you will see there are allegations out there against almost all companies in the world, but you have to make informed decisions, and you can't do that for every single reported problem."
The decisions are arrived at based on the severity of the allegation, and not on the size of ATP's ownership stake.
Having selected the companies the pension fund will use its resources on, the ESG team then begins fact-finding.
"In that process, we try to figure out exactly what this allegation is, which part of our policy may be breached, which facts are in the public domain and what the company's response is," Buhl continues.
"We work a bit like investigative journalists, but in some ways my people also need to be judges – neither defenders nor prosecutors of the companies," he says. As this is a process that is sometimes very time-consuming and difficult, he says the pension fund has a dialogue with external experts in relevant fields to test its assessments. "That is where we add additional quality to the decisions, and build on the multinationals' guidelines from the OECD."
At the beginning of 2019, Grupo México, Mexico's biggest mining company, was one of the holdings to appear on the ESG department's concise list of companies it would work with, after ATP received information about one of the group's tailings dams.
Buhl's his team tried to get a response from the company, a large player internationally in copper mining, as the world's third-largest producer of the metal.
ATP tried communicating by e-mail and phone, including approaches to high-level individuals at the firm – along with reassurances that it would not put the matter in the public domain. But after eight months of efforts and no response, ATP decided to blacklist the company.
IPE contacted Grupo México to comment on this article but did not receive a response.
While patience is necessary when engaging with companies, Buhl says, it is also important to recognise when things are not working.
"What can you do when companies don't want to stick up for themselves? These allegations are coming from valued sources – not just disgruntled ex-employees. How can you react?" he asks.
Although rare, for Buhl such stonewalling challenges the entire idea of engagement.
"I do acknowledge that some companies don't want to enter into dialogue about something they believe is not material, but if a company takes the decision not to talk to its shareholders, it can be indicative of other risks," he says.
ATP's ESG unit also spends time reviewing previous divestment decisions, and one recent exercise of this type was about US retailer Walmart, which was excluded by the Danish pension fund on labour-rights grounds. "The GPFG [the Norwegian Government Pension Fund Global] decided to re-invest in them. We went over the specific decision and in the end we kept them on our blacklist as the analysis done by the Norwegians concluded that while some labour conditions had improved there were no improvements in the right to unionise," he said.
The responsible investment guidelines laid out by ATP's supervisory board are based on rules such as international conventions. When a certain business activity breaches these, then firms unwilling to exit these operations are candidates for exclusion.
"Earlier this year we divested from five companies which were heavily focused on open-pit mining which is detrimental to biodiversity," Buhl says.