Interest has shifted from contamination and mortality data to vaccination figures. In this field, the US and UK are doing well, while the EU and Japan are lagging. Political risk is perceived to have gone. Donald Trump's tendency to self-destruct is creating opportunities for the Republican Party to heal while Democrats are preparing an economic support package.
A Brexit trade agreement seems a done deal and COVID-19 vaccinations are accelerate. Yet, risks remain. It is too early to count out trouble from prominent Trump supporters. The Brexit trade agreement still must be approved by the European parliament, as new strains of COVID-19 keep appearing.
Asset allocation
Net equity sentiment in all regions, including the UK, has converged at a record high level with doubts at, or near, record lows. While US, EU and UK net expectations for bonds have converged at a low level, sentiment in the Japanese bond market remains stable. This makes it a prime refuge for those who fear a bursting of the bubble. For the fearless, equities look best.
Country allocation
The upward trend of US net equity expectation stabilised, while bond expectations continued their slide down. It is too early to read a trend in these figures. The rise in EU net equity figures continued to be mirrored in a gentle fall in net bond ones. Japan's net equity expectations did not move this month, in line with US figures, while bond statistics remained at -10%. UK equity expectations rose and bond expecta- tions fell, both to align with other markets.
In general, neutral votes for bonds and equity are low and falling while bond and equity uncertainty is converging. The only surprise is in EU neutral figures. They are also low and descending but equities are still seen as more uncertain than bonds. For those who do not fear bubbles bursting, that suggests an opportunity.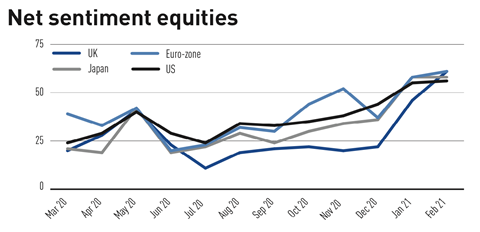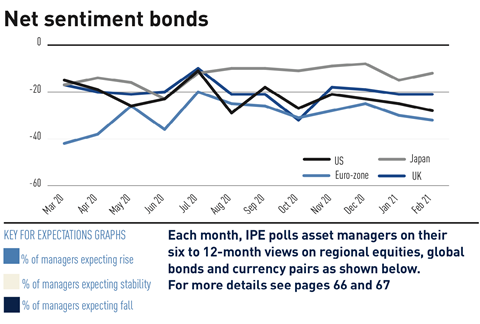 PETER KRANEVELD, INTERNATIONAL PENSIONS ADVISER,PRIME BV
Supporting documents
Click link to download and view these files