Being sure of opinions
With all eyes on inflation, political risk is not expressed in market sentiment, perhaps with the exception of the UK.
Asset allocation
Net equity sentiment is very close together in the US, EU and Japan at a level of just over 50, signalling a widespread confidence in the reluctance of central banks to act on interest rates. UK net equity scores remain low. It is not clear what analysts have in mind. Political risk seems the most likely explanation at this point.
Meanwhile, bond scores of the US, UK and EU congregate around 70, a near consensus among analysts and a sign that bonds are still considered useless. Expectations for Japanese bonds rose slightly, making them somewhat more of an outlier this month.
The neutral vote, both on equities and on bonds, went down even more in all areas except Japanese bonds, where it remained more or less stable.
Country allocation
In all areas, confidence in equities is high and stable with the UK increasingly looking like an outlier. In bonds, Japan remains the outlier. The key question here is undoubtedly the different views of central banks, which believe the current high inflation is temporary, and analysts, who see a return of higher inflation.
This difference is at bottom a question of definition of long and short term. In the short run, temporary factors are at work, from China's faltering economy to distribution stress due to COVID-19. Looking further away in time, permanent factors like heavy investing in the energy and food transitions to prevent climate change play a role. However, these investments may ultimately make the cost of alternative energy lower, as is the case already today, due to high oil prices. These trends will likely overlap, so that their effects remain murky and market positions are less based on hard data and more on emotional opinions and perhaps wishful thinking.
Japanese bonds and UK equity offer complementary positions to those of the mainstream, so that all opinions may be reflected in portfolios.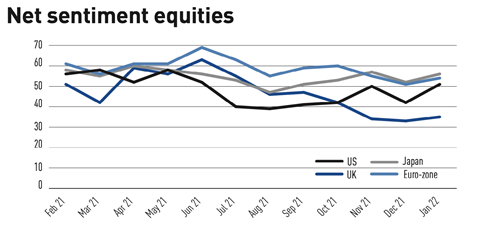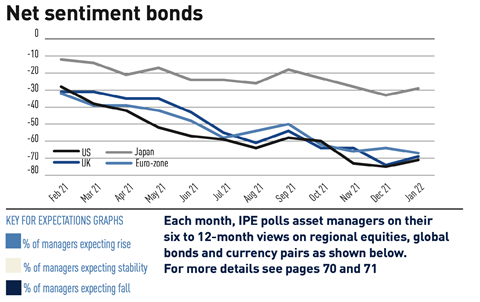 PETER KRANEVELD, INTERNATIONAL PENSIONS ADVISER,PRIME BV
Supporting documents
Click link to download and view these files