COVID-19 infection rates are still rising in the US and Japan, hopefully on the verge of decreasing in the EU and low in the UK. The positive trend in global infection rates is more than undone by a strong rise in infections in parts of Asia. With the exception of the UK and Israel, vaccination has not progressed to the stage where it has a discernible influence on infection rates.
With the influence of Brexit on sentiment stabilising, political risk – other than lockdown measures – seems to have little material influence on sentiment.
Asset allocation
Net equity sentiment reached record levels again and converging to the point that there is a seemingly unanimous positive or neutral view on equity.
Net bond sentiment is inversely correlated and seeking ever lower levels, especially in the US. The best explanation may be an increasing expectation of a rate hike, although there is no trace of such fears in net equity sentiment. Even in Japan, analysts are losing faith in bonds.
Country allocation
This month's figures show virtual unanimity among analysts. This increases the importance of political and economic risk for country allocation.
US net equity sentiment recovered last month's loss, aligning it with the other areas. Political risk is negligible. Even a renewed war in the Ukraine would not have a large direct effect, although it would influence Russia's medium and long-term economic future.
The pattern in the EU is the same as in the US. Political risk is concentrated in disputes related to the Irish/UK border. The UK net bond sentiment shows a slightly flatter curve, possibly a remaining worry over a Brexit-induced recession.
Figures for Japan are basically stable for equities as well as bonds. The gap between the two is by far the largest in the last 12 months. East Asia remains a likely area for an unexpected political crisis.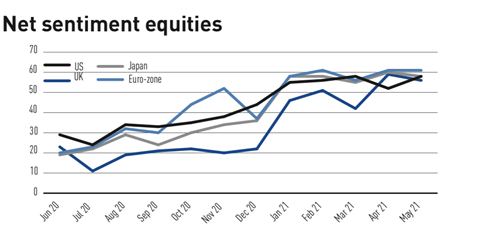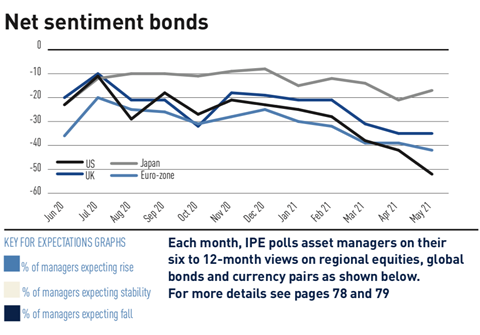 PETER KRANEVELD, INTERNATIONAL PENSIONS ADVISER,PRIME BV
Supporting documents
Click link to download and view these files