The Covid-19 pandemic has given everyone pause for thought. It has also been a catalyst for action. For some, global warming seemed like a nebulous, distant concern. But the fragility of life on earth has been laid bare.
● Investors in commodities have tended to stress the importance of economic cycles
● But decarbonisation and renewable electricity generation could continue to fuel rising prices for copper, platinum group metals and nickel
Environmental activism has become mainstream. A new report by the University of Oxford and United Nations Environment Programme shows $341bn (€290bn) has been set aside for green initiatives by the world's 50 biggest economies, in $14.6trn of announced stimulus.
That 2.5% of overall GDP may seem trivial but it comes on top of longer-term commitments. Once the emergency funding of businesses and jobs abates as the COVID-19 crisis ebbs, it may be increased significantly. The European Green Deal Investment Plan has earmarked €100bn in spending annually. Boris Johnson, the British prime minister, wants to make the UK "the Saudi Arabia of wind".
In 2019, the UK also put in place a legally-binding commitment to net-zero CO2 emissions by 2050. Large economies such as France, Japan, South Korea, Sweden, New Zealand, Denmark and Sweden have enacted similar legislation. New US president Joe Biden has pledged $2trn to tackle climate change.
But the game changer is China, the world's biggest burner of coal and the largest market for all fossil fuels. President Xi Jinping told the United Nations in September 2020 that the world's largest carbon emitter would begin reducing emissions by 2030 with the goal of getting to net-zero by 2060.
Hitting this target would mean the creation of 3,000GW (gigawatts) of new renewable energy. That is three-times the installed electricity generation summer capacity in the US. Tal Lomnitzer, senior fund manager at Janus Henderson, says: "When China committed to net zero, I don't think it registered as the seismic event it is. It is the biggest carbon emitter and is still playing catch up industrially. It is an enormous change that will require massive investment."
What is good for the planet can also be positive for investors, particularly those with ESG concerns who are cutting coal, oil and other fossil fuels from portfolios. There are a handful of liquid and tradeable commodities that stand to benefit most from the transition to renewable energy and electric vehicles. These are copper, nickel and platinum.
Regardless of whether an investment view embraces rising inflation and a commodities supercycle, there is a secular, fundamental case for owning these metals. Each has unique supply dynamics but the demand drivers are clear.
King copper
Copper earned the soubriquet 'king' because it is widely regarded as a bellwether of global economic activity. However, there is a solid case that copper prices have decoupled. Historically, a 1% fall in global trade has triggered a 4% decline in the price of copper. According to the United Nations Conference on Trade and Development (UNCTAD), global merchandise volumes fell 8.7% in 2020. Copper rallied.
Having traded as low as $4,600 per tonne in March it is currently priced at over $8,000/tonne. Michael Widmer, strategist and head of metals research at Bank of America Merrill Lynch, forecasts an average price of $10,000/tonne in 2021.
Christian Kjaer, head of liquid markets and multi-asset investment at ATP, Denmark's supplementary pension scheme with DK960bn (€129bn) in assets and the fourth-biggest pension fund in Europe, says: "In 2020, copper prices were supported by China recovering rapidly from Covid. But I think there is a strong trend that supports prices as well. We know that there is huge demand from electrification, decarbonisation and renewable energy. What we do not know is where the supply is coming from."
Renewable energy and electric vehicles (EVs) need a lot of copper. An average EV uses 4km of copper wiring. That is about 83kg, according to a report from Jefferies Equities Research in November 2020. An internal combustion engine contains just 20kg. Every EV charging point uses another 10kg of copper. Offshore wind power requires 15 tonnes of copper wiring per megawatt (MW) of electricity generation.
Upgrading of electricity grid networks and connecting often remote renewable energy generation to where it is consumed are other sources of demand. Jefferies says copper demand from renewables will more than double by 2030 to 1.9m tonnes in its base case and demand from EVs will increase by 10 times.
In all three scenarios set out in its report – base case, bull and bear – "the copper market is entering an extended period of deficits", Jefferies analysts write (figure 1). In a bull case scenario, cumulative copper demand from EVs and renewable energy alone could exceed current mined supply.
A copper deficit does not mean the world will run out. It means mined supply will not keep pace with demand and other more expensive sources, such as recycling, will need to be tapped. Basic economics suggests that when demand exceeds supply, prices will rise. Mined copper is already becoming a rarer resource. The mining industry has had to go further, to increasingly inhospitable locations, and dig deeper.
In 2002, Freeport-McMoRan's Grasberg mine in Indonesia supplied 6.5% of the world's copper. It was dug out of the ground (open cast mining). The mine now supplies 1% and most of the copper it will produce in the future needs to be hydraulically fracked from a deep cave deposit. The Escondida mine in Chile has also been forced 'underground' and new projects such as Caserones, also in Chile's Atacama (owned by a Japanese consortium) and Rio Tinto's Oyu Tolgoi mine in Mongolia's Gobi desert have been beset by problems.
"When China committed to net zero, I don't think it registered as the seismic event it is" Tal Lomnitzer
"The capex of the miners peaked in 2012," says Bank of America Merrill Lynch's Widmer. "There is a laundry list of copper projects in the pipeline but many are located in places that are difficult to operate in for a range of environmental and geopolitical reasons. The focus has been on the brownfield development of existing ore deposits, but that also gets more expensive. Copper prices are high enough now to encourage more investment, but it takes between seven and 10 years to bring a new mine fully on stream."
Every tonne of mined copper is a tonne less in the ground unless new sources are found, and depreciation has exceeded capital spending in the mining sector for a decade. "Copper is a huge market – 23m tonnes a year," says Janus Henderson's Lomnitzer. "And the price rises we have seen will bring Adam Smith's invisible hand into the supply equation. But it takes time. A lot of time. There are new sources of supply but we need more."
All that glisters
Another big beneficiary from decarbonisation is likely to be platinum. It is already used industrially for the catalytic converters that all modern cars are fitted with. The automotive industry accounts for 40% of overall demand, followed by jewellery (30%). However, owing to oversupply in the last super cycle, prices have been subdued until recently.
For as long as prices of precious metals have been calculated, platinum traded at a premium to gold. It is 30 times rarer and geologists say it arrived on earth by meteorite strikes. But that price relationship with gold reversed in 2015. Having peaked at a price of over $2,000 per troy ounce in 2008, platinum now trades at $1,174/troy ounce. But it has rallied lately, up more than 60% over one year and 70% from its March lows.
That can largely be explained by an emerging technology, proton exchange membrane fuel cells (PEMFC) which electrochemically react hydrogen with oxygen to produce electricity. The only by-product is water and there are zero carbon emissions. "Our view is that hydrogen could provide 25% of the world's energy needs by 2050," says Janus Henderson's Lomnitzer. Platinum makes up between 17% and 25% of PEMFC stack costs.
Asked whether to accept the case for platinum it is also necessary to see hydrogen as an important part of the future energy mix, Bank of America Merrill Lynch's Widmer is succinct: "Yes and yes and we do." That will require a lot of investment, but governments are stepping up. The EU's Green Deal is expected to add €10bn annually in direct funding and loan guarantees. Commission first vice-president Hans Timmermans has said hydrogen can play a pivotal role in clean energy. The goal is to generate 40GW by 2030 versus 2GW today.
As part of Covid fiscal stimulus, France and Germany have dedicated €7bn and €9bn, respectively, to green hydrogen initiatives. The present focus is on FCEVs (fuel-cell electric vehicles). It is already possible buy a Toyota Mirai, Hyundai Nexo or Honda Clarity car. But the biggest win for the environment would be FCEVs in the freight and transportation sector. Hyundai is building a fleet of H2 XCIENT trucks in Switzerland (1,300 projected by 2030). Daimler and Volvo have a joint venture working on FCEV trucks and Airbus plans to have a zero-emissions hydrogen-powered aircraft in the skies by 2035.
"Given the targets set by governments for trucks and buses to move to electrification and hydrogen by 2030, we forecast with current average PEM (proton exchange membrane) loadings, platinum demand from this sector to reach four million ounces by 2030," says Widmer.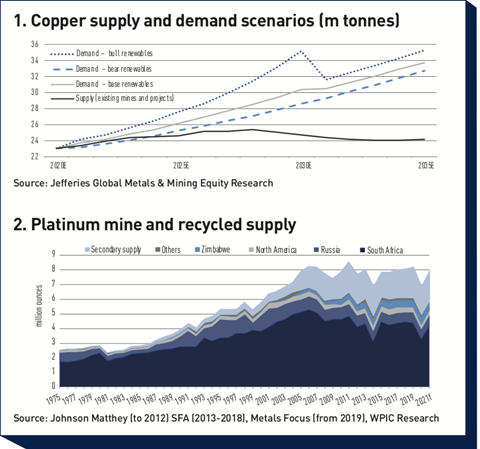 The current mined output of platinum is about five million ounces, mostly produced in a small area of South Africa called the Bushveld around Johannesburg (figure 2).
The recycling of catalytic converters from cars will be one source of future supply, but there will be a lag. "Before you get to the point of internal combustion engines being scrapped, boosting the supply of recycled platinum, you will have ever more demand for catalytic converters, as emissions rules tighten and hydrogen fuel cells. Realistically, the time horizon is perhaps 10 or 15 years," says Lomnitzer.
'Green' hydrogen power, produced from renewables, can also be used in heavy carbon-emitting industries such as steelmaking (8% of all global emissions). Almost 90% of Rio Tinto's Scope 3 carbon emissions, indirect emissions that result from a company's supply chain, can be attributed to iron ore being processed in coke-powered furnaces. There are a number of green hydrogen steelmaking sites already in operation including 'Hybrit' .
Nickel and dimes
Before FCEVs running off hydrogen become a core part of transportation, most EVs will be running off nickel-cobalt-manganese and nickel-cobalt-aluminium batteries. Wood Mackenzie predicts that nickel consumption for EV batteries will soar by 64% between 2019 and 2025. In February, Tesla boss Elon Musk tweeted: "Nickel [supply] is the biggest challenge for high-volume, long-range batteries."
The investment case for nickel is, however, more complex. First, an alternative battery technology, lithium ferrous batteries, already exists. These cars currently do not have the range of nickel batteries but meet the needs of most commuters.
Second, there is one nickel price, but only high-grade nickel can be used in batteries to power EVs. There are three main suppliers of high-grade (class 1) nickel, Brazil's Vale's Canadian mines, Russia's Norilsk Nickel and BHP in western Australia.
Buying any of those mining superpowers gives exposure to a lot more than class 1 nickel, including many other metals and the skill, or otherwise, of the management teams. But the biggest drag on class 1 nickel prices might be an emerging technology that processes low-grade nickel pig iron into an intermediate product called nickel matte. This can then be used in batteries. China's Tsingshan Holding Group is pioneering this technology at an Indonesian mine it operates and already has contracts with two battery makers.
Widmer says: "I absolutely believe we will see exponential volume growth in the demand for nickel, but the upside for prices may be more limited. We were looking at deficits by 2025, but the Tsingshan development has altered the supply-and-demand dynamic in a meaningful way."
There are other less-liquid metals that should benefit from decarbonisation including lithium, cobalt and even uranium. But copper, other platinum group metals (rhodium and palladium), nickel and their producers look like the best way for investors to buy exposure into the emerging build-back-better agenda and the push for net-zero carbon emissions by 2050.
Janus Henderson's Lonmitzer says he shies away from using the term 'super cycle' when talking to potential investors about the metals and mining sector. He does not see it as doing full justice to the opportunity. "The early 2000's super cycle was about the industrialisation of a single economy – China. China is very important, but decarbonisation is a global phenomenon. This isn't a super cycle. It's a mega cycle that will persist for decades.