The story of the latest work by the International Accounting Standards Board (IASB) on pensions disclosures starts last July when the board agreed on two specific disclosure amendments that it wanted to make to International Accounting Standard 19 (IAS 19), Employee Benefits.
• Pension disclosures under IFRS are under review
• Revisions to 2011 disclosure rules are unlikely to result in major changes in practice
• IAS 19 could shift towards UK GAAP in terms of contributions disclosures
The first was a single, high-level, catch-all disclosure that the board said would apply to defined benefit (DB) plans accounted for under IAS 19. As it stands, this addresses the aggregation and desegregation of information that entities provide in their financial statements in order to meet six separate disclosure objectives. The details of these objectives are in the July edition of IASB Update.
Also during that meeting, the board invited the staff to consider how best they could articulate each of those objectives. Additionally, the board decided to reject three disclosure proposals covering alternative DB plan valuations, DB obligation sensitivity information around alternative assumptions, and the forecasting of future DB obligations. It also agreed on several new IAS 19 disclosure objectives covering defined contribution (DC) plans, multi-employer and group plans, and 'other' employee benefits.
The multi-employer and group disclosure essentially tells preparers to look at either the DC or DB disclosures based on how they account for that obligation in those plans. Meanwhile, IASB Update describes the 'other' employee benefits disclosure as a catch-all objective requiring preparers to provide information about termination benefits and long-term employee benefits, as well as how those affect statements of financial performance, financial position and cash flows. Finally, an additional high-level catch-all disclosure dealing with short-term employee benefits was included.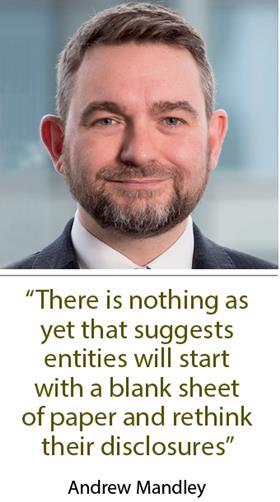 How did we get to this point? The basis for the work on DB disclosures is the 2018 draft guidance on developing and drafting disclosure requirements. The focus of this is on the use of specific disclosure objectives to elicit relevant information supported by a catch-all or high-level disclosure.
Disclosures under International Financial Reporting Standards have tended to emerge in a standard-specific fashion over several decades. The board hopes that its new approach, however, will encourage preparers to take a broader view of their approach to disclosures.
And so fast forwarding to November 2019, IAS 19 disclosures are back on the agenda. As that month's IASB Update explains, the board agreed on detailed disclosure requirements for five of the six specific disclosure objectives.
They were unable, however, to reach any agreement on the disclosure objective dealing with future cash flows. As a result, the IASB instructed staff to analyse the kinds of information they believed could be used to meet the objective. So the topic returned to January's IASB meeting. In addition to revising some earlier decisions and confirming others – as detailed in the January IASB Update – the board eventually agreed on a proposed wording for the projected cash flows disclosure.
But perhaps the most noteworthy aspect of the discussion was the revelation from the project manager, Kathryn Donkersley, that the planned disclosure package could lead to a reduction in the overall volume of IAS 19 disclosures. In an exchange with IASB member Ann Tarca, she said: "Applied properly, I would expect that the pages in financial statements devoted to this to be less."
Andrew Mandley, a consultant actuary with Willis Towers Watson agrees the proposals could result in a substantial shift in IAS 19 disclosure practice: "Talking to colleagues there seems to be a view that IASB believe this could be quite a substantial change in the way pension schemes are disclosed in the accounts, although at the moment we are not really seeing what that big change would be.
"There are, however, some additional things that will need to be disclosed such as future entity cash flows, but there is nothing as yet that suggests entities will start with a blank sheet of paper and rethink their disclosures."
Lane Clark & Peacock partner Tim Marklew agrees the project is unlikely to result in a 'big bang' moment for pensions disclosures: "The IAS 19 disclosure rules were last reviewed in 2011, less than 10 years ago, and the standard setters made their best effort then. The rules are not too bad as they stand – so I think the disclosure project will only be able to make incremental improvements.
"A key question in an investor's mind is: how much is this company going to have to contribute to the pension scheme? This is a question that isn't always answered well in pensions notes. I think the IASB is right to focus on that point."
And, he explains, when it comes to making disclosures about the likely future cost of a DB scheme, there is a trade-off: "There is a tension here. Pension schemes are fundamentally long term. The payments can ultimately extend 100 years into the future. And that doesn't gel with a typical investor and management outlook of, say, five years."
Moreover, he wonders whether we will see a reduction in disclosure volumes: "The opportunity to reduce the size of disclosures will vary a lot from company to company. I currently see some with quite small schemes disclosing a lot and it would make a lot of sense to cut that down. But that will only happen on a company-by-company basis."
But the challenge, adds Mandley, will be for sponsors to stop treating disclosure as if it were a box-ticking exercise and instead apply the disclosures principles on an entity-specific basis. In short, he expects sponsors to "start from where they are now, and for that reason I expect the first question I will be asked is 'What else do we need to disclose?'"
However, he does agree an upside to the draft proposals: "I think the disclosure that's probably going to be the most useful is around more information on the contributions that the entity will need to pay into the scheme. That is a highly relevant piece of information for shareholders to know." Mandley also notes that this disclosure will in fact bring IAS 19 closer to the UK Generally Accepted Accounting Principles.
Nonetheless, he expects the board to struggle to win over its constituents: "Some of the examples given of how to meet the new disclosure principles might not be all that popular in practice. One is to show the range of possible assumptions that could have been chosen. That will lead to questions of why the entity selected an assumption towards one end of the range, or why different entities have quoted different ranges."
But whatever the reaction the board's exposure draft later this year faces, Marklew says the board is in the process of arriving at a compromise between meeting the needs of both investors and preparers: "The very long-term nature of pensions promises doesn't fit neatly with normal management and investor timescales. Yet, despite this, the IASB is looking at the right things with this project. Overall, I think the disclosures initiative is a good idea, although it will be a challenge to come up with better rules than they have already. And I'm hoping that they will."
To read the latest IPE Digital Edition click here