Germany's new government will feel the pressure to transform the pension system. Some parties have embraced new funded concepts and have put forward credible ideas
Key Points
The main political parties are proposing a mix of pay-as-you go and funded pensions
Greater risk via equity investments is considered a tool to fight poverty in old age
Social partner pensions may come under review, having failed to take root
The new government will need to accelerate comprehensive pension reform
Angela Merkel will leave the political scene after 16 years as chancellor after Germany's elections on 26 September. Her positions on migration, the Greek debt crisis and renewable energy, to name a few, reverberated in Germany and across Europe.
On pensions, Merkel leaves the next government with the task of achieving a transformative reform. "Most of the parties have realised that the current pension system in Germany has a clear need for reform," says Prof Olaf Stotz, professor of asset management and pension economics at the Frankfurt School of Finance and Management.
But none of the concepts put forward during the campaign offer any sort of master plan to solve the problem of an "over-guaranteed" system, according to Stotz, who forsees small adjustments rather than wholesale reform.
One proposal of the Christian Democratic Union (CDU) and its Bavarian sister party the Christian Social Union (CSU), for a generational pension (Generationenrente) – a state-run-and-financed savings pot from birth – is positive, according to Stotz, but the introduction of a retirement savings account and a financial education programme would make saving more effective.
CDU/CSU, along with the Greens and the economically liberal Free Democratic Party (FDP), all favour new solutions combining pay-as-you-go and equity investments with the state as a provider of funded pensions.
"Since these are solutions put forward by the state, either a mandatory or an opting-out model will likely be chosen, in the hope of spreading capital-funded pensions as widely as possible, especially among people with low or moderate incomes," says Prof Raimond Maurer, chair in investment, portfolio management and pension finance at Goethe University, Frankfurt-am-Main.
Mauerer says a 'generational pension' proposed by the CDU/CSU is "in my opinion a very convincing and sustainable proposal that finally does something for the younger generation".
First proposed by Kai Whittaker, a CDU member of the Bundestag, the state would pay approximately €4,000 for each newborn child to a fund that would invest in an internationally diversified equity fund until retirement at 67.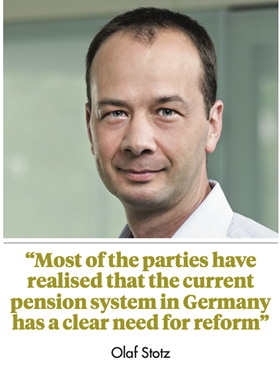 Future equity returns could lead to a sum of €200,000 available to every citizen on retirement, according to the model. With about 800,000 births per year, the annual cost to the state would be €3.2bn.
Mauerer points out that, in contrast to the citizens' fund (Bürgerfonds) concept of the Greens and the statutory equity pension (Gesetzliche Aktienrente) of the FDP, the Kinderrente would sidestep the question of government intervention in the market, as the €4,000 would be financed directly from taxes.
Under the CDU/CSU model, the equity allocation would gradually reduce in favour of bonds about 10 years before retirement.
In their electoral plans, the parties have focused on higher returning asset classes, such as equities. This is in part to address the problem of capital guarantees in corporate pensions, which are unachievable in the current interest rate environment.
"The direction [taken by the parties] is generally positive because capital guarantees are expensive and long-term equity investments have a significantly more positive return/risk ratio," Stotz says.
Prof Markus Roth of Philipps University Marburg, a specialist in pension law, expects legislators to address the issue of removing guarantees after the elections.
"The capital guarantee for beneficiaries, a German peculiarity for tax-deductive supplementary old-age provisions, should be waived since it is difficult to provide guarantees with volatile investments," he says. The pay-as-you-go system would be preserved as many people have already paid contributions.
In general, a stronger capital-covered pension system with efficient investments, higher returns and lower costs can turn the German pension system into a more sustainable system, Roth adds.
After the election
Changes to the pension system will depend on the composition of the next government coalition. Opinion polls were fluctuating rapidly at the time of publication. The Social Democratic Party (SPD) was neck and neck with the CDU/CSU with the Greens in third place.
The Greens and the CDU/CSU share similar ideas on pensions. Both favour a funded component to the pay-as-you-go system based on similar investment strategies with highly diversified stock portfolios passively managed by public or semi-public bodies. Professor Martin Werding, chair in social policy and public finance at Ruhr-University, Bochum, says: "This may establish common ground for broader agreement."
Together with his research colleague Benjamin Läpple, Werding developed the FDP's statutory equity pension idea, which draws strongly from Sweden's AP7 supplementary default fund concept.
The model would inevitably face market volatility but, Werding argues, over an investment period spanning the entire working life, overall risk becomes remarkably low.
The FDP's concept might also help people on low pay, says Peter Haan, head of department of public economics at DIW Berlin, a research institute. "It makes sense that all people benefit from equities and that assets are organised in a large state fund," he says.
For Haan, the opt-out clause of the Greens' Bürgerfonds is problematic as it could push people in need of pension provision out of the system, although the state could support such groups if they don't have the means to pay into the system.
The idea of the generational pension is still "quite vague", according to Haan, but the state contributing from the birth in the Pensionsfonds would also benefit those who face poverty in old age, he says.
Occupational pension dilemma
Occupational pensions are likely to keep the next government busy. Company pensions are still far from being widespread despite efforts made in recent years.
While the government introduced a law to strengthen company pensions, the Betriebsrentenstärkungsgesetz (BRSG), in 2018, few new social partner pension schemes – as envisaged by the legislation – have been established.
Although occupational pensions work reasonably well in large companies, in Germany's extensive small and medium-sized corporate sector, directors are often the only people who have access to company pensions.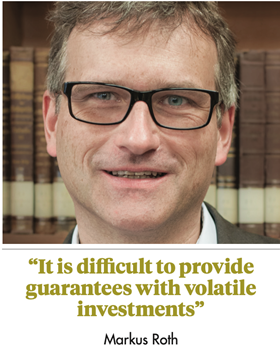 "This should end," Maurer says. Companies should offer tax-advantaged company pensions to all employees, in the same form, and according to the same rules, he says.
According to Heinke Conrads, head of retirement for Germany and Austria at Willis Towers Watson, the opt-out concept is an effective tool to establish company pensions through deferred compensation.
The BRSG allows opt-outs for company pension schemes within the framework of collective bargaining agreements. "Greater use of this option, ideally also on a purely company level, would certainly contribute to the rapid spread of company pension schemes," Conrads says. And the provision of subsidies for low-earners in the BRSG could also help spread supplementary pensions, she says.
Haan is pessimistic about the future of social partner pensions. "The key problem is that many firms, in particular in the east, are not part of collective bargaining agreements. Therefore, workers in these firms would not benefit."
He is sceptical that more firms will take part in collective bargaining agreements because of occupational pension plans, while Stotz points out that it is difficult to implement a pure defined-contribution model in non-unionised firms.
According to Maurer, matching contributions will play a major role in spreading the social partner model. "The US company pension system and the supplementary pension in the public sector offer an example of matching contributions," he says.
Other European countries may not offer a viable model for Germany, according to Roth. "In Sweden, the unions have agreed on a pure defined contribution nationwide. In the Netherlands there are also nationwide collective agreements for occupational pensions," he says.
Unions in Germany, instead, tend to focus on strengthening state pensions and on co-determination at board level instead of supporting occupational pensions. Therefore, Roth says, it is difficult to put into practice such collective pension agreements in Germany.
Automatic enrolment with opt-out and matching contributions should also be available at company level, with collective agreements between the individual employer and the works council. "I think it would be reasonable if Pensionskassen and Pensionfonds make use of pure defined contribution," Roth adds. Pensionsfonds, introduced in 2002, are obliged to offer a minimum return equal to the contributions paid in.
Stotz says the social partner model should be reformed or abolished. As social partners, unions are usually risk-averse and tend to support guarantees, he says. Employees are often left with few options and sometimes only one product. "The execution of company pension schemes is often too expensive, too unprofitable, too inflexible; a broader product mix would be preferable," he says.
Merkel's mixed pension legacy
Merkel's years are likely to result in a mixed legacy on pensions. "The governments of Angela Merkel and the grand coalitions will be seen in the history books as lost years for pension reforms," Haan says. "Germany had the opportunity and the financial power to further bolster pension funds for employees, to set the pension system in the right direction," he says.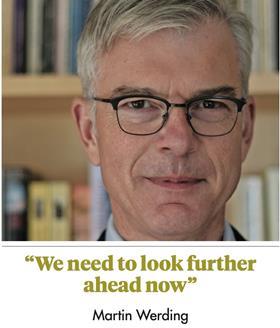 Werding says pressure for large-scale reform will only grow. "During the next two decades, Germany will be ageing very rapidly," he says. "We need to look further ahead now. Something must happen under the new government."
The fact that parties are moving in a similar direction may make a difference in the process to form a new coalition. "I expect that there will be a growing sense of realism regarding the need for a reform of state pensions once the electoral campaigns are over," says Roth.
Policies of the parties
• CDU/CSU: Company pensions for all
The two allied Christian Democrat parties support an expansion of occupational pensions.
With regard to low earners, they plan 'company pensions for all' and are proposing a standard auto-enrolment scheme for all employees. Both guaranteed and non-guaranteed options would offered.
The two parties also plan to ease the portability of pension rights when changing jobs and have promised to reassess social partner pensions.
The CDU has also floated the idea of a generational pension, whereby the state would pay €4,000 into a retirement fund on behalf of newborn babies.
• Greens: Publicly funded pensions with ESG
The Greens promise to transform state pensions into a so-called citizen insurance scheme – Bürger*innenversicherung. In a first step, self-employed people without mandatory pension insurance – for example, those in professional pension schemes (Versorgungswerken), and parliamentarians would enter the state pension system.
The Riester and Rürup Rente would be replaced with the publicly administered pension fund, or Burger*innenfonds, to which all contribute unless they opt out.
The fund would keep administrative costs low, spread risks and waive guarantees. It would be publicly managed and politically independent. Its long-term invest strategy, incorporating ESG, would offer the potential for good returns.
The party also wants to make it easier for small companies to offer company pension schemes.
• SPD: Private pensions with public foundations
The social democratic SPD supports supplementary pensions for all, despite seeing statutory pensions as the core component, having pushed for the introduction of the basic pension – Grundrente – in the current government.
It is in favour of collective pension agreements and wants to tear down bureaucratic obstacles to reduce the costs of private pension products. It favours a new standardised product that is inexpensive, digital and, following the Swedish model, provided by a public institution.
• FDP: Split contribution
The FDP's statutory equity pension proposal would split the first-pillar contribution in two. The larger part would continue to flow into the pay-as-you-go system while a smaller amount, say 2% of gross income, would be invested in an independently managed fund.
The party would allow all companies to offer pure DC on an auto-enrolment basis, not only those bound by collective bargaining agreements.
A new third-pillar retirement savings account – Altersvorsorge-Depot – would combine existing Riester Rente and Rürup Rente schemes with greater flexibility for investment.
Occupational pensions should be more easily transferable when changing employers and insurers, Pensionskassen and Versorgungswerken should be allowed greater leeway to invest in venture capital, equities and infrastructure.