Calls for a greater role for blended finance expose the challenges and opportunities of public-private collaboration
Key points
The SDG financing gap has grown larger due to COVID-19. Blended finance is seen as a way to fill that gap
There are incorrect perceptions about the nature of blended finance
The EBRD highlights the need for a pipeline of bankable projects for return-seeking investors
Achieving the United Nations Sustainable Development Goals (SDGs) by 2030 requires financing to the tune of $2.5trn (€2.2trn) per year, according to estimates by the Organisation for Economic Co-operation and Development (OECD). However, the shortfall in financing caused by COVID-19 added another $1.7trn (€1.5trn) to the SDG financing gap for 2020.
This is why the industry has turned to 'blended finance', advocating a greater role for this relatively niche type of collaboration between public and private market actors.
Any SDG-conscious investor must have noticed that over the past several months, particularly in the lead up to COP26, there seems to have been a collective realisation that private investment alone will not make significant progress towards the SDGs. Public money is needed, and public and private investors must act in partnership to achieve results. This has to happen on a project-by-project basis, as well as at the overall industry level.
The definitions of blended finance vary, as do the perceptions of what it can achieve, and this is partly the reason why so far it has failed to attract a greater number of institutional investors. The OECD defines it as "the strategic use of development finance for the mobilisation of additional finance towards sustainable development in developing countries".
To many institutional investors, blended typically consists of complex projects in emerging markets that often involve concessionary, or below market-level, lending. To others, it belongs to the realm of impact investing.
These perceptions risk putting blended finance out of reach for investors. "However, we should not forget that blended finance can be a more direct way to mobilise capital compared with traditional ESG investing," says Harald Walkate, ESG adviser to venture-capital organisation Dutch Founders Fund, former head of ESG at Natixis and a veteran of the impact investing industry.
"The pitch of impact-investing managers is that their investments offer both impact and return, and blended finance has become associated with projects that often do not meet the requirements of the commercial sector. So even the impact-investing community has sought to differentiate itself. The more powerful narrative would be that blended-finance projects are those that offer government guarantees as well as impact, and therefore meet the requirements for institutional investors," adds Walkate.
For greater mobilisation of private capital for blended finance, Walkate sees a need for government policies that seek to "internalise externalities", as well as the creation of networks and relationships between development banks, investors and service providers.
Asset owner groups join the conversation
The pre-conditions for the growth of the sector may not be there yet, but the conversation about blended finance has reached beyond the international development community and the impact-investing industry.
Development finance institutions (DFIs) and multilateral development banks (MDBs) are no longer the main proponents of a public/private investment approach to filling the SDG investment gap.
Large institutional investor groupings, such as the UN-convened Net-Zero Asset Owner Alliance (NZAOA), have joined the calls for greater participation of private institutional capital in SDG-related projects in the developing world.
In February 2021, the NZAOA issued a 'call to action' for asset managers, asking them to design blended-finance vehicles. The Alliance sees blended finance as one of the most efficient ways to ramp up investment into climate mitigation projects, owing to its de-risking potential.
In November, the Alliance published a discussion paper titled 'Scaling up Blended Finance', which identifies the obstacles to the growth of the sector as well as the potential solutions.
Among the barriers to scaling blended finance, the Alliance identifies the narrow focus and 'national component' requirements of donor capital, but also the lack of capacity and experience in emerging market economies by investors and the asset managers that already manage many blended finance vehicles.
Perhaps the most innovative proposal put forward by the NZAOA is for DFIs and MDBs to publish the recovery rates of their portfolios.
The paper points towards a recent study on infrastructure debt investments by credit agency Moody's, which showed that losses on those investments are historically low, which helped to build confidence in the asset class. The authors of the paper argue that a similar exercise, applied to blended finance, could have the same positive effect. DFIs and MDBs would also be wise to report and share data on impact with investors.
The EBRD's Egyptian dry port PPP programme
Institutional investors seeking clear and stable structures, backed by payment and funding streams from users or the public sector, may take a series of public-private partnerships in Egypt involving dry ports as a reference.
These PPP projects are backed by the European Bank for Reconstruction and Development (EBRD). The first project, located southwest of Cairo, reached commercial and financial close in October last year, aided by the EBRD's upstream PPP advisory and downstream financing. The second dry port, located at 10th of Ramadan, a city northeast of the Egyptian capital, is being prepared, with a tender successfully awarded to the operator foreseen by the end of 2022.
Jürgen Rigterink, first EBRD vice-
president, says: "The concept involves shifting the transport and customs clearance of containers from congested maritime ports to inland 'dry ports'. This is 'green logistics', as there is a modal shift from containers transported by diesel trucks, to containers moved by trains into the dry port.
"At the new facilities, further investment in logistic centres with more private-sector investment will generate value-added warehousing and facilitate the onward movement of the final goods into central Cairo destinations. There is potential for the entire logistics sector in Egypt to be upgraded as a result, and the concept has large potential beyond Egypt, given the need to improve logistics chains across many emerging markets."
Calls for greater engagement of public and private capital have come from the asset management industry as well. In February of last year, at an OECD event on blended finance, BlackRock CEO Larry Fink stated that an intergovernmental platform, with states standing for first losses, would help raise trillions of private capital for the fight against climate change.
Some governments evidently took notice. Last year, as part of its presidency of G7 in 2021, the UK government set up an Impact Taskforce, an "industry-led" organisation dedicated to increasing investing "in aid of the global recovery from the pandemic". The taskforce will focus on "finding investment solutions that have environmental and societal benefits, as well as generating financial gains" and will be headed by experts in impact investing.
Among the first actions of the taskforce was to publish a report which, among other things, called on governments to do their part. The report recommended that G7 governments leverage their positions as shareholders of MDBs and DFIs and enable them to support the mobilisation of private investment for SDGs and a just energy transition.
It is unlikely that these efforts will mobilise the trillions of financing that are needed to close the SDG financing gap by 2030. However, there is significant potential for the sector to grow from its current diminutive size. Convergence, a global network of organisations engaged in promoting blended finance, in its 2021 report on 'The State of Blended Finance', counted 680 transactions worth just over $160bn.
The EBRD's quest
A closer look at how one MDB – the European Bank for Reconstruction and Development (EBRD) – is working to mobilise private institutional capital sheds light on the nature of the challenge, and of the opportunity, for blended finance investors.
The EBRD was created in 1991 to help with the reconstruction of the economies of Central and Eastern Europe after the fall of the Berlin Wall. Today, it operates in 40 countries across Europe, Central Asia and parts of the Middle East and North Africa. The bank invests €10bn of its own resources per year, mobilising a similar amount from the private sector on a direct and indirect basis.
The bank has committed to ensuring that 50% of its projects have a green dimension and 40% have a gender-equality component.
Jürgen Rigterink, the EBRD's first vice-president joined the bank in 2018, after holding senior roles, including that of CEO, at FMO, the Dutch development bank, as well as other roles in banking and emerging markets.
Speaking at IPE's 2021 annual conference, Rigterink tried to garner support from investors, but also made clear that he is not particularly fond of 'blended finance' as a term.
He said: "Blended finance is indeed a very important topic, for the EBRD as well. In about 50% of all of our projects there is some kind of concessional finance element. However, what I tried to show is that we not do not necessarily need blended finance, if that is understood as a type of financing where the risk-return profile is not acceptable to normal investors.
"For the EBRD, in order to mobilise more private capital, we do not necessarily seek to increase the amount of financing from donors or governments. We are actually seeking to increase the number of bankable projects.
"A big part of the reason why more money has not been invested into emerging markets is because investors have trouble finding the right projects. No private finance will flow to investments that are hindered by regulatory failures, carry high ESG risk or which are unprofitable.
"Addressing this lack of supply of strong bankable projects is a top priority for us. We ensure that projects are prepared within the right regulatory and technical environment and capable of supporting the green transition."
In concrete terms, the EBRD is trying to broaden the pipeline of infrastructure public-private partnerships (PPPs) and renewable-energy investments, by advising governments through the bank's project preparation facility. This is how the bank supports public-sector clients in preparing the technical, legal and financial inputs needed to launch successful tenders to attract private capital. Since 2016, the bank has built a pipeline of nearly 40 projects across 15 countries, with a total capex value of almost €10bn.
"We also seek to replicate the projects in the same sectors, going beyond one-off PPPs or renewable energy and towards a programmatic approach that finds several assets to be tendered out," says Rigterink.
Institutions can already invest in EBRD-sponsored syndicated loans. "They are a great way to start for institutions such as pension funds.
We provide a complete information package and administer the loans throughout," says Rigterink.
The bank has sponsored €25bn worth of syndicated loans since its creation and, according to Rigterink, has seen virtually no losses. It has incurred cumulative net write-offs of about 70bps, whereas loss given defaults have been about half of those seen in the private sector for similar rated assets. Typically, the loans have a rating of around B-plus or BB-minus and carry a margin of about 3% to 3.5%.
The EBRD's portfolio comprises equity investments, both directly and through funds. Since its foundation, the bank has invested €13bn-worth of equity, split across 750 investments. The internal rate of return on its direct equity investments has been 12%, compared with a public market equivalent of 7%, according to Rigterink.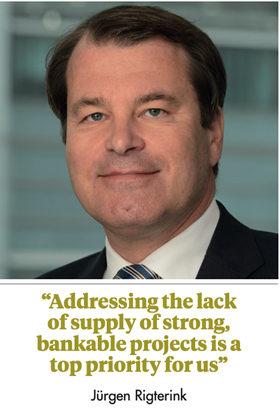 "The reasons why we get superior returns, and what sets us apart, are of course our experience and our excellent people. But there are other reasons too. For example, we have a special preferred creditor status, which mitigates the currency convertibility risks, which we pass on to our co-lenders. We come with a stamp of approval thanks to strict due diligence and ESG screening requirements. Plus, no country likes to default, especially on a multilateral loan," says Rigterink.
New ways of engaging
The EBRD is now looking to team up with asset managers or investors to set up a dedicated emerging market private debt fund. This is an ambitious goal, but it is part of a long-term approach that recognises the difficulties for pension funds to invest in impact-focused emerging market projects.
Rigterink says: "We would like to find a way to engage with investors on a systematic, programmatic basis. By that I mean finding a set of investment criteria that are attractive to managers, and creating a vehicle under which those investments would come through."
The focus is now on debt rather than equity, adds Rigterink, because of the difficulty of convincing investors of the commercial viability of the equity projects that the bank seeks to invest in.
"There is not only a perception of added risk because we invest in emerging markets. There is also a wrong perception that we do not follow commercial principles and that we would accept loss-making investments, so long as we can measure impact. That is simply not true. Our portfolio is very profitable," he says.
But the challenge does not just amount to demonstrating the profitability of the bank's portfolio. Convincing investors to overcome their limitations with regard to asset allocation may be the hardest part, says Rigterink.
He adds: "However, we offer commercially structured transactions with very low levels of non-performing loans, which are expertly structured and tightly monitored including by our experienced bankers on the ground, who are close to our clients. Our presence on the ground, expertise and familiarity with local authorities and the environment allows us to turn perceived risk into realistic assumptions, and work jointly to minimise risk through the instruments at our disposal."
Thanks to the bank's record of profitability, Rigterink sees EBRD, and other DFIs and MDBs, as the "ultimate impact investors".
"On one side, there are those who classify as impactful any investment that basically does not involve controversial weapons. On the other side, there is only impact and no return, as long as there is capital preservation. We think that we do not need to be on either extreme and that we can marry both impact and return. We and other similar organisations have shown that we can make profitable investors in the right way," he says.