A multi-decade trend of falling interest rates, the increased complexity of financial markets and the growing burden of regulation have conspired to turn pension provision into an extremely sophisticated activity. This is especially true for defined benefit pension funds, which may be facing a gradual decline in number, but remain a key source of retirement income.
Key points
Wholly internal management of LDI portfolios is rare among pension funds
By managing large LDI portfolios in-house, investors can save fees and improve performance
Self-reliant LDI investors favour the real-time monitoring of the liabilities and flexible implementation of hedges
Implementation of internal LDI programmes can drive innovation in asset allocation
The 'DB problem' has spurred financial and organisational innovation throughout the world, from the Canadian model to the growth of the mutually-owned insurers of the Nordic countries.
In two of the largest European DB countries – the UK and the Netherlands – pension funds rely to different extents on specialist external managers to pursue their liability-driven investment (LDI) strategies.
But there are several examples of organisations that have chosen to manage their hedging activities internally, on the back of wholly functional LDI operations. This is despite the existence of a thriving LDI industry in those countries, comprising LDI-focused asset managers and advisers.
UK lifeboat
The UK's Pension Protection Fund (PPF), the organisation that protects members of DB pension plans against sponsor insolvency, is a prime example of how to run an entirely do-it-yourself LDI strategy.
The PPF, which managed £36bn (€42.9bn) of assets at the end of last year, is a public organisation funded by fees levied on DB plans, and as such a degree of self-reliance is perhaps expected. But the choice of insourcing the LDI activities was not necessarily straightforward.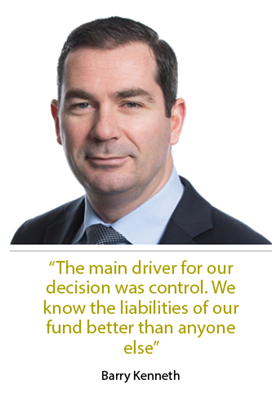 When CIO Barry Kenneth joined the organisation in 2013, after nine years at Morgan Stanley, the portfolio was managed externally. Kenneth's investment banking experience was undoubtedly helpful in insourcing the operation. He appointed seasoned portfolio managers whom he worked closely with in his banking days, with full understanding of their skill sets and capabilities.
Kenneth says: "The main driver for our decision was control. We know the liabilities of our fund better than anybody else. Therefore, we should be able to build and actively manage a hedging portfolio through our risk lens. We also have real-time access to the market when we need to alter the portfolio. I don't believe a third party could manage this portfolio to the same level of scrutiny that we do.
"That creates a very different mindset in terms of building the most effective LDI proposition. Compared with what an external manager would be able to do, we can be very specific in the strategy that we want to adopt for the fund."
LDI specialist managers may take issue with that, but Kenneth rightly points out that the process of implementing LDI portfolios, from valuing liabilities to investing against them, tends to be slow and cumbersome.
"We have built a process that allows us to have full visibility of our liabilities and to access markets, both in real time.
"The PPF's liabilities are indexed to the consumer price index (CPI) but capped at 2.5% and with a floor at 0%. There is no product in the market to hedge that. Our job is therefore to interpret that actuarial liability into an investable liability, and we can do that seamlessly because we are monitoring that every day. A third-party LDI manager is not set up to receive information and transact on behalf of clients on a daily basis," says Kenneth.
The size of the PPF's LDI portfolio is such that even a small movement in Gilt yields, which are the basis for the valuation of DB liabilities, can generate a huge shift in its balance sheet. To give some perspective, a 1bps shift in yields in the PPF's liabilities equals around £60m.
Kenneth says: "Interest rates and inflation will always be huge risks for the institution, and given the strategic decision to hedge 100% of those risks, and the fact that our liabilities are valued on a pure mark-to-market basis, we have to be able to hedge efficiently and accurately."
The CIO describes the PPF's LDI programme as a "layered process". On an annual basis, actuaries review all the assumptions that impact the value of liabilities and the cashflows are re-calculated.
Every quarter, all the liability cashflows are re-forecasted, predominately for new liabilities or assumption changes that have materialised through the quarter, for instance because new DB schemes have been absorbed into the PPF or overfunded schemes have fallen off the balance sheet.
A similar process takes place on a monthly basis, if new schemes come in, although hedging these schemes is a little more of an estimation, as by this point the PPF team does not have the actual scheme cashflows or assets.
On a weekly basis, there is a recalibration of the investment liabilities as a result of changes in the value of actuarial liabilities, part of which are un-investible, such as liability cashflows linked to CPI with caps and floors.
"We tend to trade every week based on that, because markets will always move, causing shifts in our position against either inflation or interest rates. Because of the type of risks we run in our liability profile, market shifts can be quite material. We therefore must be prepared to adjust our hedges when necessary," says Kenneth.
The PPF uses the whole toolkit available to LDI investors, according to the CIO, including government bonds, swaps, Gilt repo and total return swaps. But the institution tries to maximise the efficiency of the capital deployed to the strategy in order to limit the use of leveraged instruments, while still hedging out all of the interest-rate and inflation risks.
The institution has also built a hybrid portfolio consisting of credit or credit-like assets. The portfolio might invest in a UK corporate bond and strip out the duration of that bond to place it in the LDI portfolio, while the excess return component is allocated to the credit portfolio.
What makes this different to a typical pension scheme allocation to UK credit is that there is a much closer alignment with the liability-hedging strategy, resulting in holding more longer-dated and inflation-linked credit assets, which chimes with the goal of maximising the capital efficiency of the LDI strategy.
The exposure across the portfolio is monitored daily, using best-in-class technology platforms.
Given its position, the institution can do more than just monitor and adjust its liability hedges. When it comes to LDI, it has a tried-and-tested investment and governance process to enhance returns. Kenneth says: "It would be silly for us to be purely passive. Therefore, we act as a medium-term investor and take tactical positions when appropriate."
Several factors facilitate this. The PPF takes advantage of the fact that it is a relatively large player that can warehouse risk, something that banks cannot do. It has established strong relationships with investment banks and the UK's Debt Management Office to help open up some of these opportunities. Having a real-time view of the liability profile and strong portfolio management skills allow the PPF to trade with confidence.
Kenneth says: "That does not mean taking large risk positions. Our portfolio managers have strict risk limits. But we can always look at the richness or cheapness of any segment of the markets, be it Gilts, swaps or other assets. And we can always position ourselves in ways in which we think it can maximise value for our portfolio. It is our bread and butter.
"When the portfolio was run by external managers, they did not do a job as good as we are doing, because they could not process all the information on our liabilities that we have in real time. They sometimes would make decisions that we were not comfortable with, even though they were within the mandate. There were also frictional costs involved. We do not have to worry about all that anymore," adds the CIO.
Building an entire LDI programme took time – around three years, beginning in 2015 – and a lot of effort, according to Kenneth, and had to be done step by step.
Furthermore, while the proposition to the PPF's board was compelling, it was decided that initially an external manager would be on standby to take over the mandate if things did not go as planned. Thankfully, that plan B never had to be implemented.
Evidently, however, it was not just about saving the fees that would be paid to external LDI managers. "We may have saved tens of millions of pounds in fees, but we have added far more in terms of performance," says Kenneth.
Liquidity provider
The British Telecom Pension Scheme (BTPS), the UK's largest single-sponsor private sector DB pension scheme with £57bn of assets, has also chosen to run its LDI portfolio internally. The scheme, which is run by a separate management company, BT Pension Scheme Management (BTPSM), will see all current members retire around 2035.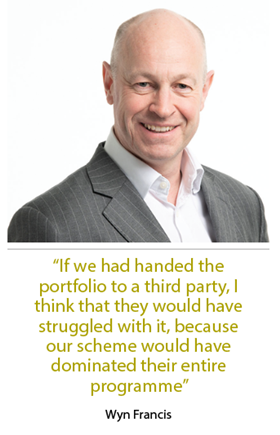 The size and maturity of the scheme means that it has a large exposure to interest rate and inflation risk. As such, managing the LDI portfolio internally was almost inevitable, according to CIO Wyn Francis, who joined in 2008, and also has a background in derivatives.
"We do not do anything internally unless we feel that we can add value. With the LDI portfolio, we knew that building the necessary hedges would be a multi-year challenge. If we had handed the portfolio to a third party, I genuinely think that they would have struggled with it, because our scheme would have dominated their entire programme," says Francis.
"We also wanted to make sure that our LDI portfolio was not just following a benchmark. We see lots of externally-run LDI programmes that are forced to do things almost to a calendar, and we felt that would not have been the right thing for us."
Faced with the prospect of a long, challenging de-risking journey, Francis envisaged an LDI strategy that would entail not just seeking but also providing liquidity in the market. This would have allowed the scheme not just to be a price taker.
The CIO says: "We had interesting discussions with a number of banks early on and there were a few that quickly understood our strategy. The fact that banks have diminished ability to warehouse risk, due to the changes in regulation, has helped us as well. In the early days, in particular, we had to get sizeable amounts of risk off our books, and some of the banks that we spoke to realised that the situation was a win-win for both of us."
The scheme did have a hedging schedule, but made a strategic choice to implement that schedule flexibly. Francis refers to this as a "corridor approach", whereby the scheme could deviate from the central path designed to take the scheme to its hedging targets. This allowed it to take advantage of opportunities that came along the way.
"One example is the 2016 Brexit referendum. We were ahead of schedule in terms of hedging, so effectively we had a free option. Had the choice been to stay in the EU, we felt that the market reaction would not have been strong, whereas we foresaw large moves in case of a leave vote. It felt appropriate to over-hedge versus that central path. That was a decision that added quite a bit of value to the scheme," says Francis.
The scheme's governance helped, according to Francis. The trustees recognised the magnitude of the hedging task, and therefore were comfortable with being ahead or behind the hedging schedule, depending on the situation. BTPS is now almost fully hedged on a funding basis, but the de-risking path is still ongoing, and the plan is to focus increasingly on cashflow-generating assets.
Francis says: "We aim to be cashflow-matched by the mid 2030s, which is when the scheme will be made up almost entirely by pensioners. We also have a 2035 net-zero emission ambition, and the relationship between the two is not coincidental. As we de-risk the portfolio and build up our cashflow-matching objectives, that gives us a chance to build in that net-zero ambition, by choosing appropriate assets to invest in to meet the target."
As part of its de-risking strategy, the scheme has already built a portfolio of cashflow-matching assets, ranging from corporate bonds through to real estate debt and more sophisticated investments such as direct lending, which involves risk-sharing with other capital providers.
That part of the portfolio is managed by external managers with flexible mandates that allow them to look for opportunities far and wide. Often, the scheme will have to invest directly because the size of these investments can be too large for the mandates, but Francis says that this is exactly the desired outcome.
Knowing that pension funds are engaged in such a wide range of complex activities is striking, considering the widely-held view that a pension fund only has to pay pensions to its members.
"That might have sounded like a boring task when I first was called to work for BTPS. But it has proved to be anything but boring. It is actually fascinating, because we have to solve a problem, and there is no book that tells you how to do that. But we know that it requires creativity and innovation," says Francis.
As shown by institutions like the PPF and BTPS, solving such problems requires disruptive solutions. Perhaps their case is a reminder that positive retirement outcomes are still in reach for DB fund members. The DB industry may be on the decline, but an entirely DB-free future may not be the only option, or even the best option, for the pension industry.

Carlo is deputy editor of IPE, having joined as a full-time writer in 2014 after several years spent focusing on Italian pensions in a freelance capacity. He has 15 years of experience as a financial journalist, having worked for publications such as Shares Magazine and Infrastructure Journal.