The social distancing restrictions imposed to contain COVID-19 have made external asset manager selection more demanding, but investors are adapting
KEY POINTS
Manager selection has continued despite COVID-19
Investors have used video conferencing software to interview managers
Evaluating cultural aspects has become more challenging
Investors report positive as well as negative effects
COVID-19 may have inflicted great damage to institutional portfolios, but it has not stopped investors from needing new managers for their assets. Throughout the year, asset owners have continued to recruit managers despite the restrictions imposed to tackle the pandemic.
For professionals researching strategies and selecting asset managers, remote manager selection brings about new challenges.
Standard industry practices such as long meetings with prospective managers have been made impossible owing to the travel limitations affecting most countries. The same goes for on-site visits at asset managers' headquarters or regional offices. Prior to COVID-19, these could last for several days.
Many researchers have reported difficulties in evaluating the qualitative aspects of asset management organisations. This is in the context of the limitations in relying entirely on video conferencing technology.
As many pointed out, asset owners are used to dealing with managers that have a global presence, who will often work remotely as a team.
But for investors, the lack of physical interaction has added to the problem of understanding the culture of the organisations bidding to manage their assets. This is particularly relevant, given the growing emphasis on organisational culture as an important determinant of manager selection decisions.
Nevertheless, manager selection activities have maintained a significant pace. In the first eight months of 2020, 20 manager searches were launched on IPE Quest, the online manager search platform (see figure). The total is lower than during the same period last year, when 31 searches were launched, but not as low as might be expected given the situation.
This data, which focuses on Europe, represents a small sample of a much wider universe of interactions between asset owners and managers. But it gives an indication of investors' appetite for new mandates.
The industry has had no choice but to adapt to remote manager selection. Pensioenfonds TNO, the €3.4bn pension fund pension fund for employees of the Netherlands Organisation for Applied Scientific Research, was searching for managers before Europe went into a lockdown. The fund continued on the process and ran further searches during the months that followed, according to CIO Hans de Ruiter.
"We were searching for two euro credit managers in February but the meetings that were supposed to be held in London were cancelled, first due to bad weather and then to COVID-19. We held the meetings using video conferencing software instead, and we managed to see all the people we would otherwise have seen in person," says de Ruiter.
"The fact we already knew the organisation was helpful. Overall, the process was smooth and we are now in the process of transitioning to the new mandate."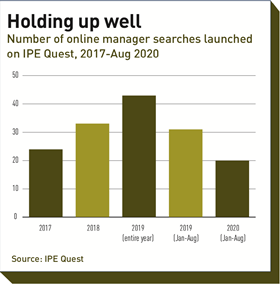 The fund is running further searches for private equity managers, with assistance from Wilshire, the private markets consultant. "We have been working with Wilshire for some time, and if they introduce us to new teams, they have already met them. So far, we have spoken to teams we know already," he says.
De Ruiter says that COVID-19 may lead to changes to manager selection process at the pension fund. "It is foreseeable that we could ask third-party organisations to run the operational due diligence, and focus on speaking to the investment people ourselves on video. It may not be necessary, in some cases, to jump on a plane to meet face-to-face," he says.
"That is not to say that it will never be necessary to meet. If you want to get a feel for the culture, you will need to go and see the managers. Nevertheless, we have learned that a lot can be achieved remotely."
No sacrifice in quality
The Leeds-based Border to Coast Pensions Partnership, has announced a series of new managers appointments over the past few months. The organisation, which manages about £46bn (€50bn) of assets, is one of the eight 'pools' managing the assets of UK local government pension schemes (LGPS).
The newly-launched mandates include two specialist China equity managers, appointed to manage between £300m and £500m, and four managers for a £2.7bn multi-asset credit fund. The LGPS pool also announced £1bn-worth of new private equity commitments.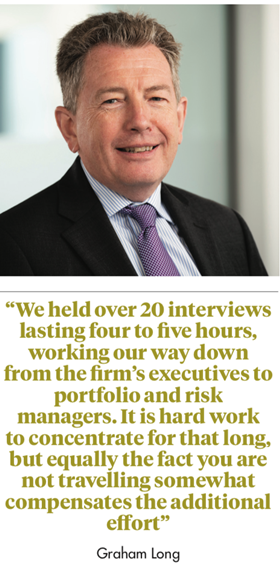 As a public sector organisation, Border to Coast runs public tenders following European public procurement rules. Graham Long, head of external management, says that the organisation would normally use webinars to complement the official tender notices. As part of the recent searches, video interviews were held with the managers that made the shortlist for the China and multi-asset credit mandates.
"For those mandates, we held over 20 interviews lasting four to five hours, working our way down from the firm's executives to portfolio and risk managers. It is hard work to concentrate for that long but, equally, the fact you are not travelling somewhat compensates the additional effort," he says.
Long says that Border to Coast has commissioned operational due diligence reports from specialist organisations, and these reports always involve a visit to the prospective managers' office.
"It is important to have that level of comfort," he says. "We have not faced the situation where those visits could not take place, and therefore the report was not available. We haven't had to consider whether we would need to adapt our process in that respect. There is a reasonable amount of time between the approval and the funding of a mandate, so I would be surprised if it was not possible to carry out a due diligence visit."
Overall, Long is happy with the outcome of the manager searches that were carried out recently. He says: "Having done that more than 20 times, the process seems to have worked well.
"We have not cut corners in any way. The process is essentially the same; only some parts of it are done remotely.
"I am not saying that if the restrictions were lifted we'd never go and meet managers again. Face-to-face meetings are important, especially with managers we have never met. But in the future, we may limit the amount of time spent travelling to see existing managers."
Long points out that the invitation to tender (ITT) notices put out by Border to Coast include several questions regarding aspects of an asset management firms' culture.
He says: "We ask about remuneration, diversity, team structure, turnover among other things. On one level, there's no substitute for visiting an asset manager's office and seeing the setting. But once you get to the stage where you are in a room with the people concerned, and talking to them over a video conference is not so different from being in the same room as them.
"You can learn quite a lot about the culture from the way that analysts explain their investment process. You can also learn about culture by evaluating the level of alignment in describing the process between staff in different functions, such as analysts and portfolio managers."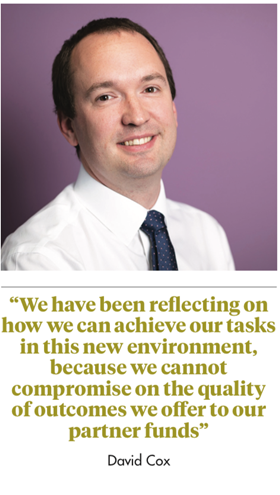 Long says that the number of responses to the organisation's ITTs has not been lower than before to COVID-19. This, he adds, is an encouraging sign that the remote nature of the selection process has not affected its quality.
Cultural barriers
The Brunel Pension Partnership, a £30bn LGPS pool based in Bristol, completed searches for fixed-income managers earlier this year. It recently launched a global small-cap fund for its partner funds.
David Cox, head of listed markets, explains that the organisation has had no choice but to adapt to the situation with a view that it could last for some time. Asset managers are now assessed on the basis of this 'new normal'.
"We have approached this issue as a long-term one, assuming it will change how companies work on a general level. At the same time, we have been reflecting on how we can achieve our tasks in this new environment, because we cannot compromise on the quality of outcomes we offer to our partner funds," he says.
Problems relating to asset manager's corporate structure and culture feature prominently in the Brunel Pensions Partnership's selection process according to Cox. "If you want the same outcomes, especially in terms of responsible investment, you need to have a similar culture," he says.
However, Cox concedes it has become more challenging to assess culture, by gathering the soft data that would be otherwise gathered through face-to-face meetings. But there are ways around this obstacle.
He says: "The way asset management firms have changed their way of working during lockdown, particularly how they protect and help their employees, is an important indication of their corporate culture.
"Furthermore, when you have different people from an asset management organisation on a video call at the same time, while in the past you'd have sat with them in their office, it becomes important to see how they interact in those situations."
As can be expected, investors tend to say they are satisfied with the outcome of the manager selection processes that were run under lockdown. But the more interesting sign of how COVID-19 has affected manager selection is that investors report positive as well as negative effects.
TNO's de Ruiter points to the possibilities offered by technology to both investors and managers. "We have got used to using video technology, but we notice that managers are using the technology to communicate with their investors more frequently, which is important at the moment. This is to their own benefit as well," he says.
According to Long, COVID-19 has forced the Border to Coast Pensions Partnership to be more efficient in relation to the interview process.
"We need to involve more people on our side as well, not just the investment team. This way we can plan the interviews so that the right people on both sides meet. We also find that the video interview process makes it easier to ask follow-up questions and close any gaps that a face-to-face meeting may have generated."
At the Brunel Pensions Partnership, the investment team has tried to refocus its manager selection activities, says Cox.
"Working from home has removed some distractions and, as a result, it has allowed us to focus on what we want from our manager selection processes.
"In equities, for instance, we look for managers with strong skills and deep stock-specific knowledge, that can have a forward look at the environmental and social impact of companies. That is especially important in global equity mandates, where we aim for concentrated mandates to make sure managers develop a deep understanding of their portfolio from an ESG perspective.
"We look at managers that innovate, to compensate for the reduced ability to meet with the management of investee companies," Cox says.