A disruptive new service allows institutional investors in pooled funds to express their stewardship preferences. Will others follow suit?
Fund managers probably know better than most that no industry is immune from disruption. Few, if any, stockpickers today would invest in diesel cars over electric vehicles. Yet when it comes to capitalising on some changes to their own sector, they have been slower to react.
They have proven especially lacklustre in offering institutional investors any kind of autonomy over shareholder governance in pooled funds. All too often, pension funds would be told how their fund manager would vote at forthcoming AGMs, and if they did not like it, they could effectively lump it.
Janice Turner, founding co-chair of the UK's Association of Member Nominated Trustees (AMNT), says: "Fund managers whose policies fall far short of what is needed have refused to accept their clients' policies, and refused to align their own to that of their clients. There is now a clash between the asset owners and the fund managers over who should direct the voting policy of the investments."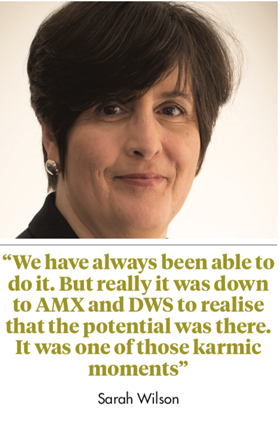 Turner calls this 'untenable' especially since there is growing pressure – not to mention regulatory demand – on European pension fund trustees to flex their shareholder muscles and to be supported by their fund managers in doing so.
Last December, UK pension minister Guy Opperman announced a working group to tackle barriers to shareholder voting, stating: "The days of trustees leaving everything to asset managers without scrutiny must come to an end. We need to do more to improve pension schemes' and asset managers' stewardship and engagement with companies to ensure they are fit for purpose in the 21st century."
He concluded that there was "no reason why trustees shouldn't be able to determine their own high-level policies – on areas such as climate-risk management, diversity, or pay – and find an asset manager to implement it".
Yet, before the working group got going, two firms responded with technology designed to end barriers to shareholder governance in pooled funds.
In February, fund manager DWS and the Asset Management Exchange (AMX) launched a service that allows members of pooled funds to "express their stewardship preferences". In other words, since pooled-fund investors cannot vote as such, they can ensure that their asset manager follows their stewardship wishes (see panel).
The AMNT's Turner is among those describing the AMX/DWS venture as an industry disruptor.
"It is being described as a major market disruptor and that is precisely what it is. A lot of fund managers have presented quite a lot of objections as to why they cannot implement and respond to clients voting policies [in pooled funds], and this [service] has demonstrated that a lot of these arguments do not hold water," Turner says.
KEY POINTS
Pooled fund managers face disruption from a new service that allows investors to express stewardship preferences
Unless fund managers offer this capability, they could be excluded from pooled fund mandates
There is no real evidence that fund managers are innovating in this space
Sarah Wilson, chief executive at Minerva, who is behind the analytics for AMX/DMS, agrees that the new service will prove disruptive for fund managers that continue to drag their heels on allowing stewardship preferences in pooled funds.
However, since Wilson tells IPE that the technology underpinning the service has been around "forever" – indeed it is a reworking of a service offered to the Coal Board pension fund back in the 1990s – the question becomes 'why have trustees had to wait so long?'.
Wilson says: "We have always been able to do it. But really it was down to AMX and DWS to realise that the potential was there. It was one of those karmic moments where we got the right people in the room to say, 'this can be done'."
However, while good timing and karma may have played a part, Turner notes that since governments and the European Commission are placing more pressure on asset owners to be proactive on shareholder governance, and the UK has a new code, there were external drivers pushing a product like AMX/DWS's to market.
She says: "Principle six of the Stewardship Code requires fund managers to explain that they have aligned their assets with the stewardship interests of their clients. The expectation is there that they should be aligning with their client policies, and if they are not then finding ways to do so."
How the AMX/DWS service works
At its simplest, the Asset Management Exchange (AMX) and DWS service lets pension schemes investing in pooled funds actively engage in stewardship. The service uses analytics from Minerva and has input from custodian Northern Trust which gives trustees the chance to choose from a range of voting philosophies which are then followed by DWS on instruction from AMX.
Christopher Head, head of business development at AMX, says "AMX will take those expressions of wish and will vote through Minerva and Northern Trust. The votes will be voted in accordance with the proportional ownership of the fund as it aligns with voting philosophies. If [expressions of preference] conflict on a vote, we would intend to split the position in the fund in accordance with proportional ownership."
While the potential for such a service has been evident in the market for some time, it is only now that the requisite components have come together.
Head says: "The challenge is that the voting ecosystem is a complex one and involves multiple hand-offs through the entire chain. It took an independent platform like AMX; a forward thinking custodian like Northern trust and analytics from Minerva to create a template for the voting philosophies; and an asset manager like DWS to come together to support this innovative product."
For managers who are yet to see the commercial importance of improving voting rights in pooled funds, now looks like a good time to start taking this seriously.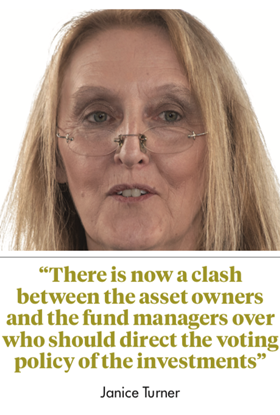 Christopher Head, head of business development at AMX says: "I would expect trustees not to let asset managers into beauty parades unless they pass certain thresholds. These include cost transparency, where we have already seen that to be the case, and stewardship expression of interest will be next."
Turner agrees: "Fund managers are going to have to respond to demands of the market. Not only are they under new requirements from the stewardship code but pension schemes are facing much stronger requirements too."
There is no real evidence that other managers are rushing to offer anything along the same lines.
Of the fund managers that responded to IPE's requests for information on their stewardship offerings for pooled fund investors, there was little innovation.
Columbia Threadneedle takes the view that it is not currently possible for voting rights to be directed by individual investors into one of its pooled funds. However, it says that across its pooled funds, its stewardship approach is designed to protect the interests of all of its clients. The asset manager says it focuses on prioritising material and contentious matters affecting those companies in which it has significant holdings.
The manager says it had no plans to update this approach but adds: "We expect our clients to continue to hold us to account for our voting policy and activities."
Irfan Patel, corporate governance analyst at AXA Investment Managers, tells IPE that the manager has its own corporate governance policy and a corporate governance committee which is the basis for its voting work. "In addition to our policy, when taking voting decisions, we would also take account of any engagements we have with companies as well as any portfolio manager views, including client consideration, and these votes would be applied across our entire holdings."
Patel adds: "AXA will continue to monitor developments on this topic as well as the views of our underlying clients in dispensing their fiduciary responsibility."
The situation is similar at Aberdeen Standard Investments, where Mike Everett, stewardship director in the ESG investment team, says investors cannot express their own wishes if part of a pooled fund.
He adds: "We set out to ensure that the investors in our pooled funds can fully understand how we deliver our stewardship responsibilities and hold us to account for delivering against the expectations we have set."
Everett also says that while no changes are afoot, the fund manager is "actively supporting the joint Investment Association (IA) and Pensions and Lifetime Savings Association (PLSA) working group reviewing the long-term relationship between asset owners and asset managers to collaboratively align the long-term approach across stakeholder groups".
At Legal & General Investment Management (LGIM) progress towards improved voting options is clearer. In September 2020, LGIM launched a pilot with investment transparency technology provider Tumelo, allowing scheme members to express their opinions on pending shareholder proposals.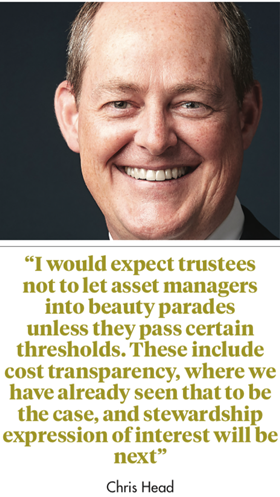 LGIM says the Tumelo pilot aims to provide members with greater transparency over their scheme's portfolio. It is also meant to increase their engagement on the way their money is being managed, through a greater understanding of the sensitive decision-making process of companies where they own a stake. Once members have shared their opinions as to how to they would vote on key issues, they are able to see how their views compare withthose of their peers and their own fund managers, as well as see the outcome of the votes.
Ultimately then, it seems AMX/DWS are lone voices, which suggests pooled-fund investors are being underserved by the fund-management community. In some cases, this absence of support is driving pension funds to take action.
ABP, the €344bn Dutch civil service pension fund, has said it will move out of pooled funds to give it more control over its shareholder governance, a decision that Rients Abma, executive director at Eumedion, says others will follow.
"With more and more responsibilities for asset owners in the field of corporate governance and sustainability I can imagine that pension funds are looking for more control and flexibility and to push for more influence on votes and engagements, also in a pooled-fund structure," he says.
If the AMX/DWS proposition is not already sufficiently disruptive to fund managers, Head says there are plans to make it easier for individual members to feed their views into the process, too.
He says: "As an additional service, we are seeking a partner that can allow for individual [defined contribution] members' views to be taken into account."
Allowing individual members of pooled funds the chance to express their shareholder governance preferences is a major advance for governance and whether fund managers like it or not, they are likely going to have to get on board or be left behind.