Günther Thallinger, a member of the board of management at Allianz and chair of the steering group of the United Nations-convened Net-Zero Asset Owner Alliance, spoke in Davos about the role of asset owners in reducing carbon emissions
The Net-Zero Asset Owner Alliance is an international group of institutional investors who have committed to transition their investment portfolios to net-zero greenhouse gas emissions by 2050. This pledge, explains Günther Thallinger, chair of the steering group, is consistent with a maximum temperature rise of 1.5°C above pre-industrial levels.
Thallinger spoke to IPE at the World Economic Forum in Davos in January, when Net-Zero Asset Owner Alliance members held their first large-scale engagement event (see panel).
Asset owners have a unique role in the global economy and financial systems as they can drive the development of industry best practice through their investment mandates. Representing nearly $4trn (€3.6trn) in assets under management, the alliance argues that they are not only acutely vulnerable to the systemic disruptions that climate change will unleash on ecosystems, societies, and economies, but they also have a key role to play in catalysing decarbonisation of the global economy and investing in climate-resilience. Pension funds and insurance companies have long-term investment horizons and liabilities and this gives them the incentive to think beyond the time horizons of asset managers more focused on their own short-term business risks.
Most investors have a broad approach to sustainable investing, of which climate impact is just one element. However, the alliance contends that, with climate, they have to act together as that is the most urgent issue that needs to be tackled. "We have formed the alliance with that clear commitment," says Thallinger.
The key objective of the alliance is engagement with corporations to produce a managed response to the existential crisis that the world faces through man-made emissions of greenhouse gasses. Selling investments, Thallinger argues, is the ultimate step, that is rarely used and only done if it is not possible to get to any form of agreement. "It is not practical because if you sell off you need to invest somewhere else, which is very difficult in a 3.7-degree economy. So we clearly need to engage and to evolve our assets."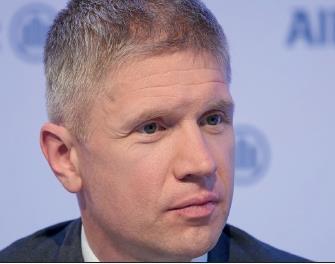 The power of the alliance is that long-term investors acting together not only have a more powerful and effective voice when it comes to negotiating with corporations, but such negotiations can also be undertaken far more efficiently. As Thallinger points out, many different investors have approached companies with different metrics requirements and timelines, and communication platforms. It creates an enormous load for them which would be impossible to cope with. "Quite bluntly, if you have one asset owner who is happy with net zero 2075, that creates a different timeline, he says.
"If you go to Asia and another asset owner says he is happy with a 50% reduction rather than a net-zero objective, that creates even more confusion. We have to make it clear we are aligned with governments and we are working with several companies already, as well as with initiatives such as Climate Action 100+." It is the single objective of net-zero 2050 that binds the different initiatives together, which is what gives the alliance its strength.
While the objective may be laudable, how achievable is it? Thallinger concedes that if you just take the global economy as it is today, it is not possible. Greenhouse gas emissions need to be reduced in all parts of the energy system. This means improving energy productivity, changing the mix of energy products, and storing emissions in carbon sinks. What the alliance is striving to do is to negotiate a transition to a different structure for the global economy, which requires several forms of evolution including reductions in energy demand, as well as moves to alternative energy sources.
Companies in sectors that are substantial users of energy first of all need to move towards more efficient use of energy, says Thallinger: "How is the automotive industry using steel? The steel they use is not 100% used in production. Anywhere up to 30% is wasted in the production process. There are efficiencies that can be made."
But efficiencies are not going to be enough. The world needs to move away from burning fossil fuels and towards alternatives. That is already happening and even China, which has traditionally relied heavily on burning huge amounts of coal, is now "coal flat", Thallinger says. "Flat is very good because China is not increasing coal usage, even though the economy is growing dramatically. So flat means a very big change. And why? Because of solar and wind, and China is a very big player in both."
"The point of a portfolio approach is that while there may be companies that cannot become carbon zero, the portfolio can" - Günther Thallinger
Solar and wind power are subject to the vagaries of the weather and without efficient means for energy storage, cannot provide base power requirements. "For energy provision, we still have major discussions to be had, but the issue is: are we willing to manage the transition? That is why the Asset Owners Alliance is so relevant – the long-term investors are actually here to manage the transition," says Thallinger.
How that transition plays out is subject to many different local political environments and that can be seen most starkly when it comes to nuclear power, an energy source which has the capability to supply all the global economy's energy requirements without zero emissions of greenhouse gasses.
The alliance itself neither encourages nor discourages the use of nuclear power. "In some jurisdictions we are a financial partner as it is part of the economy, but in others, like Germany, we are not," he says. The alliance is simply a partner to governments in the local economy. However, in some areas, the alliance can be more proactive by, for example, investing in green bonds issued to finance alternative energy: "We are working with many of the FAANG [Facebook, Amazon, Apple, Netflix and Alphabet, formerly Google] companies to see how they can get their renewable energy sourced. This can be a very targeted financing initiative."
The most obvious losers in the transition to net zero are, of course, the traditional oil companies: "But the point of a portfolio approach is that while there may be companies that cannot become carbon zero, the portfolio can," says Thallinger. Many oil companies may disappear but some are transitioning to see themselves as energy providers, not purely oil. Shell is a very good example: "The co-operation between asset owners and Shell is the key example of Climate Action 100 +."
Transition work kicks off at Davos World Economic Forum
The investors in the Net-Zero Asset Owner Alliance got down to business in Davos, Switzerland, in January when they held their first large engagement event with companies about the change that is needed to keep average global warming to 1.5°C above pre-industrial levels.
In a closed-door session during the World Economic Forum (WEF), members of the alliance met with more than 50 leading representatives of portfolio companies.
According to Christina Figueres, convener of Mission 2020 and former executive secretary of the UN Framework Convention on Climate Change, the group's engagement with companies got off to a good start, with "a very clear recognition it needs to be an effort on both sides".
The companies involved were not only "willing to speak but also had an appetite [for the conversation]", she said during a media briefing held at the WEF.
Speaking during the press conference in Davos, Allianz's Günther Thallinger said the engagement with companies was "of an essence because the target we will define in 2020 will be supported by measures we are working on with those companies".
"And that's why we believe we're talking about something that is transformational for various areas, not only the investing space," he said.
Members of the alliance have emphasised the shift that is needed in the real economy to limit global average temperatures to a 1.5°C increase, and the role of engagement – as opposed to investment or divestment.

Tom Joy, chief investment officer at Church Commissioners for England, said: "Yes, capital has to shift into renewable technologies and new opportunities, but the climate crisis will not be solved unless the transition happens.
"Divestment is not the answer to the climate problem. As an asset owner we always retain that right, but it won't solve the climate crisis."
Thallinger acknowledged there was an expectation that money must be shifted, "essentially divesting in some areas and investing in others", but he said this was not the route the alliance would be taking.
"We can achieve a much better impact by working with the companies we invest in or the assets we finance," he said. "If we work with those assets we have a chance of doing value creation and that's what an investor looks for."
Figueres said it was important to understand how complex it was for companies to decarbonise, in particular with respect to their Scope-3 emissions – indirect emissions excluding those from the generation of purchased energy.
"We shouldn't fall into simplistic thinking that once a company or an asset owner assumes a certain target by a certain date they have that under their control," she said. "Then they need to pull the whole cavalry in to achieve that.
"It makes it more complex, but that's the good news because there are ripple effects that go into the fabric of the economy. It's both the difficulty as well as the advantage."
The Church Commissioners for England and the Church of England's two other national investment bodies joined the Alliance in January, as did insurer Generali. Their membership was announced to coincide with the World Economic Forum event.
Counting the Church of England investment bodies as one, the Alliance has 18 large pension funds and insurers as members. It was initiated at the beginning of 2019 by Allianz, Caisse des Dépots, Caisse de dépôt et placement du Québec, Folksam Group, PensionDanmark and Swiss Re.
Alecta, AMF, CalPERS, Nordea Life and Pension, Storebrand, and Zurich joined as founding members. Fonds de Réserve pour les Retraites and Axa, Aviva, and CNP Assurances signed up in November.
As part of the commitment to render investment portfolios carbon neutral by 2050, the Net-Zero Asset Owner Alliance will set and publicly report on interim targets aligned with the timeline for countries under the Paris Agreement.
Susanna Rust
Shell announced a net carbon footprint ambition in December 2017 with a plan to reduce it by 50% by 2050 and by about 20% by 2035 as an interim measure. Shell itself contends that the greatest contribution it can make at present is to continue to grow the role of natural gas to fuel transport, heat and light homes, and power industries. Natural gas produces between 45% and 55% less greenhouse gas emissions than coal when used to generate electricity, according to data from the International Energy Agency (IEA), an intergovernmental organisation. Shell also states that it is investing in low-carbon technologies and businesses necessary to enable the transition, which include low-carbon biofuels, carbon capture and storage, hydrogen, solar power, wind power and nature-based solutions such as reforestation.
Thallinger's day job is as a board member of Allianz and a natural question to ask him is why is Allianz involved in the alliance? "We do business for policy holders and our investment clients," he says. "They want us to promote sustainability. We also need to be part of civil society and take our responsibility of being an owner seriously." That viewpoint looks to be gaining strength among institutional investors.