The vogue for special purpose acquisition companies (SPACs) has something in common with many other fashions, whether in investment or in the shops. Just when you think the trend cannot get even hotter, the temperature rises yet further.
● Investor returns on buy-and-hold SPAC investments have outperformed the Russell 2000 Growth index on average but median returns have been lower
● Investors regard Spacs as defensive assets with similarities to convertibles before merger
Last year there were 255 SPAC initial public offerings (IPOs) worth $79.1bn (€65.6bn), according to Refinitiv – all but 11 of them in the US. This compares with only 94, worth $14.0bn, in 2019, and 16 deals in 2016. In the first eight weeks of 2021 alone there were 179 deals, raising $56.1bn.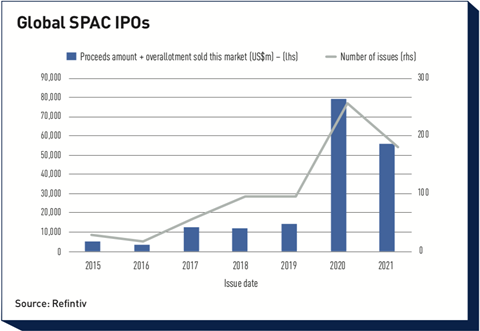 SPACs have long existed, but statistics show they were relatively rare until 2017. Over the past couple of years, the number of SPAC IPOs has ballooned. "Until 24 months ago, I had not really been speaking to any of my clients about SPACs," says Alex Di Santo, London-based head of private equity at Crestbridge, an administration services company. Over the past year in particular, however, clients have become interested – responding to "the surge in PE-sponsor-backed SPACs".
There are plenty of other sponsors aside from private equity firms, including former bankers and senior people from the corporate world. However, the cast also includes more unusual characters, such as the rapper Jay-Z and the basketball star Shaquille O'Neal. Appropriately for such a über-cool trend, it even includes the former editor of the US fashion magazine Cosmopolitan, Joanna Coles. This has stoked fears that some investors in SPACs are bedazzled by stardust or struck by fomo (fear of missing out), rather than being convinced by a rational investment thesis.
"A surge in PE-sponsor-backed SPACs" - Alex Di Santo
Detractors see signs of market froth. They also argue that SPACs embroil investors in a world of lax regulation and perverse incentives.
One of the most common criticisms of SPACs is that they are a way for operating businesses to go public without the laborious dotting of 'i's and crossing of 't's of a conventional IPO. Instead, the investment company does this. That is fairly easy, since the investment company does not, at the time of IPO, have much more than cash and a hankering to buy a business.
However, Daniel Forman, New York-based partner in the capital markets group of Proskauer, a law firm, takes issue with this accusation of laxity. Comparing it with a conventional IPO, he contends: "You're really going through a very similar, if not the same, process for the de-SPAC business combination. There are similar safeguards in place from a securities law perspective for both types of transaction."
In his experience, the sponsor does its due diligence on a target business "in a very thorough way". Moreover, the proposed business combination requires a Securities and Exchange Commission filing with the same anti-fraud provisions as for an IPO: "You can't have a material mis-statement or material omission," Forman says.
What is a special purpose acquisition company ?
A special purpose acquisition company (SPAC) is a company set up to make a return from acquiring another company. The SPAC's founder, known as the sponsor, lists the company on a stock exchange. At this point, it is simply a shell company that holds cash raised from the IPO. For this reason, SPACs are sometimes known as blank-check companies.
Investors in the IPO receive both common stock and warrants, but the sponsor typically receives 20% of the shares and warrants for a nominal sum. The sponsor is then given a fixed period, most commonly two years, to buy a suitable operating business; technically, the SPAC merges with this firm. Through this reverse merger, sometimes known as a de-SPAC, the target business becomes a listed company.
Fans say SPACs are a way of investing in fast-growing companies in a much more liquid way than a standard private equity investment. They also point to the power that they give investors, who can vote to accept or reject a proposed purchase. Moreover, any investor can cash out of their investment before the merger. If they do, they receive the capital they invested plus interest. "It's a very democratic process," says Randy Wachtel, managing director of JP Morgan Alternative Asset Management Hedge Fund Solutions in New York.
"Returns have been very attractive, even for weaker deals" - Michael Cembalest
Wachtel says that before the merger, SPACs start off as a defensive asset. He also describes them as "very much like convertibles". Instead of just cashing out, investors can also sell their stock and warrants at any time before the merger to other investors. JPMAM has calculated the performance of SPAC investments exited immediately before a merger. "Returns have been very attractive, even for weaker deals," as Wachtel's colleague Michael Cembalest, chairman of market and investment strategy at JPMAM, puts it – an average of 40% and a median of 14%.
Finally, Wachtel adds that after the merger a SPAC becomes like any other equity investment.
Critics also complain about misaligned incentives. They dislike the way that sponsors typically receive shares and warrants at the time of the SPAC IPO in return for a nominal sum. This enables sponsors to make a high return even if the business underperforms after the SPAC deal is completed. Denigrators complain that this saps the eagerness of sponsors to find good businesses, and to work hard at making them better still.
Market observers are particularly wary of SPACs that target one sector in their prospectus but end up merging with a business in a different one. "A SPAC may be focused on the biotech space, but could end up purchasing a consumer retail company," says Forman. He says there is typically no legal bar to switching sector in this way.
Statistics of past performance provide fuel to both critics and to fans. JP Morgan Asset Management (JPMAM) analysed 90 US SPAC IPOs and liquidations between January 2019 and January 2021. Cumulative returns for sponsors averaged 648% after allowing for return-draining factors such as rights to shares given up by the sponsor. This is over seven times more than the 90% return for investors that bought into SPACs and held their investments after merger.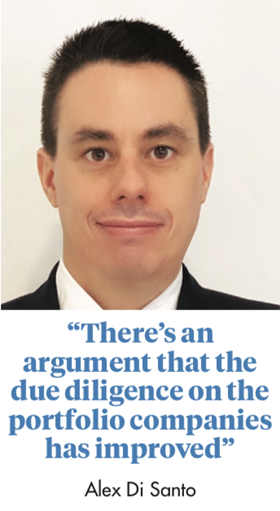 SPAC advocates might argue that this is still an excellent return for investors; it was 27% better than the Russell 2000 Growth index. However, this outperformance is due to the very high returns of a few deals, such as the high-profile acquisition of US sports betting company DraftKings. In median terms, a buy-and-hold strategy for SPACs has underperformed the same index by 21%. Moreover, measured against US IPOs rather than the Russell 2000 Growth, buy-and-hold investing in SPACs has done worse in both average and median terms.
However, the way that sponsors are rewarded is changing – or at least, the conventional incentive structure is no longer standard. Foreman of Proskauer cites "a few structural innovations" to align sponsors' interests better with those of investors.
Market observers have praised, for example, the structure of Pershing Square Tontine Holdings, a SPAC set up in 2020 by US hedge fund manager Bill Ackman. Ackman's hedge fund, Pershing Square, has bought shares at the IPO price, rather than for a pittance. It has also paid $65m for warrants that cannot be exercised until three years after a merger is completed and the stock has risen 20%.
Market observers have also praised the development by Morgan Stanley corporate financiers of a new SPAC structure called a Stakeholder Aligned Initial Listing, or Sail. In this structure, the sponsor receives equity only if the merged company outperforms the pre-merger SPAC.
Di Santo of Crestbridge is optimistic too. "Average sponsor quality is improving," he concludes. SPAC investors still need to look out for traps. He says they should be wary of private equity houses trying to offload one of their old investments through a SPAC, for example.
How HOOPP invests in SPACs
"SPAC investing requires an integrated effort across teams," writes Geoff Arseneau, assistant vice-president, derivatives and fixed income, at the Healthcare of Ontario Pension Plan. "At the IPO stage, we need to know the management of the SPAC, the sponsor, and the track record of both; and we need to know the general area where they will search for a private company with which to merge the SPAC. We also assess the structure of a SPAC, such as any performance hurdles that must be met before the sponsors get compensated. This work is primarily managed by the absolute return/derivatives team.
"The next key stage is when they have a specific deal. At this point, the Pipe [private investment in public equity – the extra fundraising often arranged to fund the deal and invest in the business], we need to know the details of the specific business that is coming to public markets and to evaluate management's growth expectations against other companies in similar businesses. This is when the public-equities team needs to be involved. Overall, these activities work best when tightly integrated."
On the other hand, in recent years the biggest and most successful names in private equity, such as Apollo and Oaktree, have used SPACs. Di Santo thinks the work on improving incentives has also helped make sponsors more thorough. He concludes, with guarded optimism: "There's an argument that the due diligence on the portfolio companies has improved and you will see that reflected in the portfolio performance over time."
This belief provides reassurance over one of the most common gripes about SPACs – that the market has become a bubble, where average deal quality is worsening. Di Santo and others contend that, to the contrary, it is improving.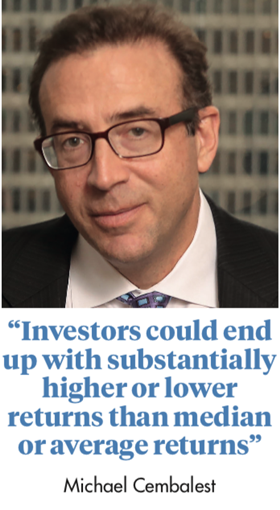 However, many among both critics and fans are likely to agree on two points: there are plenty of promising SPACs in the market; and there is also much dross. As Geoff Arseneau, assistant vice-president, derivatives & fixed income at the Healthcare of Ontario Pension Plan in Toronto, puts it: "Some of the deals that are coming to public markets this way are interesting companies with good growth potential – but selectivity is important." Hoopp has invested in several companies through SPACs, including US online real estate firm Opendoor and US online tutoring business Nerdy.
Michael Cembalest, chairman of market and investment strategy at JPMAM in New York, makes broadly the same point but in mathematical terms: "Dispersion of absolute and excess buy-and-hold returns is enormous. As a result, investors could end up with substantially higher or lower returns than median or average returns, depending on which SPACs they participated in." Surveying this dispersion, he suggests a practical solution often put forward for an asset class with a similar problem, emerging market stocks: "In principle, active management could add substantial value in this market."