Academic research produces excellent technology and medical firms, but the funding is not always available to take things further
Key points
Universities are creating impact for society
It is not always easy to transfer technologies from universities to commercial entities
UK institutions are making efforts to create entrepreneurial ecosystems
Spin-outs often struggle to attract investors
The intellectual horsepower of universities is the bedrock for the creation of great technology companies, according to Joe Schorge, managing partner of Isomer Capital. And, says Simon Hepworth, director of enterprise at Imperial College London, part of the core mission of any university is to create positive impact on the world, either from academic research or from student ideas. The challenge for universities is to facilitate the path from academic ideas to successful companies that can address key issues for society.
With the world facing existential challenges in areas such as climate change, universities hold huge potential to create positive impacts through spinning out research and intellectual property (IP). Carbon capture and utilisation (CCU), for example, is a key area of research that could transform the world. Aviation causes around 2% global of CO₂ emissions and is growing, with no practical alternative to hydrocarbon aviation fuels for long-haul flights and limited availability of sustainable biomass for biofuels.
Peter Edwards, an emeritus professor from Oxford University's chemistry department, has spun off a company based on research by his university team on creating iron-based catalysts that enable hydrogen to be combined with carbon dioxide in the atmosphere to create sustainable jet fuel. It could be a game changer for air travel; Edwards estimates that CCU-derived synthetic aviation fuels could become a $250bn (€231bn) market by 2030.
Creating businesses from university research has not always been encouraged and many academics frown on the idea of moving away from research. Luke Southan, who heads the technology transfer office at Birmingham's Aston University, tells academics that commercialisation of research is "translation". He says: "It's taking your research and making sure that the very best…. possible could happen from it." Southan admits that narrative goes down better with academics than saying: "Let's go and make a load of money out of it."
Incentives for enterprise
However, UK universities are regularly evaluated on how much impact they have, which incentivises them to foster the creation of more spin-outs. According to Hepworth, the question is how to do it best. Schorge points out that university technology transfer offices have to deal with academic staff who are often not comfortable with venture capital (VC) investors. This is in contrast with the US, where Schorge was based in the late 1990s. He says: "Lawyers would visit labs every quarter and ask the scientists about what things were worth patenting and the universities were proactive in that regard. So when VCs came round, they had ready-made documents for pharma companies to look at."
One huge impetus for the growth of university spin-outs is the dramatic increase of interest by undergraduates to become entrepreneurs. Universities are recognising this by setting up programmes to encourage entrepreneurship. London's Imperial College runs competitions and tuition for budding entrepreneurs, and has an enterprise lab to support ideas without charging founders and with no expectation of equity in return.
Aston has sponsored BSEEN, a £1.5m (€1.75m) externally funded student and graduate start-up project since 2012. It organises a programme of events, workshops and competitions "to raise the profile of enterprise among students and graduates and to encourage the development of an enterprising mind-set", explains Carolyn Keenan, head of Aston Enterprise. The universities of Oxford and Cambridge are consistently ranked at the top in the UK and are the leaders for spin-outs (figure 1), according to the report Spotlight on Spin-outs 2023. However, they are unlikely to see many student-led spin-outs, according to Hepworth. He says the two universities' eight-week terms, rather than 10 weeks at most other institutions, means that students do not have the time.
The timescales and routes for spin-out success vary significantly, depending on the scientific discipline. Universities tend to make money in developing new therapeutic drugs and computer software, according to Southan. These two disciplines are at the extremes of the timescales required for development. Other attractive areas for investment, including synthetic aviation fuel, sit in-between in terms of timescale, requiring testing out the process on an industrial scale and moving up in stages within just a few years.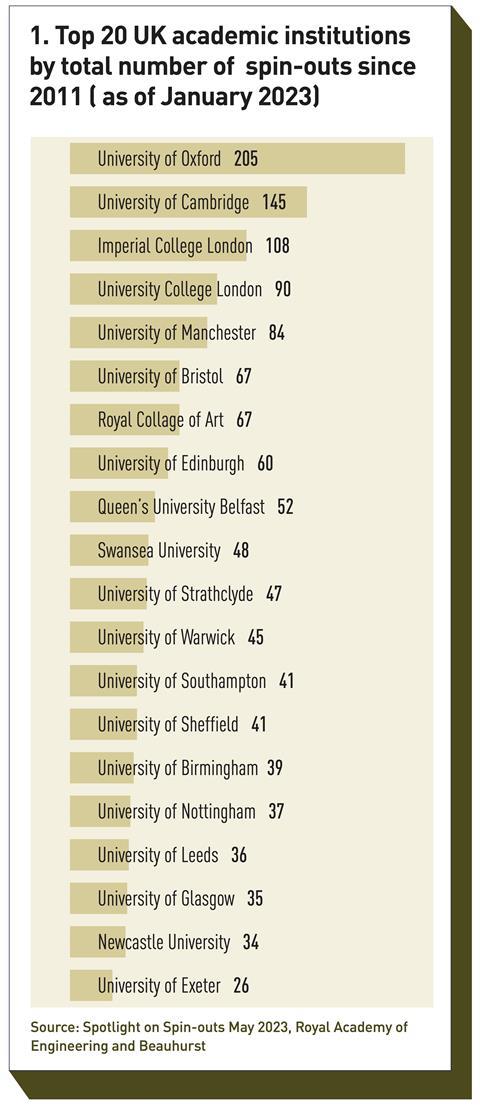 Therapeutics development is the most well-trodden tech-transfer route, according to Southan. Because the market for therapeutic drugs is well regulated with a focus on patient safety, the route to a successful spin-out is well defined, irrespective of the type of drug. Southan says: "Everyone needs to prove that they're doing the biology correct and then ensure that there are no deleterious side effects, which means understanding how a drug is being absorbed, metabolised, distributed and excreted."
This pathway is standardised, and educated investors know how to look at the biological work package, and the data on the drug and safety. This part could cost up to £50m. Undertaking drug trials with healthy humans might cost another £7.5m and then around £15-20m to trial them on people who are ill. Southan says: "That is when most companies sell out – before they have even spent the £150m to £200m on clinical trials to actually launch a product." However, if they keep going, at the end of a successful phase two of human clinical trials, the company could be sold for between $500m and $1bn to a large pharmaceutical firm.
Tension over equity stakes
A key debate centres on the sharing of spin-out equity between the university sponsors and the academic originators. This can lead to acrimony and even deter academic entrepreneurial activity. Schorge says: "One partner of a VC firm in London I saw wanted to invest in a university spin-out but the university had patented the IP and wanted to own the entire company, which removed all incentive for any external investors."
In recent years, there has been an evolution of thinking in the UK over the fair trade-off between universities and the originator academics. Aston, for example, moved from taking 50% founding equity three years ago to 20% today, says Southan. "When the university took 50%, it was a challenge to get a spin-out formed, launched and that first investment deal all signed off because there were multiple layers of process to go through."
Even within the UK's 'golden triangle' of Oxford, Cambridge and the London universities, there are differences in approach to equity stakes. Cambridge is seen as the most academic-friendly model of commercialisation, and is also investor-friendly, according to Zoe Reich, fund manager at Octopus Ventures. She says: "The university doesn't claim the academic IP or take founding equity unless the academic chooses to use the commercialisation services of Cambridge Enterprise; then it is an equity-for-support model."
Oxford, by contrast, has a claim on the IP, and academics must go through the technology transfer office. The university used to take around 50% of the founding equity for IP-heavy technologies, although this has been dropped in recent years. Hepworth says Imperial introduced a 'founders choice', whereby the University's equity stake is dependent on how much support the academic spin-out wants from the transfer office. Since it was introduced in 2017, Imperial's average equity stake in spin-outs has been below 10%.
Schorge argues that universities should have a standard structure without trying to optimise every deal: "Universities should be prepared to have a small piece of a big pie rather than trying to optimise every single potential deal which may look clever but actually puts off investors, so it's very counterproductive."
"Universities should be prepared to have a small piece of a big pie rather than trying to optimise every single potential deal which may look clever but actually puts off investors so it's very counterproductive"

Joe Schorge
Schorge also says most VCs do not directly approach universities because it requires building long-term relationships and wrangling with technology transfer offices. But efforts are being made to standardise terms and conditions for spin-outs in the UK. Imperial worked with a group of universities and seven VC investors to create a new standard of what is normal and fair in creating a high-tech university spin-out.
Facilitating ideas
Some universities have gone further by creating funds and eco-systems to encourage spin-outs. Cambridge set up a science park in the 1970s and its biomedical campus has created a thriving eco-system for medical sciences. Oxford set up the Oxford Science Enterprises fund, which has
featured as a top investor participating in fundraisings worth £1.45bn since 2013. Imperial has modelled itself on the Massachusetts Institute of Technology (MIT), and is creating a multi-billion pound campus in West London with a mixture of research labs, spin-outs and major corporates, including L'Oreal and Novartis, as well as NATO's Defence Innovation Accelerator for the North Atlantic (DIANA).
The Universities of Leeds, Manchester and Sheffield have created Northern Gritstone, which aims to support the commercialisation of science and IP-rich businesses based in Northern England, while Midlands Mindforge was co-founded by Aston and other regional universities to fund spin-outs.
The UK has the potential for plenty of innovative start-ups, but does it have the funding? It is debatable, and the Lord Mayor of London, Nicholas Lyons, argues that firms are struggling to access capital from investors. He has called on industry to create a Future Growth Fund, targeting up to £50bn from defined contribution (DC) pension pools to provide a new source of investment into industries such as fintech, biotech, life sciences and green technology.
Octopus Ventures wants to invest in innovation from the UK's universities. Reich says the focus is on deep-tech hardware outside of the UK's Golden Triangle. It is an area with few VC competitors and most investment coming from regional development funds. Octopus runs a pre-investment accelerator programme, Evolution to Entrepreneurship, which addresses some of the biggest challenges of deep tech commercialisation like customer discovery. "We are often backing first-time entrepreneurs who are early-career researchers or postdoc students, without the network to figure that out themselves," says Reich.
With four universities in the global top 25 ranked by research (Oxford, Cambridge, Imperial and UCL) and only one other European university (ETH Zurich) present, the UK has a clear advantage in creating university spin-outs. However, exploiting that for the benefit of the UK economy may still be a challenge.