Following another summer of high-yield bond market volatility, Emma Cusworth asks whether ETFs are to blame for credit markets getting riskier
Investment grade and high-yield exchange traded products (ETPs), especially exchange traded funds (ETFs), have attracted huge amounts of capital over recent years. So much so, questions are being raised about the extent to which passive flows are changing the technical dynamics of the market. As the credit cycle begins to turn, what impact could this have on downside risk, particularly in the relatively smaller high-yield market?
During the year to the end of July, investment grade and high-yield ETPs globally attracted $11bn (€8.3bn) and $1.4bn net flows, respectively, according to figures from BlackRock, owner of the iShares brand. This follows net flows of $1bn and $6.6bn in 2013.
More recently, however, the picture has begun to change in high-yield. In July 2014 there was nearly $3.3bn in redemptions from global high-yield ETPs as investors began selling in anticipation of higher interest rates next year. Since the start of this year, the iShares iBoxx $ High-yield Corporate Bond ETP has seen nearly $3.4bn outflows.
Liquidity in the secondary market for high-yield is significantly constrained compared with pre-crisis levels as banks have reduced inventories to meet higher capital requirements imposed by regulators – even as the size of the corporate bond market has more than doubled to $5.8trn over the past 10 years, according to MarketAxess.
"Tighter capital requirements have all but evaporated traditional bond dealers' inventories, which has sent many investors into the arms of junk bond ETFs," says Ben Johnson, director in European ETF Research for Morningstar Europe.
"Broker-dealers have been forced into a significant pull-out, which has created a structural challenge," agrees Eleanor Hope-Bell, UK head of State Street Global Advisors' ETF arm, SPDR. "If broker-dealers are not able to provide liquidity, who can?"
Research by SSGA shows fixed-income ETFs can play some part in providing liquidity to the market. Once an ETF reaches a certain size, the bid-ask spread of the ETF shares is "significantly tighter" than the spread in the underlying bonds, its report states. The two largest high-yield ETFs, for example, have a combined market capitalisation of roughly $25bn, some 2% of the total high-yield market capitalisation. In terms of trading volume, however, those ETFs represent just over 10% of average daily trading volume. The bid-ask spread on the ETFs SSGA analysed is 5-10 basis points, compared with 122bp for the broader market.
SSGA's Hope-Bell argues that the divergent spreads implies that the largest fixed-income ETFs have surpassed the liquidity of the actual securities that underlie them – as suggested during the euro-zone financial crisis in 2011 and in the 2013 'taper tantrum', when ETF trading volumes spiked, even as the bond markets underlying those ETFs froze.
But while some outside the ETF industry see the bigger concern as the contraction of market makers' inventories, others are concerned that passive ETF flows are simply making this problem even worse.
"High-yield ETPs are a big enough part of the market that they are impacting liquidity," according to Tom Ross, portfolio manager at Henderson Global investors. "At those times, when you most want liquidity is when they can have a detrimental impact – both when markets are rising and when there is a sell-off. They can exacerbate the change in liquidity."
Others point to the growing influence of 'indiscriminate' passive flows as a factor behind poor credits being able to take on more debt with increasingly aggressive structures, relative to previous corporate leveraging cycles.
"This has been a trend recently," says Ross. "Over the last month or so there has been a shift up in leverage. Some new credits are coming to market with more aggressive capital structures and higher leverage than we would be comfortable with for those businesses."
Late July saw one of the biggest-ever sponsor-backed sterling high-yield packages, the £610m (€763m) Pizza Express deal that was split between a £410m secured seven-year B+/B2 bond with a leverage ratio of 4.3 times EBITDA, and a £200m 6.5 times levered unsecured eight-year CCC+/Caa1 note. As one active credit manager puts it: "The deal was simply too levered."
"In today's market it pays to be a good bond picker," says Matt Eagan, fixed-income portfolio manager for Loomis Sayles. "Good opportunities are getting fewer and farther between. A large part of managing high-yield portfolios today is about loss avoidance – not chasing yield or going too far down the quality spectrum, where you are not getting paid for the default risk. There is a lot of tinder on the forest floor and there will be a forest fire down the road. All it takes is a spark and usually that happens when central banks start getting restrictive."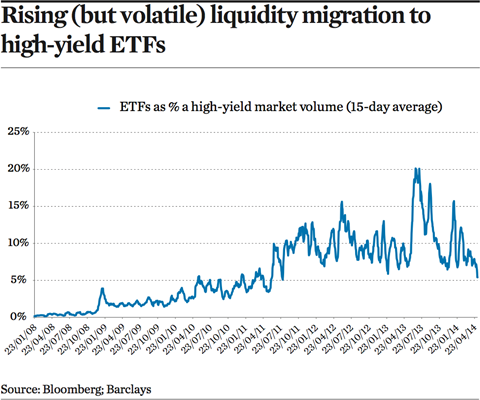 The danger for holders of passive vehicles such as high-yield ETFs is the lack of discrimination inherent in market capitalisation-weighted indexes, effectively making them forced buyers of credits, regardless of fundamentals. And it does not help that they still predominantly track market capitalisation-weighted indices.
"This doesn't make a lot of sense," according to Michael John Lytle, CIO at ETF provider Source, which provides a range of alternative credit index ETFs from PIMCO. "Market-cap indexes tend to drive investors towards more indebted issuers. That leaves them more exposed to tail events because they get dragged into poor credits just as they are about to default."
Furthermore, the greater liquidity and tradability offered by ETFs versus their underlying credits can make them more susceptible to downside risk. Should an event occur in the markets, investors could use their ETF holdings as a source of liquidity. SSGA warns this could cause the share price of ETFs to tumble more than the prices of the underlying bonds they represent.