An update on the accounting deficits in Irish defined benefit (DB) pension schemes
Key Points
The estimated aggregate pension deficit for Irish listed and state companies is €400m at 30 September 2018 (€2.2bn at 31 December 2017)
There is considerable monthly fluctuation in the deficit
Equity exposure continues to fall
Our 2018 Pensions Accounting Briefing shows that the pension scheme deficits for Ireland's largest defined benefit pension schemes fell by €1.4bn, or 40%, over the course of 2017 to €2.2bn at 31 December 2017. We estimate that the downward trend in deficits continued through 2018 and the aggregate pension scheme deficit of the companies analysed was fully eliminated in September 2018 before returning to deficit again.
The decrease in estimated deficits occurred largely owing to increases in bond yields, significant contributions and strong investment performance over 2017. The reduction in deficits was also the result of some liability management exercises during 2017. Financial markets were favourable for the first nine months of 2018, with further increases in yields and strong equity performance. However, market conditions have since been less favourable.
This is our tenth annual analysis of pension scheme finances. It is noteworthy that September 2018 was the first time since commencing our analysis in 2008 that the aggregate pension scheme deficit was eliminated.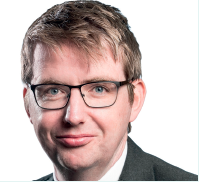 Our report covered 15 of the largest companies (by market capitalisation) listed on the Irish Stock Exchange and other exchanges that have defined benefit (DB) pension arrangements in Ireland. We also covered 11 semi-state/state-controlled companies with DB pension schemes that have published pension accounting information for their 2017 financial year.
Reported funding levels
The accounting standards look at the pension scheme assets and funded liabilities at the accounting date. Of the 26 companies analysed in our report, only four reported that they had sufficient assets to meet their funded liabilities in their 2017 accounts.
The average funding level for the schemes analysed increased from 85% in 2016 to 91% in 2017. In the first nine years of our reporting, the average funding level rose by 4% from post-financial crisis positions of 81% in 2008 to 85% in 2016. The increase to 91% in 2017 is a larger increase in one single year than the cumulative previous nine years.
Figure 1 shows how funding levels have changed in 2017 for the companies analysed.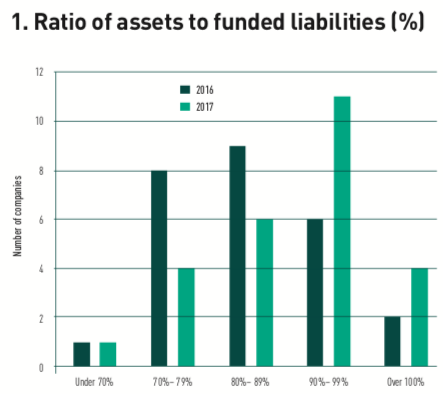 We have also considered the movement in the pension scheme balance sheet positions during 2018. Euro-zone and US equities performed well in the period to 30 September 2018. Global equities, as measured by the FTSE World index, were up about 8.4% in 2018 to the end of September.
On the liability side, high-quality corporate bond yields as at the end of September 2018 were higher on average than as at the end of 2017. These higher yields mean that IAS19 liability values have fallen during 2018 (as pension scheme liabilities are calculated by reference to these yields for accounting purposes).
We estimate that the aggregate pension deficit for the Irish funded schemes of the companies analysed stood at €400m as at 30 September 2018 (€2.2bn at 31 December 2017).
As the figure 2 demonstrates, there can be significant volatility in the level of deficits from month to month as equity values and bond yields fluctuate. Indeed, it is estimated that the deficit was fully eliminated in mid-September.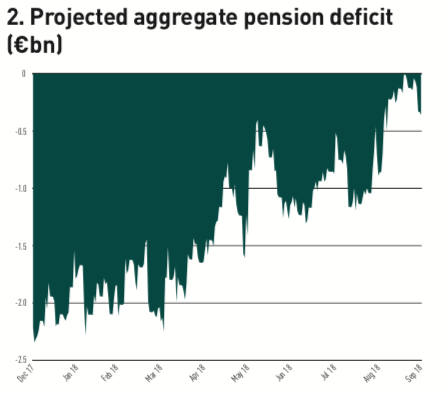 What have companies been doing to manage their pension commitments?
There were several examples of transfer-value exercises where members were offered transfer values (in some cases with enhancements in excess of the standard transfer value) to another pension arrangement in exchange for their accrued defined benefits.
Trends in asset allocation
The average level of exposure to equities fell from 41% in 2016 to 37% in 2017. The reduction is more significant when considered over a longer time horizon, with an average allocation of 59% in 2009. However, the exposure to equities remains high when compared with other jurisdictions. For example, it is 25% in the UK.
The average allocation to bonds increased slightly from 36% to 37% during 2017 and the allocation to other asset classes increased from 23% to 26% during 2017.
Five companies disclosed an allocation to liability-driven investment and two companies disclosed an allocation to hedge funds.
Company exposure to schemes
Figure 3 shows the size of the pension accounting liabilities relative to market capitalisations for the companies analysed. The total pension liability, expressed as a proportion of market capitalisation, decreased over the year (from 25% in 2016 to 20% in 2017).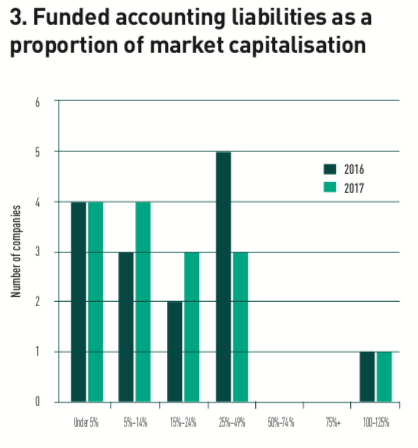 Contributions a significant cost
The companies analysed paid substantial contributions of almost €1.1bn to their pension schemes in 2017 which is broadly unchanged from 2016. It is clear that pensions remain one of the most significant costs for these organisations.
Our analysis shows that the majority of companies pay contributions that are in excess of the cost of benefit accrual under IAS19 as attempts are made to reduce past service deficits. On average, companies paid contributions of just under 2.0 times in 2017 (2016: 2.1 times) the cost of benefit accrual on the accounting basis.
The key assumption
The discount rate is the key assumption used to value pension liabilities. Under IAS19 and FRS102, this assumption is based on the yields available on long-dated high quality (typically AA-rated) corporate bonds in the currency of the liability at the valuation date. These yields, and hence the discount rates, will fluctuate from day to day in line with market conditions.
A review of the average discount rate used by companies since 2008 shows a significant reduction in average discount rates from 5.8% at the end of 2008 to an average of 2.0% at the end of 2017. The corresponding impact on a pension scheme with long-term liabilities has been an increase of about 75% in the value of disclosed liabilities. Figure 4 shows the average discount rate in each year between 2008 and 2017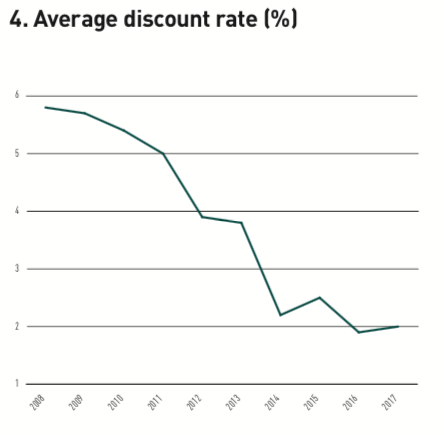 In figure 5 we have analysed the discount rate for companies reporting with December 2017 year-ends.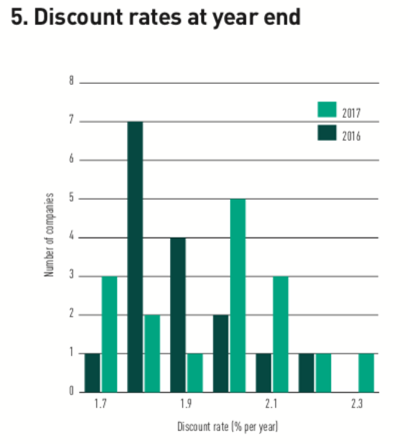 The average discount rate for companies reporting at 31 December 2017 was 2.0% a year – an increase from the average discount rate of 1.9% a year as at 31 December 2016.
While, in theory, pension schemes with similar durations should be valued using similar discount rates at a particular point in time, in practice, the lack of a deep market in long-duration corporate bonds can result in different modelling techniques and some divergences in discount rates. A small change in the discount rate can have a significant impact on the balance sheet position.
The discount rates used as at 31 December 2017 have been charted against the disclosed durations and clearly shows some divergences in approach (figure 6).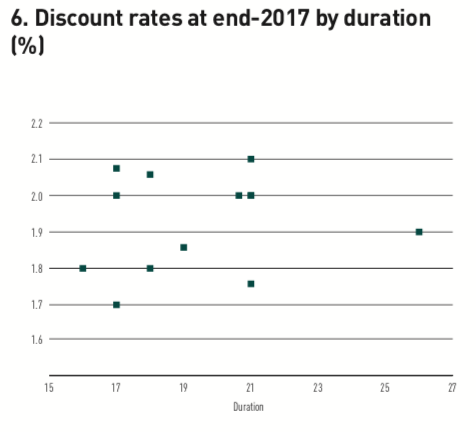 Source for all: LCP Ireland
Tomás Kirrane is an actuary at LCP Ireland. The 2018 LCP Ireland Pensions Accounting Briefing is available at www.lcpireland.com
Ireland: Auto-enrolment strawman proposals
1

2

Currently reading

DB funding: Calm waters or the eye of the storm?

3