A new pension law next year is expected to speed up the move from defined benefit to defined contribution pension schemes that has been taking place in the Netherlands in recent years, writes Gail Moss
At a glance
• Defined contribution pensions are gaining ground in the Netherlands.
• The new APF structure will allow pension funds to be run by financial providers, rather than social partners.
• Premium pension institutions (PPIs) are a suitable structure for cross-border schemes but face competition from other European jurisdictions.
The Netherlands is looking forward to a new pensions law to be published by mid-2016, as continuous discussion on the direction of the pensions industry continues.
However, as the gradual shift from defined benefit (DB) to defined contribution (DC) pension schemes accelerates, several DC variants have evolved along the spectrum between the two extremes.
The new pensions law will round off this market trend, bridging the DB and DC worlds and unifying stakeholders' interests.
At the DB end of the spectrum sits collective DC (CDC), which several company pension funds have switched to in recent years. This is a hybrid between DB and DC, offering employees a DB pension promise (via an annuity), while providing the benefit of DC accounting to employers.
Furthermore, while there is still a solvency requirement, the sponsor covenant no longer applies, so the employer does not have to make up a shortfall. Employer contributions are capped as a percentage of salary or the pension base, and a decrease in vested DB rights and in pensions in payment is allowed.
In this kind of DB scheme the financial risk has already, in practice, shifted from the employers or provider towards the scheme members.
Other variants of DC are most commonly offered by some company pension funds, insurers and premium pension institutions (PPIs), with contributions based on the member's age. Participants can choose collective investments, with or without matching opportunities within the investment life-cycles, or individual investment choices and returns.
The new pensions law will allow DC schemes to apply greater collective risk-sharing. The resulting return-generating risk strategy should lead to higher expected pension outcomes and increase the attractions of DC schemes.
The gradual evolution of products, compared with a more revolutionary process in, say, the UK, has been beneficial, says Jacqueline Lommen, executive director, European pensions, Robeco.
Lommen says: "The process enables us to include changes to past service, instead of leaving those accruals as closed DB schemes and starting anew with individual DC schemes for future accrual."
Companies opting for DC
Only those companies participating in a mandatory industry-wide pension fund are not allowed to move from DB to DC.
DC is popular mainly with small and medium-sized companies and start-ups, because the costs of the pension plan and the amount of individual contributions are easy to ascertain, while the framework is flexible.
CDC is usually the first choice, but often the next step is individual DC, which typically has lower premiums.
Over the past few years, multinationals – which have to conform with International Accounting Standards for their pension plans – have started to opt for DC. For these companies, the low level of interest rates and their volatility has had a huge impact on pension liabilities, which have to be shown on the balance sheet. The multinationals choose CDC or individual DC plans, depending on whether they conform with International Financial Reporting Standards (IFRS) or US Generally Accepted Accounting Principles (GAAP).
Tailored pension solutions (individual DC) are becoming popular with employees earning more than €100,000 per year, because they no longer enjoy tax relief on pension contributions over that amount.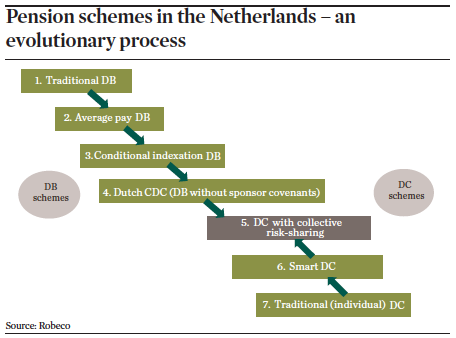 Projections for asset growth
Pension assets in the Netherlands amount to about €1.2trn, with €1trn of this in industry-wide and company schemes.
Most is still in collective DB plans – 90%, compared with 10% for individual DC. But the new pensions law is expected to rapidly change these figures.
Asset growth for individual plans has been significant in the past few years, thanks to the increase in the number of DC plans and the number of participants. A less significant factor in asset value growth has been low interest rates, which have boosted the performance of the fixed income portfolio.
Anne Wilschut, head of DC solutions at NN Investment Partners, says assets under management in DC might be affected by the abolition of the doorsneepremie (equal contributions for all ages), which will end unified contributions across generations: "As a consequence, there will be a split between past and future service, but it is still unclear if legacy will be transferred to DC."
But Stefan Lundbergh, head of innovation, Cardano Risk Management, says the outlook for growth in the overall pensions market is not so rosy: "The newly introduced removal of tax relief for annual incomes above €100,000 is likely to be extended downwards over time, which will mean challenges for asset growth," he says.
Frank Driessen, chief commercial officer, Aon Hewitt, adds: "We think asset values will increase by a lot less in future, than in the past decade. The long-term interest rate is historically low, and the forecast of expected performance on assets is lower than it was before."
He continues: "Besides this, the Dutch government has lowered the maximum tax deductible accrual rates by more than 15%. This means that, in most cases, pension premiums are also lower. This will probably have an impact on the total value of assets in future."
Typical scheme design
A typical CDC plan uses fixed premiums, with the ambition generally to provide a career-average DB benefit. At the start, premiums therefore have to be set at a level expected to achieve this. This will typically be reviewed at least once every five years.
However, Lundbergh notes: "The big problem with CDC is that it's a one-size-fits-all structure – there is only one asset mix for members, and one way of distributing surpluses, via indexation. We need to wait for the political process to play out over the next five years before we see a significant change in the Dutch market."
A typical individual DC scheme uses an age-related table in which contributions increase with age. Since the Dutch tax authorities have set up a maximum DC premium per age bracket (of five years), most companies use a system that corresponds to this. Only large companies have designed their own individual DC scheme.
Legal vehicles
For CDCs, a pension fund is mostly used, because these plans are often derived from the original DB plan within a pension fund. The pension fund will generally be chosen to administer the CDC plan so that all risks can be shared collectively by all the participants, present and former.
PPIs are increasingly being used for individual plans. They offer a choice of investment strategies and low costs to members. But PPIs are not allowed to insure risks, so the risk benefits within the pension plan are insured through an insurance company.
"The newly introduced removal of tax relief for annual incomes above €100,000 is likely to be extended downwards over time, which will mean challenges for asset growth"
Stefan Lundbergh
The new 'general pension fund', or APF, planned for next year, is a further pension vehicle. It will be possible for APFs to be set up and run by financial providers, rather than social partners, as is the case for pension funds at present.
Pension funds will be able to merge with each other in an APF, while still maintaining separate funding rates, which will be achieved by ringfencing. Funds will be allowed to merge with their counterparts in other industry sectors, previously prohibited.
The future for Dutch pensions
Ira Badrising, principal at Mercer Netherlands, says: "DC plans will grow in the future, but taking into account the strong DB culture and the collective system in the Netherlands, we expect that collective alternatives with shared risk will be investigated and offered more and more in the future as well."
She says: "Since 70% of the pensions market in the Netherlands consists of compulsory sector-wide pension funds with primarily DB plans, real change from DB to DC will only take place if these funds shift from DB. Whether this will be under pressure from the government, society or of their own accord, is difficult to say."
Driessen says: "Many insured pension plans will consider moving to APFs. Many employers can't afford to pay for the high cost of guarantees of an insured plan any longer because of low interest rates, so they are looking for an alternative."
Robeco's Lommen also says that APFs will become popular and grow into giants, leading to consolidation in the Dutch pensions market. "But there will also be more competition and innovation, and therefore more choice," she adds. "In the short run, I don't expect individuals to be able to choose their providerfor second-pillar provision. But the social partners get more choice and could more easily choose to hand over the scheme to be run by their own pension trust, an APF, a PPI or an insurer."
Meanwhile, Wilschut says: "We see the trend towards individual DC continuing, driven by the transparency and clear ownership rights that these schemes offer."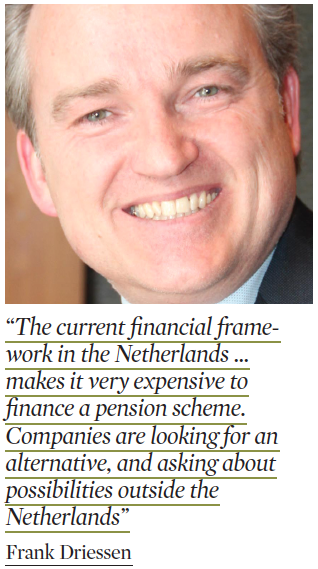 What do market participants think about cross-border DC pensions in Europe and is this viable? PPIs were established as a solution for a pan-European vehicle. Although at first they were only offered as a vehicle for Dutch pension plans, there are those who see potential for cross-border use.
Lommen says: "We think with the PPI we have an interesting and very lean vehicle which can offer multinationals a streamlined Europe-wide pension strategy."
Badrising agrees: "The Dutch market already has numerous PPIs, which makes it necessary for them to stand out by making cross-border DC plans in one vehicle possible." But she warns: "There is now an ever-increasing demand from multinationals for cross-border schemes. If the market does not offer a solution, they will set up their own, based on, for instance, the Belgian OFP."
Driessen agrees, adding: "The current financial framework in the Netherlands is really prudent, with high buffers, so this makes it very expensive to finance a pension scheme. Companies are looking for an alternative, and asking about possibilities outside the Netherlands."
However, he says there is some resistance to this point of view: "Some people think they lose control when they move cross-border. But Dutch social and benefits legislation applies, while pension administration and communication remains in the Netherlands."
He adds: "The investments of assets are now all worldwide. That remains so. The difference is that the supervisor and financial framework will change. So we see an emotional aspect to the decision, and help clients to see it from an another perspective."
Case study: Aon Groep Nederland adopts DC
Last year, Aon Groep Nederland followed the lead of its clients by starting to move from defined benefit (DB) to 100% defined contribution (DC) employee pension arrangements. Several schemes needed to be harmonised, so it was decided to switch to one overall DC plan, to be in line with the market and offer more flexibility to employees.
However, the company chose a novel route, to get the best of both worlds for employees.
Jacintha den Haag, senior consultant, Aon Hewitt and an Aon pension adviser, says: "Younger people do not like DB because of collectivity, and risk and profit-sharing, but many older people are worried about DC because they prefer certainty. In the new Aon plan, employees now have a choice."
Most have gone for the new DC scheme offering cautious, neutral or aggressive investment strategies, or even individual investment management for those with the expertise. Default lifecycling is also applied.
In addition, a life-long pension allowance is paid on top of salary, to compensate employees who will face a potential loss in pension outcome compared with the old DB scheme.
The small minority who prefer DB arrangements purchase a fixed percentage annuity each year from the insurer, Delta Lloyd, effectively making theirs a career-average plan.
Den Haag says: "We decided to use a customised contribution table with different percentages for every age instead of age bracket ladders, as we wanted everyone to purchase the same level of pension where they choose this option. So we had to get clearance from the fiscal authority."
Aon Hewitt communicated with employees via a specially constructed website with interactive functions allowing users to calculate their expected pension. They also sent out explanatory letters and held local meetings.
Over a period of six weeks, employees were asked to agree to the plan changes.
"In the end, virtually everyone agreed this was the best course of action and that we still have a good scheme," says Den Haag.
Meanwhile, the pension funds holding Aon's past service liabilities are planning to move these DB liabilities to an Institution for Occupational Retirement Provision (IORP) scheme in Belgium.