While there is uncertainty over exemptions for pension funds, compliance with EMIR could bring benefits
Key points
EMIR will require counterparties for a range of over-the-counter interest rate and credit default derivatives to use clearing houses
Pension funds have secured two exemptions from this and may secure a third that lasts until August 2021, for hedging
Banks that belong to clearing houses are reluctant to clear trades for smaller institutional investors because they need high-volume customers
Proposals by pension funds to ease their clearing burden include forcing clearing houses to accept non-cash as collateral
A wise maxim for much of life is 'cheer up, it might never happen', and the few remaining optimistic pension fund trustees must certainly hope that it applies to over-the-counter (OTC) derivatives clearing in the EU. Funds currently do not have to use a clearing house – also known as a central clearing counterparty – for their trades.
However, for the past few years pension funds have had to fight hard to avoid this obligation.
The 2012 European Markets Infrastructure Regulation (EMIR) set out new requirements for derivatives clearing and was introduced in 2016. It requires almost anyone that trades a wide range of OTC interest rate contracts and credit default index swaps to use a clearing house. There are proposals to extend obligatory clearing to non-deliverable foreign exchange, commodity and equity derivatives.
However, non-financial institutions trading below certain thresholds are exempt, as are intra-group trades in most circumstances. In addition, pension funds are exempt when using derivatives for hedging rather than to earn a return.
Pension funds are currently exempted until 16 August 2018. However, in May 2017 the European Commission proposed a revised version of EMIR, which is still going through the EU legislative process. The proposed changes include a further three-year exemption for pension funds to August 2021. However, schemes are still lobbying for a permanent exemption.
Strengths and weaknesses
Pension funds have managed to escape the net so far because of their simultaneous weakness and strength. One of the biggest complaints from schemes is that they cannot afford to put up cash as collateral for central clearing, which clearing houses require to protect against potential losses.
Victor van Hoorn, head of financial services in the Brussels branch of Hume Brophy, the communications and government relations firm, says: "Pension funds don't like to give cash collateral – particularly in a low-yield environment such as today's. They want to have their portfolios fully invested."
Another weakness is that only some pension funds have leverage with the securities services arms of the global banks that would clear their products for them – very few pension funds or other institutional investors want to pay the large fees required for clearing house membership, and will generally use a bank that is a clearing house member.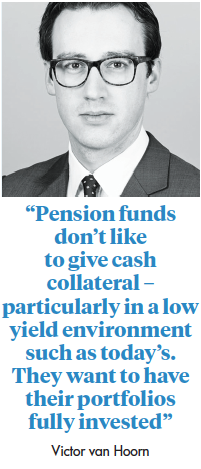 Big pension funds are reasonably attractive to these banks. "If they're large enough it becomes commercially interesting for clearing members to sign them on," says Van Hoorn. Clearing can be used as a loss leader to deepen the banks' relationship with large investors.
They can also offer a high volume of trades to be cleared. By contrast, as Van Hoorn points out: "Quite a few clearing members are just not going to take smaller clients; the economics are not compelling."
The emphasis on volumes reflects the cost of clearing. "All clearing members have sizeable fixed costs, resulting from investments in people, technology and infrastructure that enable them to comply with increasingly complex regulation from multiple jurisdictions", says Christopher Perkins, global head of OTC clearing at Citigroup, which is a member of clearing houses in Europe and elsewhere, in New York.
"Ultimately, to generate acceptable returns, clearing members must process significant trading volumes through their platforms in order to offset these fixed costs."
The strength of pension funds, on the other hand, derives from their political power in European Union member states. "If there is a problem for pension funds then there is a problem for their millions of members", says Van Hoorn. As a result, he adds, politicians tend to listen.
"The European Commission might, in an ideal world, not want an exemption for central clearing, but had to propose one to make the whole deal politically acceptable when it proposed an EMIR review."
Van Hoorn also does not believe that European policymakers will formalise a permanent exemption for pension funds: "However, the exemption may just be rolled over again and again as long as no definitive solution to the problem is found."
Alternatives to full pension fund compliance with EMIR are also on the table. For starters, the draft of EMIR II proposes to exempt smaller pension funds and other smaller institutional investors, while some pension funds and small asset managers have also suggested that clearing houses should be obliged to accept non-cash collateral.
Deepak Sitlani, partner and specialist in OTC derivatives at law firm Linklaters in London, says: "The regulators have been keen to stress that the industry needs to come up with an alternative to taking cash as initial margin."
However, the bargaining position of the pension funds may be reduced by the sheer ingenuity of the financial sector to devise ways, such as structured products, to lessen the effect of clearing on cash-poor pension funds including various structured products. Sykes at Macfarlanes says: "There is an increasing number of products for pension funds to convert collateral into cash, so there may come a point where it's said that they're protesting too much."
A further consideration for pension funds is that it might be in their interest to use a clearing house even without compulsion.
"For pension funds, which require an approach to long-term and safe investment, it is optimal to reduce counterparty risk. The trade-off for reducing counterparty risk is the cost of clearing", says David Strachan, head of Deloitte's EMEA Centre for Regulatory Strategy in London, who adds: "Anecdotal evidence suggests that the larger players are [already] clearing."
James Wood-Collins, CEO of Record Currency Management, agrees: "Some of the largest and most sophisticated pension funds choose to minimise counterparty risk, whether in non-cleared derivatives by electing to exchange variation margin, or where available through clearing."
"The regulators have been keen to stress that the industry needs to come up with an alternative to taking cash as initial margin"

Deepak Sitlani
Sykes notes also that pension funds choosing not to clear may suffer worse liquidity or pricing in markets where most contracts are cleared centrally – who would choose them over another counterparty backed by the security of a clearing house?
He also argues that the administrative burden of working out which trades do not need clearing because they are genuine hedges and which do because they are speculative, may be too cumbersome. The solution might be for all trades to be cleared.
A final consideration for investors is the status of London Stock Exchange-owned clearing house LCH, through which the bulk of interest rate derivatives trades are cleared.
The European Commission announced last year that it was looking at legislation to oversee clearing houses outside the EU involved in euro-denominated trades – as LCH will be after Brexit. This has generated speculation that LCH may be forced to relocate operations to the EU. However, Hume Brophy's Van Hoorn deems this unlikely, since EU institutions could oversee euro-denominated clearing outside the bloc if given adequate supervisory powers. He points out US regulators currently oversee London's dollar markets.
Derivatives: Pros and cons of central clearing
1

Currently reading

Derivatives: Pros and cons of central clearing

2

3