The national debate on the future of the Dutch pensions system is now over – Carlo Svaluto Moreolo sifts opinions as the broad outline of a new system slowly takes shape
"The Dutch pension system is among the best in the world. We want to keep it that way." This is how Mariëtte Hamer, chair of the Social and Economic Council of the Netherlands, introduced the council's latest report on the future of the Dutch pension system. The Social and Economic Council (Sociaal-Economische Raad, SER), is the body advising the Dutch government on how to make the country's pension system sustainable in the long-term.
Mounting pressure on the sustainability of the system led Jetta Klijnsma, state secretary in the Dutch Ministry of Social Affairs, to launch the National Pension Dialogue (De Nationale Pensioendialoog), a wide-ranging discussion involving all stakeholders in the industry, in 2014.
The process, which began with a nationwide series of meetings, has now entered its final phase. This will culminate in a reform proposal to be presented to the Dutch parliament by Klijnsma this spring.
The purpose of the dialogue was to bring stakeholders together to discuss the changes needed to ensure the Dutch occupational pension system can continue delivering suitable retirement income in the future. The question is whether and, to what extent, the founding pillars of the system – collectivity, solidarity, compulsory enrolment and defined benefits – should be retained in order to avoid significant shortfalls for future generations.
Every stakeholder has a different answer to that basic question. The most divergent opinions are on solidarity and compulsory enrolment. But the discussion has converged towards an acceptance that collectivity provides the best outcomes, and that defined benefits are no longer possible.
The SER, with input from stakeholders collected during a separate set of meetings, has developed four 'scenarios' for the future of Dutch occupational pensions (figure 1). These were outlined in a paper published at the end of January.
Of the four scenarios, the SER deems one more likely to succeed and is studying it in depth. It is the fourth variant described in the SER report and is summarised as 'personal pension assets with collective risk-sharing'.
SER's options for pension reform
Variant I: Payout agreement with degressive accumulation
Variant II: National pension arrangement
Variant III: Personal pension assets with voluntary risk sharing
Variant IV: Personal pension assets with collective risk sharing (preferred)
• Accumulation of personal pension assets
• Pension remains part of employment conditions (analogous to compulsion)
• Compulsory sharing of longevity risk (insurance compulsion)
• Possibility of various options for degree of greater risk sharing
Source: SER, Committee on the Future Pension Plan, Draft Future Pension Plan, 23 January 2015
Essentially, this is an attempt to provide the best of both worlds. It foresees accumulation of personal pension assets to provide much-desired transparency and avoid the 'hidden' transfer of rights that are made under solidarity arrangements. It retains compulsory enrolment as part of employment contracts. However, social partners would be able to choose different levels of risk-sharing, and dependent on that, a degree of choice would also be given to individuals. However, a basic level of longevity risk would be shared between members, no questions asked.
A similar approach has been proposed by a group of academics belonging to the Netspar research network. They propose combining collective risk-sharing with individual ownership rights, to benefit from economies of scale, but without offering guaranteed benefits. Collective buffers would be built and used to withstand market shocks.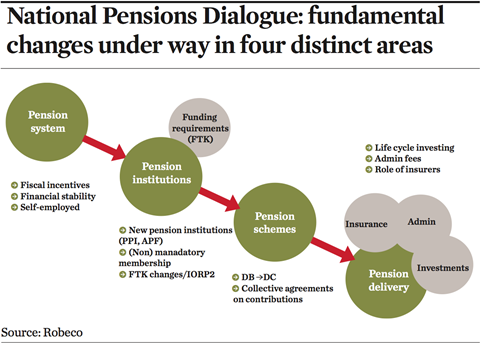 PFZW, the €162bn healthcare pension fund, has also publicly backed collective defined contribution, although it has said that it would also support a 'soft' DB approach, with contributions decreasing in line with age meeting a set real benefit target.
The SER proposal will be integrated with the information collected as part of the dialogue. The data will be analysed by the ministry and used as the basis for the proposal.
However, further work is needed before the bill is presented. Lawmakers must first establish how the shift from the current system to the new one will be made. They also need to understand how the new second pillar will interact with the first and third pillars.
Moreover, the Netherlands is facing a general election in 2016, which limits the time horizon for legislation. This means it is difficult to predict whether this potential revolution will keep its momentum.
At a glance
• The National Pensions Dialogue has been a frank and open discussion about the sustainability of the Dutch pension system.
• A gradual move to collective DC is the likely outcome of the reform process
• Many details about solidarity, transparency and freedom of choice are still unclear.
• There is broad agreement in the industry, but the reform process will be politically-driven.
But as Gerard Roelofs, member of the management committee and head of client group at ING Investment Management, puts it, the Netherlands is 'crossing the Rubicon'. The system is changing and there is no turning back.
In the period leading up to the National Pension Dialogue, legislators took steps to develop the DC sector and to offset the risk of DB overburdening the industry, thus increasing choice in the system. As well as DC pension funds and insurance products, the past few years have seen the rise of Pension Premium Institution (PPI) and General Pension Fund (APF) arrangements.
The PPI was created in 2011, initially with only a handful of providers permitted to offer it. A PPI is essentially a pure DC scheme that is suitable for multinationals because of its flexibility. Partly due to the introduction of the PPI, DC assets in the Netherlands have increased, though they still are a small fraction of total pension assets (around 10%).
Last year saw the introduction of the APF. This is a risk-taking vehicle that allows shared management of the assets of pension funds from different sectors, while keeping them ring-fenced. It has been introduced to relieve the pressure on struggling DB schemes.
Will the reform process abolish these new pension institutions? It seems unlikely. Still, it is hard to envisage that the current structure will be left unchanged – the pressure on the industry and politicians is too strong.
It is possible to imagine three different outcomes. The first would be a move to a fully collective DC world. If all stakeholders agreed to forgo real benefit guarantees then the focus of the discussion would be entirely on risk-sharing, ownership rights and on how to convert accrued rights. This is where the proposal by SER and Netspar (and to an extent PFZW's position) would sit.
It is a sustainable solution, but would require a lengthy discussion about the technicalities of collective DC. Also, the question is: would unions agree to do away with guaranteed benefits? What would they ask in return for that concession?
Another possible outcome would be that the system enforces transparency about accrued rights, but keeps a layer of guaranteed benefits. This would maintain the focus on inter-generational solidarity, making the matter even more politically sensitive. Plus, the problem of sustainability would not be addressed.
The third outcome would be an occupational pension system with plenty of choice for employers and employees. Both parties would be able to decide which type of arrangements they prefer along the spectrum – from industry-wide schemes with a high degree of collective risk-sharing and some benefit guarantees to individual DC arrangements with defined ownership rights.
"Some employers will not feel entirely comfortable with full DC, but the fact that employers and employees have more options to choose from is positive. It drives innovation"

Arthur van der Wal
This solution would answer the doubts raised by some about compulsory enrolment and the need for individual choice. But if this were the outcome, the industry would have to devote resources towards educating employees and, in the case of commercial providers, marketing their solutions. More importantly, in this scenario it would be difficult to ensure everyone makes the best choice.
Insurers manage a portion of Dutch pension assets, and enjoy an uneasy relationship with pension funds. Insurance companies believe industry-wide pension funds in particular are an uncompetitive oligopoly, while pension funds believe commercially-run insurers enjoy disproportionate influence over policy and represent a threat to the traditional values of collectivity and solidarity.
Arthur van der Wal, head of pensions at Nationale-Nederlanden, the insurance brand of the NN Group, believes that as the level of understanding of pension investment among the public is low, pension providers must be responsible for educating their clients and making sure that their communication standards are better.
The company is among those that hopes to benefit from an increase in DC assets, and that is one of the reasons why it supports increased choice. "Due to the pension dialogue, we are compelled to have more choice and to take into account market-driven dynamics," Van der Wal says. "Some employers will not feel entirely comfortable with full DC, but the fact that employers and employees have more options to choose from is positive. It drives innovation."
Among Nationale-Nederlanden's clients, the pillar of collectivity is not under discussion, says van der Wal. But he believes that one of the main benefits of the dialogue has been to expose the issue of transparency. "Solidarity worked as a black box," van der Wal says. "The discussion has made very transparent what solidarity can cause. But you need political will and the support of all stakeholders to bring about real change."
Van der Wal makes the case that because solidarity and compulsory enrolment are closely linked, the former will be affected if compulsory enrolment in specific schemes – namely, industry-wide ones – is no longer required.
But Tjerk Kroes, director of corporate strategy and policy at ABP-owned asset manager APG, believes that risk-sharing arrangements become more important when risk is assumed by individuals. This implies that schemes such as ABP, are among the best placed to realistically deliver those kinds of risk-sharing arrangements.
"Precisely because the risk is shifted to the participants, they need mechanisms to offload this risk. They only way you can do that is sharing," says Kroes. "You can share risk at a particular point in time, or across time over various age cohorts. Obviously, the more you share in terms of risk, theoretically, the easier it becomes to create redistribution within the fund. But, if you offer full transparency and you design legislation against redistribution, you can create a system where the participant is protected."
Whatever the outcome, politics will play an influential role and will clearly affect the new structure. Timing is an issue; Kroes welcomes the involvement of social partners in the dialogue, but notes that, matters might become risky for the pension sector should the cabinet fall.
He argues that the industry is reaching a state of "convergence" in terms of how each stakeholder views the future, but warns that if that process is not completed before the election, there is a danger that parties might exploit divergent positions for political purposes.
With elections scheduled next year, there is plenty of time for debate – and for politicians to postpone controversial decisions until after the election.
Dialogue distilled
• Peter Borgdorff
• Managing director, Pensioenfonds Zorg en Welzijn (PFZW)
Pension schemes should be able to choose from different types of arrangements, based on the type and the age structure of members. But in all cases we find that collectivity and solidarity should be the basis. Risk sharing within and between generations must be preserved, and both employers and employees have to be on board to provide a sufficient premium. To allow all this, PFZW advocates the design of a framework law for pensions. As far as the dialogue is concerned, I believe that is important to take into account the contribution the social partners, who are the owners of the system.
• Ernst Hagen
• Executive director, fiduciary management, F&C
The current system is unsustainable because all the risks are shared. But a system where risks are born by individuals to a full extent is hardly going to get enough support. The second pillar concerns employers and employees, so they need to find a common ground. Getting rid of the average premium and the unconditional nature of pensions is fine. But any transition has costs and benefits that need to be shared equally. It may take several years, but we are heading in the right direction.
• Jacqueline Lommen
• Senior vice-president and head of European pensions, Robeco
Today's pension schemes are too complex and opaque about the way wealth is redistributed. People do not oppose redistribution of wealth, so long as it is transparent and agreed upon beforehand. The National Pension Dialogue is a welcome initiative to address that. It is driving change through a consensus model, but more importantly there is a focus on members, who are directly involved in the discussion. We need that focus to secure long-term support for the system. Future pension schemes need to be simple, smart and transparent. Collective DC would ensure simplicity, transparency and an appropriate level of collective risk-sharing.
• Eric Mathijssen
• Senior risk management consultant, Ortec Finance
My hope that the future Dutch pension fund system will be simple but at the same time one that allows for more choice by employers and employees. One of the problems with the current system is that it is difficult to explain. A simpler system would bring back the confidence we used to have in pensions. But labour mobility makes it very difficult to have solidarity. The most likely and best outcome is a simple DC system with choices. The question that is still open is whether there should be collectivity and solidarity in the payout phase.
• Anton van Nunen
• Director of strategic pension management, Syntrus Achmea
With more flexible labour contracts and a rising number of independent self-employed, there is an inherent development towards DC. The current system, including the discounting rules, implies a fundamentally different treatment for the young and the old. In this setting, collective DC would be the best alternative. But the environment in which pension funds work makes it very difficult to achieve a well-functioning CDC system. Regulation is making pension claims look like insurance policies. But a pension fund's mission should be managing risk, not necessarily hedging it.
• Pieter Omtzigt
• Member of parliament, Christian Democratic Appeal
First of all, we need to make sure that discussion is in the interest of the participants, not the industry. Second, I believe that standardisation is of utmost importance. We need to develop one pension contract, as having many contracts would hamper portability and make it more difficult for members to choose the right option. Collectivity and compulsion should be maintained. There should be a limit in how much risk is shared ex-post, but ex-ante risk sharing should be retained. That is the whole idea of a pension system.
• Gerard Riemen
• CEO, Dutch Pension Federation (Pensioenfederatie)
It is fair to say the old DB system is unsustainable, so we have to design an optimal pension agreement that starts with DC. But we still think that everyone would benefit from having a mandatory system with risk sharing. How can we maintain those pillars under a DC system? There needs to be an investigation about which risks should be shared and between whom. Another pillar that needs to be maintained is the labour negotiations that support the system. In the future it is foreseeable that the social partners will decide the way risks are shared as part of a negotiation process.
• Gerard Roelofs
• Head of client group, ING Investment Management
We should try to empower the individual. In the current system, it is impossible for an individual employee to understand what his or her individual accrued rights are. That needs to change. But collectivity ensures protection and purchasing power, which in turn reduces costs – that needs to be maintained. That said, the trends in the labour market force us to think about portability of pensions. Once we define what individual accrued rights are we should make them portable.
• Cees de Veer
• Deputy chairman of the board of trustees, ABP pension fund
The system based on solidarity has to be changed. We have to ensure that it is fit for today's labour market. At the same time, we have to address the outcry for more flexibility, perhaps by allowing members to have more influence in the way their pension is built. That said, should employees be free to choose their own pension fund? We don't think that would work. We believe collectivity is better, because it makes the system more robust for the participants.
Dutch pensions policy: In the balance
1

Currently reading

Dutch pensions policy: In the balance

2

3

4

5

6