Dutch social affairs' minister Wouter Koolmees has granted most ailing pension funds a one-year reprieve from implementing cuts of pension rights and benefits.
In a letter to parliament, he said that he would temporarily reduce the minimum required funding to 90%, pending the elaboration of the pensions agreement concluded between the social partners and the government in June.
However, seriously underfunded schemes would still have to reduce pension rights, and must implement unconditional cuts in order to improve their coverage ratio to 90%.
Pension funds would subsequently be allowed to further improve their financial position to the minimum required funding in a 12-year period, rather than the current legal period of 10 years, Koolmees said.
He added that pension funds using the extension must explain why this would be a balanced approach for all their participants and pensioners.
The minister suggested that stable pension contributions and ditto annual accrual would contribute to this aim.
He explained his decision to avert looming cuts by citing the risk of social unrest and the risk of people losing confidence in the future of the Dutch pension system.
"Calm and stability are required to properly flesh out the pensions agreement," argued Koolmees.
In the direct wake of the accord, he had already decided to temporarily lower the minimum required funding from 104.3% to 100% to avert cuts.
However, pension funds' financial situation had further deteriorated since then as a consequence of declining interest rates.
Current funding is approximately 100% on average – down from 109% at 2017-end – and is predominantly affected by falling interest rates.
However, the effect of the financial crisis, increasing life expectancy and an insufficient contribution level also played a role.
What's more, pension funds must use lower assumptions for future returns when calculating their recovery potential as of 2020.
In the envisaged new pension contract, pension funds don't have to keep large financial buffers, which must enable them to quickly raise or reduce pensions, the minister explained.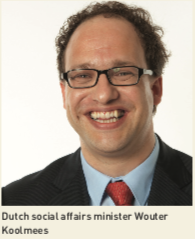 Cuts, however, would be required if schemes' coverage ratio were to drop below 90% in order to keep participating in a pension fund attractive to young workers, he added.
Currently, a steering group of the social partners and the cabinet is elaborating the pensions agreement.
The minister said he expects results to be published next summer, when drafting the necessary legislation would start.
He reiterated that raising the discount rate for liablities to avert rights cuts would not solve schemes' funding problems.
It would cause a redistribution of pension assets that would ultimately come at the expense of younger generations, he contended.
"If we abolished the principle of an objective market valuation, the discount rate would become a 'continuing plaything' of contrasting interests between the generations.
"It could also put pressure on the current mandatory participation in a pension fund, as players could wish to no longer participate."
In his opinion, changing the rules wouldn't solve, and merely camouflage, pension funds' financial problems, and could lead to a further erosion of schemes' financial positions.
Koolmees emphasised that a collective approach, solidarity and mandatory participation would also be key in the new pensions system.
The large metal sector schemes PMT and PME were facing rights cuts next year as they had been continuously underfunded for a five-year period.
At October-end, their coverage ratio stood at 95.8% and 95.1%, respectively.
ABP and PFZW – the pension funds for the civil service and the healthcare sector – would have to implement discounts in 2021 if their coverage ratio was short of the required minimum at the end of next year.
Their funding rayios stood at 93.2% and 94.1%, respectively, at the end of October.