There has been an increase in the number of multi-employer pension funds, and multi-country cross-border pension funds have been expanding, according to the European Insurance and Occupational Pensions Authority (EIOPA).
This was despite aggregate growth in the number of cross-border pension funds having stalled since 2010.
At the end of 2016 there were 73 active cross-border Institutions for Occupational Retirement Provision (IORPs), the supervisory authority said in a market development update. Fourteen of these were active in multiple countries.
Assets under management in cross-border funds amounted to €63bn, equal to 1.65% of total IORP assets.
"Sponsors, cross-border practitioners, social partners and academia pointed out that an increase in the number of cross-border IORPs should not be expected further," said EIOPA.
However, the number of cross-border IORPs established by service providers to attract multiple unconnected employers was rising, it said.
This emerging trend "breaks with the traditional image of IORPs established by a sponsor or a group of sponsors (for example for industry-wide schemes) to manage the defined benefit [DB] pension schemes of employees in these countries," said EIOPA.
Chemicals giant Dow recently announced it was to place its European defined contribution plans in UnitedPensions, the cross-border vehicle run by Aon Hewitt. The vehicle also runs the consultancy's own Irish legacy DB schemes to the Belgium-based vehicle and implements the DB schemes of several other multinationals, including European pensions plans of US pharmaceutical company AbbVie.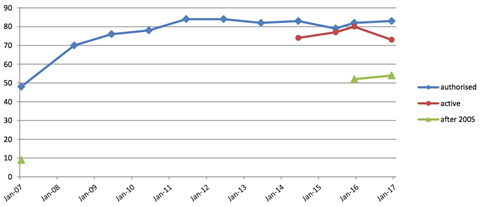 EIOPA flagged potential concerns from a supervisory point of view.
"It should also be monitored whether, from a supervisory perspective, it affects the triangular relationship between the employee, the employer and the IORP and if so, how it could particularly impact on the governance and management of IORPs," it said.
According to EIOPA's figures, at the end of 2016 there were 14 multi-country cross-border IORPs operating in 13 countries.
More IORPs were expanding, or seeking to expand, their cross-border activities to additional countries.
The revised European pension fund directive – IORP II – includes an amended notification process for cross-border funds. EIOPA said this might lead to a further increase in multi-employer and multi-country cross-border IORPs.
EIOPA is also reviewing the process of cooperation and exchange of information between national supervisory authorities, with a view to ensuring alignment with the IORP II Directive and to improve procedural transparency and efficiency.
Ireland has the most cross-border IORPs, followed by the UK and Belgium. Belgium is the EU member state with the widest geographical spread of cross-border activities, covering eight countries.