---
● International investors are spooked by the new Peronist government in Argentina
● What really scares them is the prospect of this emboldening more extreme populist elements
Who needs Pennywise the terrifying clown when one has Argentine bonds in their investment portfolios?
International investors surely do not. After the latest Argentinian elections, investors' reactions would not be out of place in a showing of the 'It' horror film franchise. But instead of the murderous clown created by Stephen King, what horrified bondholders was Aníbal Fernández, a mild-mannered left-wing politician representing the populist movement known as Peronism.
In fact, even if it was Fernández who won the Argentinian presidential election in October, the real cause for concern is his running partner, former president Cristina Fernández de Kirchner. The peso, Argentina's currency, dropped more than 35% after a primary vote, in August, that anticipated the results.
The feeling of panic certainly contrasts to the mindset that investors had four years ago. In October 2015, Mauricio Macri, a right-of-centre businessman turned politician, convincingly won the presidential election with a pro-market, reform-minded agenda that raised hopes that resources-rich Argentina would become a new emerging market success story.
Investors rushed to pour money into the economy and lenders vied for new issues of government debt. By mid-2017 the Macri government felt confident enough to issue a $2.75bn (€2.5bn) dollar-denominated 100-year bond in international markets. It was heavily oversubscribed.
But things unravelled quickly after that, and one year later Argentina had to beg for a $57bn aid package from the International Monetary Fund (IMF), which is extremely unpopular in the country, that virtually ended Macri's chances of being re-elected.
"The Macri government had to deal with a very difficult situation to begin with, and they actually managed to correct a lot of the imbalances. But they would have probably needed more time to pick the fruits of the corrections," says Delphine Arrighi, the manager of the emerging market debt funds at Merian Global Investors. "Fernández will inherit an economy where inflation is higher than before, the currency is weaker than before, debt levels are a lot higher than before, so it is not an easy situation to deal with in the first place."
The numbers certainly do not reflect well on the four years of market-friendly government. When Macri took over, it was estimated that 29% of all Argentinians lived in poverty; now the proportion is 35.4%. The economy shrunk in 2016 and 2018, and is set to contract again in 2019, while GDP per head dropped from $19,243 in 2015 to an estimated $17,508 this year, according to the IMF. Inflation should reach more than 57% in 2019, which is more than twice the estimated rate four years ago. And if in the early Macri days $1 bought 9.85 pesos, after the election, the rate hovered at about 60 pesos, and surveys of business leaders indicate that it should reach 75 pesos in the near future.
"It is pretty clear that the population was unhappy with what Macri was doing," says Paul Greer, an emerging market debt manager at Fidelity . "He had good intentions, but the social cost of his pro-market agenda was clearly too high for the population."
The irony, of course, is that Macri spent four years trying to steady a ship that went adrift under the governments of newly elected vice-president Fernández de Kirchner and her late husband, Néstor. During their 12 years in power, the Kirchners implemented a range of heterodox policies that included capital controls, the freezing of utility prices, nationalisations, heavy state intervention and even the release of fake inflation statistics. They also presided over a traumatic debt restructuring process in the mid-2000s that left many a bond investor scarred.
The fear is that, under Aníbal Fernández, Argentina will rush back into the bad, old ways.
"It is very bad news for Argentina's economy," says Andrés Abadia, a senior international economist at Pantheon Macroeconomics. "[Aníbal] Fernández looks more pragmatic and centrist than Fernández de Kirchner, but I am not optimistic. It is likely that left-wing populist policies that destroyed the economy the last time around will be reintroduced."
[Aníbal] Fernández has insisted that he is a moderate and analysts have stressed that he is not a left-wing firebrand in the Kirchner mould. But it is also true that his victory has been attributed to the draw that Kirchnerism still has on the poorest layers of Argentina's population, who were hard hit by the fiscal adjustment promoted by Macri. Also, Fernández needs the support of a coalition in Congress where Fernández de Kirchner's allies are the main source of power.
After campaigning with a pro-growth programme the new government is likely to implement measures to boost the economy while striving to bring inflation down. But it has little fiscal space to make investments or to provide subsidies that could generate jobs and increase wages. The IMF aid package agreed in 2017 has imposed rigid fiscal targets and, if Fernández refuses to respect them, he could see himself deprived of Argentina's only source of funding available at present.
Investors, both locally and abroad, are unlikely to come up with any new money while their fears are not assuaged. And it will take some convincing for them to change their minds, not least because everybody is already expecting the government to propose a dramatic debt restructuring process, maybe even a full-blown default.
"The first task is to quickly tackle the restructuring of the debt," says Gustavo Ber, a Buenos Aires-based consultant. "The government is likely to pursue not only an extension of the maturity of the debt, but a reduction of principal and a grace period of some years. It is also likely that Argentina will go back to significant interventionism by the state on the economy."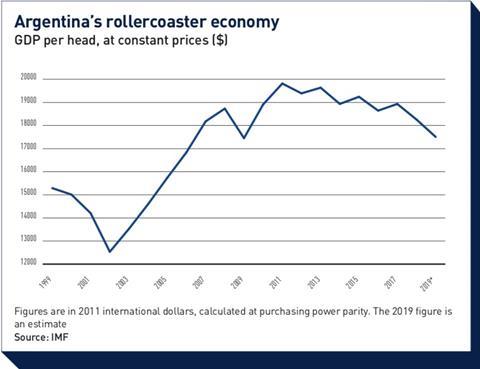 Right after the election, sovereign bond prices fell from 80 cents to 40 cents to the dollar, which shows that bondholders are expecting to be heavily hit by the forthcoming restructuring deal. The question now is how painful the bite will be. Arrighi believes bondholders will take a haircut in the 20-30% range without much argument, but would baulk at higher values.
"The government can propose a small haircut on the bonds and postpone some of the coupon payments for a couple of years and extend maturity," she says. "Offshore investors understand that this is what is needed to make debt sustainable again, and the haircut will not be too big, compared to where bond prices are right now."
A quick deal like that could buy some time for Fernández to try to kickstart the economy. He is unlikely to have to wait long before doing something as large redemptions of debt, both domestic and foreign, are scheduled for 2020. Greer warns that the quicker the situation is clarified the better it will be for all those involved.
"The question for investors is how long will it take before this reprofiling happens, and will Argentina continue to pay the coupons on some of these bonds?," he says. "The bond market can deal with good news and with bad news, but it cannot deal with uncertainty."
In the view of Ricardo Adrogue, the head of global sovereign debt at Barings, it is already clear that the situation will take a turn for the worse for both investors and the Argentinian economy. He believes that Argentinians, by voting for the Peronist ticket, have signalled that they do not want to repay any debt to bondholders.
"What makes it very difficult is that one can estimate the ability that a country has to repay its debt by looking at numbers about production, taxes, interest rates and so on," he says. "But how do you factor a country that does not want to pay at all? Argentina will have to go through effectively a default. Investors will lose quite a bit of their claims, either because they do not get paid, or because they will have to accept terms that are significantly worse than they currently have on paper."
Adrogue argues that, even if Fernández tries to play a moderate game, the election results have emboldened the most extreme elements of Peronism enough for him to end up paying a heavy price for it.
"My belief is that President Fernández will try to implement policies that will not be supported by Cristina [Fernández de] Kirchner," he says. "At first, the market will perceive it favourably but the lack of support from Kirchnerism will mean that the government's policies will not be successful, Fernández will have to resign, and Cristina Kirchner will be appointed president."