The recent rash of selling of EM assets has been triggered by a combination of factors
Key points
• Last year was one of synchronised global growth
• Fundamentals remain fundamentally sound
• Long-term institutions taking advantage of contagion driven by retail investors
• It may be wise to move away from dependence on EM indices
Investors still recall the 'taper tantrum' when many emerging markets (EMs) fell sharply from May to September 2013. It was triggered by a hint from Ben Bernanke, then chairman of the US Federal Reserve, that a reduction in quantitative easing (QE) could be imminent.
The sell-off in the first half of this year, however, was comparable or worse in magnitude. Why it occurred and whether it represents a change in the fundamental outlook for emerging markets as a whole are questions that rightly concern investors.
The sell-off has been particularly surprising, given the strong performance over the past couple of years. What characterised that period was unusually synchronised global growth. As Erin Browne, head of asset allocation at UBS Asset Management, argues, emerging markets as a whole are highly levered to global growth. EMs have also been characterised by unjustified movements across the whole asset class, driven by contagion from specific countries or sectors.
Retail flows into and out of EM exchange traded funds (ETFs) have exacerbated this phenomenon tremendously.
The high expectations that developed in the bull markets of 2016 and 2017 may have given rise to complacency, says Charlie Wilson, portfolio manager at Thornburg Investment Management. Last year was characterised by a stronger dollar, rising US interest rates and concerns over trade wars that have punctured this optimism.
Emerging markets do show volatility, often driven by concerns over current account or fiscal deficits. Twin deficits have led to currency volatility, especially when interest rates diverge from global monetary policy, giving rise to dollar appreciation against EM currencies.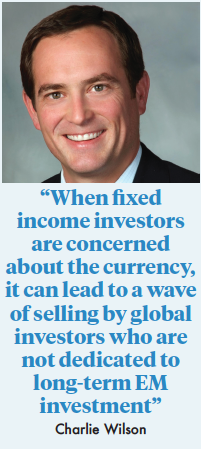 Wilson points out this has been apparent recently in Argentina, Brazil, Mexico and Turkey before their respective elections. "Markets are not that deep, so when fixed-income investors are concerned about the currency, it can lead to a wave of selling by global investors who are not dedicated to long-term EM investment," he says.
Chetan Sehgal, director of global emerging markets and small-cap strategies at Franklin Templeton, sees the sell-off as the result of a combination of idiosyncratic factors. "In Brazil, for example, it has really been about the policy reform, etcetera, and the currency sold off. In China, it has been about the currency weakening, trade tensions and internal changes in their economy."
Sehgal argues that there is a mid-cycle correction with individual factors that have combined to change sentiment. Despite this, Thornburg's Wilson argues that the long-term EM returns in dollars and euros remain attractive – greater than the 10% a year in the MSCI EM index since its launch. "These opportunities are still maturing, so we will see them arising for decades ahead and very strong returns even after netting off the down-draughts," he says
Strong dollar
The erratic behaviour of US President Donald Trump's administration has been one of the main causes of recent EM instability. "The uncertainty will continue – it seems to be Trump's modus operandi," says Christina McGuire, CEO of Elephant Asset Management, a London-based investment firm focused on smaller companies in emerging markets. But, she adds, the question is at what point it can be brushed aside in favour of a focus on fundamentals.
Such a point might have already been reached. In July, Trump's tweet threatening Iran with "CONSEQUENCES THE LIKES OF WHICH FEW THROUGHOUT HISTORY HAVE EVER SUFFERED BEFORE" [original capitals] left the markets largely unflustered. However, they have resulted in a stronger dollar.
Browne makes the point that during the taper tantrum when EM currencies fell nearly 8%, the dollar index weakened against them by 2%. In contrast, the recent EM sell-off has seen the dollar index and emerging market foreign exchange trading almost exactly in line. The current EM weakness is therefore more the story of a strong dollar than fundamentally weak emerging markets, says Browne.
In relation to EM fundamentals the growth differential is a given for the same return on equity, and EM companies continue to trade more cheaply, despite growing faster than those in developed markets, points out Sehgal. Yet perhaps the key point to note is that the nature of emerging markets is changing rapidly.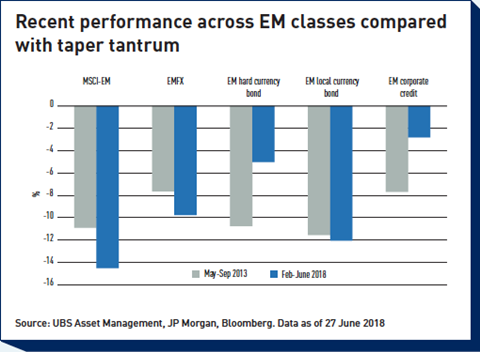 Some 20 years ago, EM companies were dominated by extractive industries, energy companies, typically highly leveraged, highly volatile earnings streams that were not necessarily attractive, says Wilson. Asia accounted for half the EM universe then, whereas today they amount to three quarters.
Emerging markets are home to companies that are global leaders in their own right such as Taiwan Semiconductor and China's Alibaba and Tencent. There are also many more companies no longer dominated by government interests, with increased shareholder protection.
For the first time, points out Sehgal, EM companies are leading technological change in the world. They are at the forefront of the development of electric vehicles, with four of the top five battery companies globally in emerging markets, while China is the largest producer of electric vehicles. "You can make the case now that there are a significant number of opportunities that you would want to have in your portfolio for the long run," says Wilson.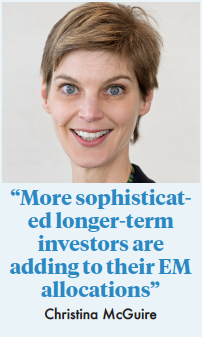 The risks inherent in EMs, as Sehgal argues, should be lower than in the past as they are no longer so dependent on commodity cycles.
Sentiment-driven volatility is likely to hurt retail investors, though, as they chase markets up and down. "We see a bifurcation currently in terms of investor interest. More retail-oriented investors tend to close their wallets at the moment because the uncertainty is unsettling. Whereas more sophisticated longer-term investors are adding to their EM allocations," says McGuire.
If emerging markets are subject to idiosyncratic forces yet also subject to sentiment-driven contagion driving them all together, it does provide opportunities for active managers and long-term EM investors to benefit.
Arbitrary weightings.
The heterogeneous nature of the marketplace offers plenty of scope for managers with the expertise to move away from benchmark hugging. There is a case to be made that emerging market investors should move towards greater utilisation of single-country and regional specialists who may have portfolios that look substantially different from global market weightings. The difficulties associated with China's weighting in the MSCI EM index highlights the problems with arbitrary weightings.
Treating emerging and frontier markets as a collection of independent opportunities can enable a focus to be made on longer-term fundamentals rather than short-term sentiment. Kenya, for example, says McGuire, is a relatively self-contained economy that is unfazed by dollar strength or trade tensions between the US and China.
Indonesia has seen a 20% sell-off but, says McGuire, it is in a better position than it has been for a long time. The current account deficit is about 2% of GDP, inflation is about 3% and import coverage is seven months. Overall, it is looking solid and politically stable with elections next year, which the current incumbent, President Joko Widodo is expected to win.
"What we are seeing across the region is a derating rather than downwards earnings revisions to the extent that valuations are back to the levels seen in early 2017," says McGuire. "There is nothing we can see that would encourage the market to revise earnings downwards."
Emerging Market Equities: Resisting a tantrum
1

2

3

Currently reading

Equity Markets: Behind the latest sell-off