---
The new UK stewardship code pays insufficient attention to investment consultants
The code would benefit from key performance indicators on shareholder engagement
Stricter disclosure requirements could help ESG engagement become a marketing tool
Loopholes in the revised Stewardship Code under consultation in the UK may mean it fails to realise its full potential for raising engagement with investee companies.
As a result, the measure might best be described as a transitional step to widespread shareholder engagement, rather than as a tool delivering transformation.
For instance, more attention could be paid in the code to a key segment of the investment chain – the investment consultants who, in many cases, advise pension funds on asset manager selection, and who also act as asset managers and vote at annual general meetings (AGMs).
The code is obligatory for entities governed by the UK regulator, the Financial Conduct Authority. These do not currently include investment consultants, which have in recent months come under the scrutiny of the UK Competition and Markets Authority. However, they can make voluntary disclosures.
"The code is silent about their role and yet they have a phenomenal influence. They should be required to monitor the stewardship statements of fund managers and inform them whether they are fit for purpose," says Steve Waygood, chief responsible investment officer at Aviva. That weakness could create an asymmetry between two types of dialogues: those between investment consultants and asset managers; and those between investment consultants and asset-owning institutions.
At the same time, depending on the outcome of Brexit discussions, there is some uncertainty about the inclusion of proxy advisers in the code. which is due to be aligned with the revised European Union Shareholder Rights Directive. Planned to take effect in June, the directive covers proxy advisers, who sign the current UK Stewardship Code voluntarily, for the first time.
Despite these shortcomings, the code has the potential to open up avenues for significant change by making stricter requirements on disclosure than its predecessor. For example, it adds an "apply and explain" provision to the "comply or explain" rule enshrined in the earlier code, published in 2012. Previously, institutions covered by the code were obliged to comply with the code or explain why they were not complying.
By contrast, signatories to the revised code would now additionally have to apply its principles and clearly explain how they have done so, showing their stewardship activities and outcomes. No longer will it suffice to produce a 'boilerplate' statement simply saying they have complied. At the same time, the code extends the scope of investment covered beyond market equities to fixed-income and infrastructure equity, bringing more investment activity under regulatory supervision.
In addition, the code, for the first time, requires signatories to take into account material environmental, social and governance (ESG) factors, including climate change, when fulfilling their stewardship responsibilities. As a result of these features, "it might make more passive ownership active", says Waygood.
Vagueness in the reporting description could, however, undermine the apparently more stringent reporting requirements. "There is no substance within the draft stewardship code to measure the engagement activity," says Dominic Rossi, adviser and former chief investment officer for asset manager Fidelity International.
Among the recommendations he makes is a set of key performance indicators on stewardship. These could include, for instance, the extent to which asset managers use proxy advisers, the amount of resources they devote to engagement with investee companies, and the number of director remuneration plans they have intervened on in the last 12 months.
"This is an activity that can be measured. There hasn't been a serious attempt to say: what does good stewardship look like and how do we assess it?" Rossi says. Meanwhile, similarly subjective views on materiality may mean that ESG factors are placed low on the list of stewardship concerns.
Tighter, more rigorous demands or onerous penalties might appear an attractive option to opponents of lazy corporate or asset management. Nevertheless, some analysts caution against being too prescriptive within the code, at least at this stage.
According to Konstantinos Sergakis, senior lecturer in commercial law at Glasgow University, asset management companies might want to change statements about their stewardship principles in a given year, thus contrasting with their principles in the previous year. However, the effects of the previous year's decisions might still be emerging.
"They could then find themselves in the unpleasant position of breaching their own disclosure statements, and in some countries would then be sanctioned for having done the right thing," Sergakis says, alluding to stewardship codes under revision in other European countries. Activities across the EU are relevant because some countries aim to compete on stewardship codes to attract good quality investment.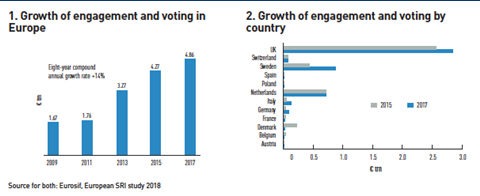 Requirements that are too specific could disincentivise engagement and voting practices – the main stewardship activities – and create a mechanistic attitude, expecting the regulator to make penalties and leading to lower engagement. "Engagement would be then seen as a source of liability rather than opportunity," Sergakis says, urging "social enforcement" in the early phases – leaving it up to market actors and clients to rely on reputational pressure to improve performance.
Many companies paid lip service to the previous code with simple and unsubstantiated statements. The new code goes one step further. Despite some of its weaknesses in its draft form, it is clear the more wide-ranging disclosure requirement will provide an opportunity among the better players to shine, leaving dunces at the back of the class.
In that capacity, the new code is likely to raise the bar at least one notch – for example, on ESG matters. "It's inevitable that ESG will become a marketing tool to enable the asset manager to stand out. The more you push on ESG, the more you give a chance for respondents to seek to benefit from additional disclosure," says Sergakis.