Pensionskassen were slow to embrace ESG but many are now committed to integrating sustainable thinking into their strategies
Key points
• The number of Swiss institutions embracing ESG has grown
• They are not only buying ESG products, but actively implementing strategies
• Shareholder engagement has widened to include international companies
In December 2015, six of the largest Swiss pension funds, plus the fund for accident insurance, joined forces to create an advisory body to identify sustainability issues in foreign companies.
Since then, SVVK-ASIR, (standing for Swiss association for responsible investments in German and French), has gained two new members and represents CHF200bn (€168bn) in assets.
There had been initiatives before that. As early as 1997, Swiss pension funds established the Ethos foundation to help them monitor governance at domestic companies. The proxy-voting agency has since been instrumental in revealing and stopping excessive remuneration packages at large Swiss listed companies. It has probably also helped bring Switzerland to seventh place in this year's governance monitor of European companies complied by Morningstar. The highest ranked were the Netherlands, the Nordic countries and Portugal. However, Ethos itself is under pressure to improve its own governance. At the time of writing a final decision was pending.
Further, some Swiss asset managers, such as the private bank Sarasin, had been pioneers in integrating ESG into investments. And the sustainable project finance specialist ResponsAbility has been around since 2003. For many pensions funds, the topic was an after-thought until recently. Others had been content to restrict their monitoring to Swiss companies.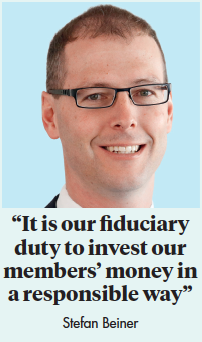 The most recent Swiss Sustainable Finance Report shows that in 2016 the composition of institutional investors in the ESG segment shifted, "with public pension and reserve funds now forming the largest group, at around 47%". The year before this group had a 21% share. In 2016, corporate pension funds along with investment foundations come second accounting for 23% of the market. Insurance companies alone also take a 23% share. The data collected by the FNG, the forum for sustainable investments, also shows that since 2012 the institutional share in the ESG market has increased by 67%, while that of retail only grew by 17%. Four years ago, institutions and retail clients both held around CHF20bn of the ESG market. In 2016, the ratio was CHF169.4bn to CHF36bn for the institutions.
"The ESG topic was really picked up by Swiss Pensionskassen five years ago and now quite a few are really making an effort," confirms Stefan Beiner, head of asset management at Publica , the pension fund for state employees. It was one of the founding members of SVVK-ASIR. "We were searching for an efficient process of how to apply our normative basis investment criteria to a large universe of equities and corporate bonds."
This "normative basis" comprises Swiss laws as well as international conventions the country supports.
After talks with investors the association was established to screen international companies for violations of this "normative basis", to which all members agreed, and which represents "the smallest common denominator". Each member is free to follow the exclusion recommendation or widen its catalogue of negative criteria.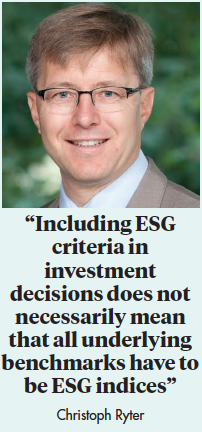 The centralised screening reduces costs and adds weight to another service SVVK-ASIR provides – engagement with 30 to 50 companies. "For us exclusion is the last step if we find that the breach of our criteria is inherent in a company's strategy," says Beiner. "What we really need to better price risks and opportunities is often more information on a company's strategy and how it manages certain risks."
And lastly, the investment association is to help investors share ESG knowledge. Apart from the screening and engagement, this is also an important reason why the CHF24bn Migros Pensionkasse (MPK) joined as one of two non-founding members. The other was Swiss insurer Mobiliar. "With like-minded large investors we are discussing the recommendations for exclusions," says Christoph Ryter, managing director at MPK. "We are hoping for knowledge transfer and SVVK-ASIR can also support us in communicating our decisions."
Indeed, communicating ESG strategies and measures is something where Pensionskassen could be more pro-active. "Pension funds in other countries like the Netherlands or Scandinavia are probably better in communicating their sustainable investment approaches," says Beiner. For example, Publica is investing in wind parks and alternative energy projects but is not advertising this on its website.
For 2018, Publica has put energy providers on its list of major ESG topics to discuss. Two years ago the discussion of climate change risks led to the exclusion of coal producers. Last year, cyber risk was identified as an important risk factor for sustainability. "The outcome of these debates, for example, exclusions or changes in the strategy, is always open and is discussed in our investment committees," says Beiner.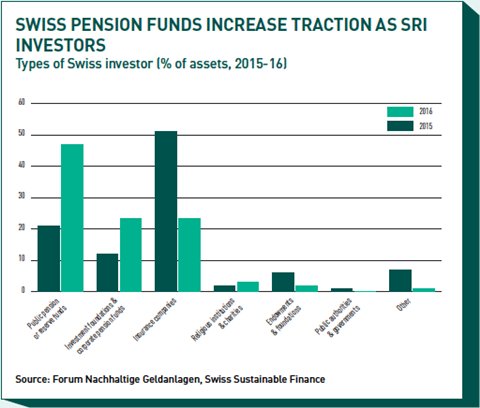 MPK is also discussing the next steps in its strategy. After joining SVVK-ASIR, the fund changed the benchmark for its global equity portfolio to the MSCI World ESG Universal index. "We have adjusted our internally managed portfolios and existing contracts with external managers are under revision" says Ryter. Further, the fund is considering options on how to implement the ESG strategy in the fixed-income portfolio. At present, the focus is on corporate bonds. Ryter emphasises: "Including ESG criteria in investment decisions does not necessarily mean that all underlying benchmarks have to be ESG indices."
For its real estate holdings, MPK has defined its own sustainable investment strategy which is currently being implemented. For new buildings the minimum standard required is the Swiss 'Minergie' label for low energy use. "There are also other criteria you can look at which are matching an ESG thinking such as the life-cycle approach which looks at the materials used in construction and their sustainability," comments Ryter.
Both for Publica and MPK, it is important that the ESG strategy becomes part of the investment process and is not just an add-on. "The ESG topic will develop over time and our implementation will probably adjust to the most recent findings," he says.
"ESG is an integral part of risk management. It allows us to better fathom future risks of investments"

Stefan Beiner
And for both Pensionskassen, it is important that investments generate returns. "At least once a year we are checking the financial impact of the ESG decisions," says Beiner. For him ESG is an "integral part of risk management" and has been for some time. "It allows us to better fathom future risks of investments." But, he says, there is room for improvement and a dialogue with companies can help gather better information.
Ryter adds: "MPK is convinced sustainable investment can improve the risk-return ratio to benefit members without diminishing returns."
Apart from the risk management angle, there is also one other aspect which is driving Pensionskassen to strengthening their ESG approach – the fiduciary duty towards members. "I think this has really entered pension funds' way of thinking about five years ago," says Beiner. "It is our fiduciary duty to invest our members' money in a responsible way."
Switzerland: Preparing for the next set of reforms
1

2

3

4

Currently reading

ESG: The Swiss shade of green