One of the narratives and unfolding developments in the world of ESG is that of its broadening to asset classes beyond public equity. This generally keeps the focus on corporates, however, while another emerging strand is about sovereign issuers.
ESG considerations becoming more important investor engagement with sovereigns
Some are calling for more structured, collaborative engagement
A new frontier is that of collective investor engagement with sovereigns on ESG issues, in particular environmental and social. This is still at an early stage, albeit with at least one high-profile example, focused on deforestation in Brazil.
The country was the first to be engaged within the Investors Policy Dialogue on Deforestation (IPDD) project. The initiative started with a letter, endorsed by 34 investors representing almost $4trn (€3.3trn) in assets under management, sent to Brazilian embassies in several countries in the summer of 2020.
Emine Isciel, head of climate and environment at Storebrand Asset Management, which initiated the letter, said the immediate and high-level response was surprising.
"The letters were sent on a Monday in June and within a few days, the governor of the central bank reached out to Storebrand and wanted to understand some of our concerns," Isciel says. "He offered a meeting with the Amazon Council chaired by vice-president Morau."
A few weeks later, a meeting was held with the vice-president and ministers of agriculture, environment and foreign affairs. According to Isciel, the investors "expressed five tangible and concrete outcomes with clear link to investment risks".
"We explained that we are concerned about the financial impact that deforestation may have on our clients and investee companies, by potentially increasing reputational, operational and regulatory risks," she adds. "Right after our meeting, [president] Bolsonaro announced a 120-day Amazon fire ban."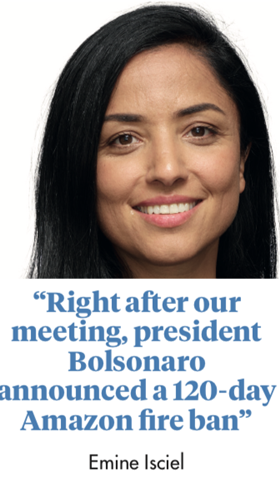 When the IPDD's Brazil engagement hit the headlines last year Clarisse Simonek, head of responsible investment and sustainability at French investment manager Ossiam, said: "This initiative not only leads to change, but is an excellent case study of constructive engagement with sovereigns."
Adam Matthews, director of ethics and engagement at the Church of England Pensions Board (CEPB), says the initiative on deforestation in Brazil was helpful for being specific and direct, but "we're very much at the beginning".
He is of the view that, in particular with regard to issues such as climate change, the time has come for investors to come together to engage with sovereigns in a more structured way.
"There have been lots of letters to governments and we need to move beyond that," says Matthews. "I think we're at a point where we're evolving towards an understanding that we can do that.
"My sense is that there's no-one feeling that there isn't the space to do this and I also feel quite clearly this is not lobbying," he adds.
One way of avoiding ESG-related engagement with sovereigns being perceived as lobbying, which investors can be nervous about, is for the engagement to be based on "public good frameworks", Matthews says. One such framework is the Transition Pathway Initiative (TPI), which is supported by 50 large asset owners and co-chaired by CEPB. Launched as a benchmark of corporate climate action, it is planning to expand to provide sovereign bond assessments.
The lobbying point is one made in a Principles for Responsible Investment (PRI) report on ESG engagement for sovereign debt investors, which, among other things, noted that "when engaging directly with government institutions, bondholders do not approach sovereigns for lobbying or advocacy but to assess bond valuations and risks".
Lupin Rahman, global head of emerging market sovereign credit at PIMCO, is a member of the PRI sovereign debt advisory committee, which provided guidance on the report.
She says there is a huge distinction between engagement and lobbying."It's very important to realise that sovereigns have sovereignty at the end of the day and our role is to ensure that our clients' investment returns and needs are being met," she says.
She explains that the parameters within which PIMCO engages with sovereigns are broad but that they are ultimately linked to a view of how they may affect sovereign credit risk.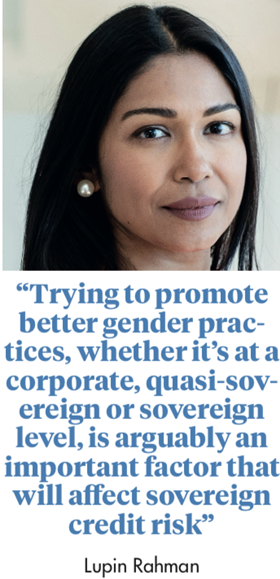 "If you think about social issues, we know that inequality, especially gender inequality, is associated with lower output levels in the long term. So trying to promote better gender practices, whether it's at a corporate, quasi-sovereign or sovereign level, is arguably an important factor that will affect sovereign credit risk in the future.
"But in terms of having a very subjective view on a topic that isn't necessarily ESG-related in terms of risk factors, we are not necessarily going to engage with a sovereign as to why they have done x versus y unless it has that risk element that would feed through to sovereign credit."
Rahman also explains that the asset manager engages at a broad level, not only with government but also opposition parties and key stakeholders in societies such as NGOs, think tanks, journalists, local consultants, and where relevant, key consumer or labour groups.
This broad engagement can uncover underlying ESG trends and developments which may not be reflected in the data, she says.
Robert Simpson, co-head EM hard currency debt at Pictet Asset Management, says that sovereign debt investors have always engaged with sovereigns as part of their due diligence. Doing so in relation to ESG is just a continuation of that practice.
However, he also suggests there is a more holistic, medium-term slant to investors' engagement with sovereign than perhaps 10-15 years ago.
"In the past, perhaps foreign investors would have welcomed a cut in spending, on education or whatever it is, to improve the very short-term fiscal situation, while what we're saying today is that makes no sense for the medium-term credit trajectory of the country. We would rather see responsible investment in human capital, environmental issues, [or] an improvement in governance," he says.
On the topic of collaboration across investor groups to communicate with sovereigns, Simpson says this is probably in the relatively early stages. However, given the pace of change, "absolutely, these things will probably be pushed forward further".