Companies are increasingly making net-zero emission commitments. They can deliver on those in a number of ways, including through purchasing emission reduction credits from third parties or directly funding projects in areas like renewable energy or negative emissions from third parties rather than by cutting their own emissions.
Portfolios companies' net-zero commitments often imply use of offsets, which carry risks
At least some investors have offsetting on their radar
According to the March 2020 State of Transition Report from the Transition Pathway Initiative (TPI), a UK asset owner-led initiative, net-zero targets often come with a reliance "to a lesser or greater extent" on offsetting.
Companies can buy offsets in compliance markets such as the EU Emissions Trading System or in voluntary carbon markets. Aviation is an example of a sector that relies considerably on offsetting to meet its own targets, although the grounding of planes in connection with the coronavirus means fewer emissions may need to be compensated for currently.
EasyJet has said it is offsetting the carbon emissions from the fuel used for all of its flights by buying credits from projects for forest regeneration in South American and Africa, solar energy in India, and borehole repair in Uganda and Eritrea. Rehabilitating broken boreholes can prevent carbon emissions if it means people no longer have to burn firewood to boil water to make it safe for drinking.
"Offsetting has its attractions, but it also carries risks," says Rory Sullivan, CEO of Chronos Sustainability and chief technical adviser to the TPI. The TPI report mentioned above, to which Sullivan also contributed, refers to price risk as well as regulation and reputational risks.
It recommends investors monitor companies' offset strategies closely and demand greater disclosure. It also says investors should ask companies whether or not offsets will help in achieving the goals of the Paris Agreement.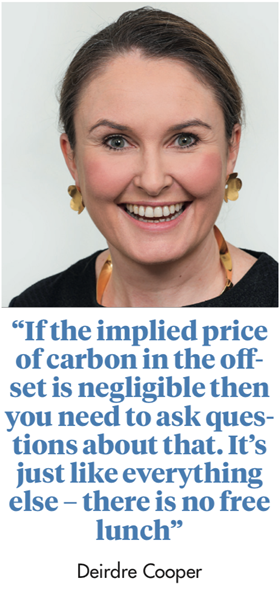 Sullivan says the aviation industry is commendable in terms of its relative clarity about how offsets fit into emission reduction strategies. But at the moment it is difficult to know what the total amount of offsets will be, he says: "If the aviation industry is serious about delivering its commitments to offsets, then much of the world's offsetting capacity would be consumed there."
Deirdre Cooper, portfolio manager of the global environment fund at newly named asset manager Ninety One (formerly Investec Asset Managmenent), says that in sectors such as air travel that are difficult to decarbonise, companies have to use offsets.
"We would encourage investors, and this is certainly something we do, to try to understand those offsets as well as possible with the concept of additionality in mind," she says.
Establishing additionality – a vexed concept that has to do with a given intervention making a difference when compared with a baseline – is difficult, but Cooper seems to suggest this should not loom too large.
She comments: "There's a strong history around additionality because we have had a carbon trading scheme in Europe and they gave credits to things under the Clean Development Mechanism, which was designed to help address the question of additionality. I also think there is a commonsense element to it.
"If the implied price of carbon in the offset is negligible then you need to ask questions about that. It's just like everything else – there is no free lunch."
At BMO Global Asset Management (BMO GAM), Vicki Bakshi, director in the responsible investment team, brings up additionality in the context of "high-quality offsets", one of the principles on which the asset manager bases its discussions with companies.
"We think it's the company's job to clarify the additionality thresholds when selecting third-party offsets, or developing their own offset projects," she says.
"The definition of additionality will change and this is something that could be defined on a rolling basis or connected to certain well-recognised labels."
The other two key principles for BMO GAM, according to Bakhshi, are about offsetting as the last resort option, and as a financial risk. With regard to the former, the asset manager is of the opinion that companies should consider "pre-declaring" the reductions that require offset as an option.
On the second point, Bakhshi says that "as more companies committing to net-zero with offset as one of the reduction options, we think that future offsets won't be as cheap as now".
She adds: "We hope to see that the offset costs will be part of the scenario analysis."
Bakhshi also notes that even when offsets are treated as a last resort option, companies may still choose to develop offset projects at scale and that when mitigation goes well, "there will be excessive offsets generated by the companies as a potential revenue stream to hedge against the offset costs".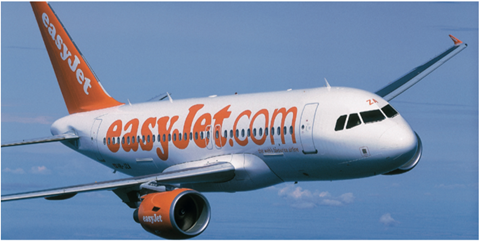 According to Bakhshi, BMO GAM has discussed offsetting with a number of companies as part of their implementation plans for its net-zero strategies, including in particular companies targeted by the Climate Action 100+ group.
Stephanie Pfeifer, CEO of the Institutional Investors Group on Climate Change, offers a summary of the questions surrounding offsetting when she says: "While reducing emissions is always the priority, it is clear that some sectors and industrial processes are very hard to decarbonise to zero emissions and as such some emissions absorption or offsetting approaches may be required.
"However, these bring with them a range of challenges and uncertainties around technology, cost, quality, supply and scale." For its part, the IIGCC is "therefore currently taking a cautious approach as we work through these challenges with investors, companies and policymakers," Pfeiffer adds.
To read the latest IPE Digital Edition click here