Asoka Woehrmann and Amin Rajan ask whether social issues will become a permanent driver of investment decisions
Key points
The neglected middle child of ESG is now coming into its own in a new incarnation, representing 'stakeholders'
The way companies treat employees is a key guide to their ability to respond to other shocks
Return expectations of the 'S' pillar are the same as for other forms of investing
From the Plague of Justinian to the 1918 Spanish flu, history shows how pandemics can expose and amplify societal inequalities.
In developed markets, COVID-19, has highlighted long-neglected ills such as stagnant incomes, job insecurity, racial discrimination, under-funded public health systems and environmental damage. These have become lightning rods for political backlash, as shown by the rise of populism.
Since March 2020, major central banks and governments have committed about $25trn (€21trn) in an attempt to avert the economic devastation wreaked by the pandemic. Although necessary, this has tackled the symptoms, not the causes, of the underlying malaise.
Before COVID-19, populism had been a wake-up call on the manifest failings of capitalism, which puts profits before people and finance before the real economy. Recognition of this came in August 2019, when the Business Roundtable, a US corporate lobbying group, made a historic u-turn. Its declaration now enjoins leading companies to demonstrate their societal purpose by orienting their operations to benefit all stakeholders – shareholders, employees, community and suppliers.
Since the 2015 adoption of the UN's Sustainable Development Goals (SDGs), pension plans' interest in environmental, social and governance investing has risen. The 'E' and 'G' pillars spearheaded the first wave of growth, while the 'S' pillar lagged due to its qualitative and normative nature.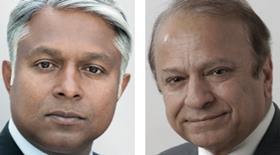 Now, lockdowns in the global economy have provided confirmation of the adage: sustainable economies need sustainable societies, thus making 'S' financially material from the investor perspective. This is the key message from the 2021 DWS/CREATE-Research Survey, titled 'Rise of the Social pillar of ESG'. The survey covered 142 pension plans in 17 countries with a total managed assets of €2.1trn.
It shows that, as the pandemic has entered its second year, the ESG conversation has moved from risks and returns, to a question: what role do companies have in creating a fairer and more sustainable society, as today's capitalism faces its biggest challenge in living memory?
The rise of the 'S' pillar
That COVID-19 has hastened the shift towards ESG investing is not in doubt; nor that it has also sparked interest in the 'S' pillar, which is starting to translate into allocations in pension portfolios (figure 1).
Whereas 65% of respondents already have a 'mature' portfolio of passive funds, the corresponding figure for passive funds targeting the 'S' pillar is 11%. Some 22% are in the implementation phase.
This means such funds are in pension portfolios of about a third of respondents. That leaves two-thirds either at the close to decision making or awareness raising phase.
Two key barriers have slowed progress. First, 58% of our respondents find that their time horizons are not long enough to realise the investment benefits of the 'S' pillar, because of immediate funding and cash flow challenges caused by COVID-19.
Second, 51% point to the lack of meaningful key performance indicators as well as universal 'social' benchmarks. To compound the problem, the majority of indicators of 'S' currently measure company policies and procedures, not their outcomes.

The drivers
In hindsight, COVID-19 may prove to be a watershed moment for the 'S' pillar, by underscoring the importance of granularity.
It shows that 59% of respondents identify the need to tackle the inequalities exposed by COVID-19 as a key driver of their 'S' allocations. Inequalities had been building up over the past 40 years as globalisation and digitalisation created winners and losers, mainly in the West, as governments struggled to reskill those who suffered job losses or stagnant incomes.
The transition has not been just, however. Both globalisation and digitalisation delivered benefits in the West. But these have accrued to many in their role as consumers, not as workers or citizens. So, fresh emphasis on the 'S' pillar reflects twin imperatives: to have a just transition as the global economy advances towards a low-carbon future; and to address the prevailing inequalities that have built up undermining modern capitalism.
The gig economy – offering no employee benefits such as paid sick leave, healthcare and retirement benefits – is an example of how socially undesirable job practices have acquired a cloak of legitimacy and undermined long-held social contracts.
Hence, 48% of our respondents now recognise the growing materiality of social issues in business performance and investment outcomes and 58% are seeking good long-term risk-adjusted returns by investing in them.
Reliance on broad ESG indices
The use of core ESG social-related funds is limited to 14% of respondents. This number is likely to double over the next three years (figure 2).
Similarly, reliance on social bond indices is small (6%) but is set to rise. Broad indices provide an effective mechanism for financing social projects, while providing a platform to engage with issuers to increase their activities in socially impactful products and services.
But the use of selective targeted indices is limited as there are so few of them. Currently, for every five ESG indices in the marketplace, only one covers the 'S' pillar, forcing investors to accept what is available.
Hence, 46% of respondents use broader ESG indices to achieve social goals. That the broad indices will continue to retain their importance is shown by the use of SDG-related indices. Currently, 29% rely on them, and this is likely to rise to 52% over the next three years.
The sheer breadth of issues covered by the 'S' pillar is also a problem. Another is the growing attention that the SDGs now receive from policymakers, as the impact of climate change on human health is becoming visible via the rise of infectious diseases and human migration.
Materiality is narrowly based
COVID-19 has concentrated minds on the 'S' pillar, and two stakeholder groups in particular as financially material to investment returns (figure 3).
These are employees (identified by 66%) and the local community (41%). The other two stakeholders – suppliers and shareholders – are deemed as material by fewer respondents.
Two parallel events underpin this assessment. The first is inequality in the workplace, as revealed by forced lockdowns. These can no longer be ignored by shareholders.
In some countries, staff in low-paid insecure service occupations were expected to continue to work after being classified as 'key frontline' workers, they were also the people most exposed to the virus. Their vulnerabilities were amplified by their underlying health issues, such as poor diet, overcrowded homes and inadequate healthcare.
The second event was marked by the Black Lives Matter protests in the wake of the murder of George Floyd in the US during May 2020. Like the civil rights marches led by Dr Martin Luther King Jr in the 1960s, they exposed institutional racism embedded in societies that have continued to overtly marginalise and disadvantage racial minorities from mainstream society. COVID-19 has exposed injustices around employment that are directly material to the financial worth of a company.
The focus on employees is based on the belief that government support for companies during this pandemic has come with obligations. We could see an expansion of the scope of public interventions in both financial markets and corporate policies. On past form, mission creep will be inevitable. Employer policies on human rights will come under scrutiny and emerge as a compensated risk factor.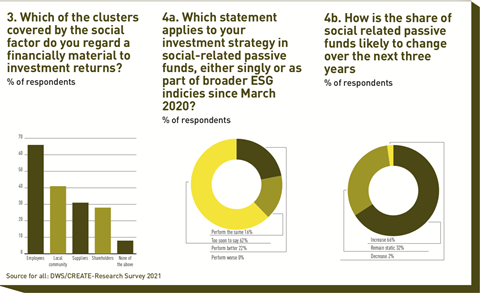 Performance track record so far
The 'S' pillar performed much better during and since the March 2020 market turbulence (figure 4a), showing that ESG investing is not just a bull market luxury.
Before the crisis, new inflows were seen as a momentum trade in a 10-year raging bull market. It was stressed that the viability of the three ESG pillars will be best judged by their resilience when the inevitable correction comes.
In the event, they proved resilient. In all, 22% of respondents reported that passive funds based on the 'S' pillar performed 'better' than the rest of the portfolio during March 2020. None reported that they performed 'worse'. Indeed, by the end of 2020, total assets in sustainable funds hit a record of about $1.7tn, up 50% over the year.
The implied resilience has intensified the demand for improved ESG reporting, traditionally referred to as 'non-financial', creating the perception it is not financially material. This misnomer fails to reflect the value investors place on ESG as an investment tool that manages risks and delivers returns.
So, when asked how the share of social-related passive funds in their total portfolio is likely to change over the next three years, 66% expect it to increase (figure 4b).
The cultural and legal norms around the 'S' pillar will become so ingrained that they will, over time, become a standard part of good business practice, rather than being a collection of metrics tracked by investors.
Hence, there is every expectation that the 'S' pillar will outlast the crisis that catapulted it to prominence and become a permanent feature of passive investing.
Asoka Woehrmann is CEO of DWS and Amin Rajan is CEO of CREATE-Research and a member of The 300 Club