PensionsEurope and EFAMA have reacted positively to a European Commission climate change-driven growth strategy, although they said the success of the EU sustainable finance agenda required tackling problems related to the availability of environmental and other data on investee companies.
The Principles for Responsible Investment (PRI) also welcomed the Commission's European Green Deal, which sets out the new Commission's strategy for environmentally and socially sustainable economic growth.
The Commission said it covered all sectors of the economy, name-checking transport, energy, and buildings, and industries such as steel and cement.
A goal of the Green Deal is to make the EU climate-neutral by 2050, with the Commission pledging to present legislation by March to enshrine this into law. This was "to provide predictability for investors," among other ends, it said.
Fiona Reynolds, chief executive officer of the PRI, said the Commission's Green Deal "reflects the bold policy ambition we've been looking for".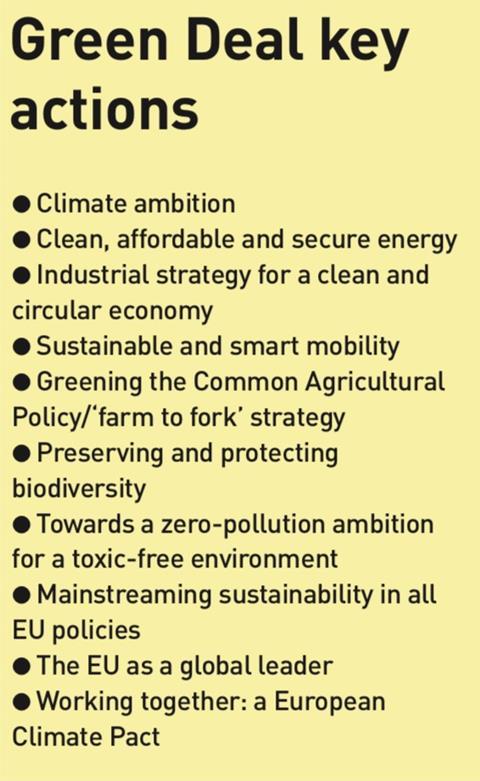 "The broad scope of the deal – encompassing goals such as carbon neutrality, sustainable transport, a zero-pollution Europe and a just transition – provides a clear framework for action from all areas of society," she added.
Tanguy van de Werve, director general of Efama, the European trade association for asset managers, supports the Commission's initiative. However, he said investors needed access to "robust, comparable, reliable and publicly available ESG data on investee companies".
Financial institutions are facing increased disclosure obligations under sustainable finance regulations, and Efama has been arguing its members would not be able to comply based on the data currently available.
Efama has been pushing for a review of the EU Non-Financial Reporting Directive (NFRD), which sets out a minimum level of environmental information that must be provided in annual reports alongside detailed non-binding guidelines.
There have been indications the Commission would review the NFRD, and this was confirmed last month as part of renewed sustainable finance strategy to be presented in the third quarter of 2020.
"The success of the sustainable finance action plan relies on the availability of quality, comparable, reliable and public ESG data on investee companies," Aleksandra Palinska, senior regulatory policy adviser at Efama, told IPE.