All companies have an impact on the world beyond just the profits for shareholders. Acknowledging and measuring these impacts in a quantitative manner enables them to be managed for the benefit of all and contributes to the creation of a fairer and more just society. The environment, social and governance (ESG) movement has raised the importance of such sentiments.
However, what has not been explicitly recognised is the impact of the private sector on human health. The fact that companies' activities, services and products affect human health is not disputed. These include not only direct effects such as respiratory diseases in coal miners, but also indirect ones such as obesity-driven illnesses caused by excess consumption of sugar through fizzy drinks and processed foods marketed by consumer goods companies. Initiatives such as the sugar tax recognise that private sector activities have a significant influence on health outcomes and, as such, the private sector can be nudged towards behaviour that leads to more positive health outcomes.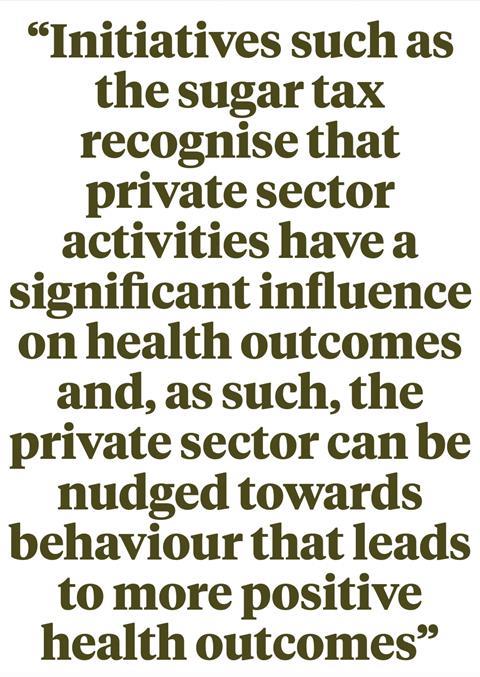 In the UK, the All-Party Parliamentary Group for Longevity outlined a strategy for levelling up health across the nation in April 2021. The pressure group Business For Health, led by Tina Woods, was set up in response, with the explicit aim of reducing health inequalities and adding five years to life expectancy. Over 150 organisations have registered support, with sponsorship from large institutions including Legal & General and insurance provider Phoenix Group. Business for Health, says Woods, has a small team of part-time staff working with member organisations focusing on partnerships and collaboration, and funding research.
The dual aims of levelling up health outcomes and adding five years of extra life are not only worthwhile objectives in themselves, but also have economic advantages to both companies and the country as a whole, says Woods. Inequalities are deeply embedded in the UK economy, and are reflected in large regional variations in health, which have an economic cost. There are also significant economic gains to be made by increasing healthy life expectancy, the most obvious being potentially reduced demands on the UK's National Health Service (NHS).
Similar to climate debate
John Godfrey, executive board chair of Business For Health and the corporate affairs director at Legal & General, says the developments in incorporating the impact of corporate activities on health, are similar to those seen in the climate debate. In the past, businesses produced externality costs through carbon emissions or other kind of environmental impacts and they were paid for by taxpayers. He adds: "When man-made climate change became a much more important issue, governments on behalf of taxpayers, realised that if companies are causing this problem, they should be at least be footing some of the cost." That has a consequence for investment managers who now face the issue that companies may be taxed, regulated or even sued by groups of citizens because of their carbon emissions. As a result, a taxonomy has had to be developed on emissions with the objective of attaining net-zero emissions.
Godfrey sees a three-pillar approach to health analogous to the taxonomy developed of Scope 1, 2 and 3 emissions with relation to greenhouse gasses and climate impact. "In the corporate sector, you've got the equivalent of Scope 1, which is, do employees experience positive or negative health outcome as a result of working?" The second pillar is the impact of products and services, and the third pillar, is "the wider kind of role of business in the society, especially in the context of levelling up health outcomes", explains Godfrey.
Woods sees addressing the three pillars as a commercial opportunity. The most obvious is through having a healthier workforce, especially in a tight labour market. "Companies do not want to have huge absenteeism and reduced productivity due to mental and physical ill health, or workers leaving employment in their 50s because they have ongoing health issues and can't work."
The COVID pandemic was a dramatic manifestation of the impact of ill health on economies. But the second and third pillars are also important. Wood points out that "companies tend to be very focused on millennials, which may not be wise commercially", perhaps most obviously from the fact that the over-50s are more prone to health issues and have higher disposable household wealth. Applying pressure on companies to improve health outcomes, often through minor changes in their product formulations and clear labelling of contents, can lead to useful improvements.
Tool to avoid scandals
Only by the quantifiable measurement of the impacts on health of corporate activities can they be monitored and managed for the better, which is the most immediate challenge for Business for Health. The organisation is working in collaboration with the UK's Confederation of British Industry (CBI) to develop metrics to enable companies to put valuations on the health impact of their activities. This should eventually cover all three pillars and by so doing, should help to avoid scandals such as the US opioid epidemic that led to Purdue Pharma filing for bankruptcy in 2019 after paying out the largest ever fine for mis-selling the drug OxyContin.
Woods sees the initiative as a two-to-three-year programme that aims to deliver a set of metrics that could look like a traffic light system. "It could be a really simple tool that tells companies how they measure up to their peer group." She sees that it is important to tie the three pillars together because a business may have products that have no direct impact on health but might have high scoring on improving employee health. The key metrics for different sectors are likely to vary greatly as work-related illnesses in the mining sector, for example, are very different from those in IT. But by creating quantitative metrics for the impacts in each sector, companies can be encouraged to do better.
The creation of health impact metrics for individual companies creates the basis for developing a suite of health-related indices. For Legal & General, the parent of fund manager LGIM, a large index fund manager, it is an enticing prospect. Investors may be willing to reward those companies in each sector that can be shown to have better workplace metrics than their peers. What is required, argues Godfrey, is for responsible investors to add H for health alongside E, S and G in their investment philosophy.
Joseph Mariathasan is a contributing editor to IPE and a director of GIST Advisory