The market for sustainable investments is growing exponentially
Born of a reverse enquiry from Swedish pension plans more than 10 years ago, green bonds are now a well-established asset class, accounting for a growing share of global fixed-income issuance and increasingly diverse in terms of issuers.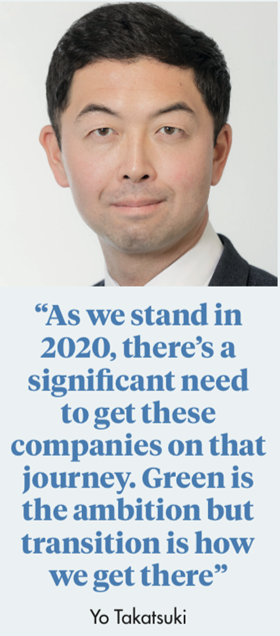 Today, however, amid growing preoccupation with the goal of cutting global human-caused carbon-dioxide emissions to net zero by 2050, some capital market participants are talking hopefully about the need for, and potential of, new sustainable debt instruments.
Last June, AXA Investment Managers (AXA IM) developed the concept of 'transition bonds' because it felt that new instruments were required for carbon intensive companies that were actively decarbonising but unable to issue green bonds.
"Aimed at companies operating in greenhouse gas-intensive industries such as materials, extractives, or chemicals, alongside other companies which lack sufficiently green assets to issue a green bond, transition bonds would provide an alternative source of finance specifically aimed at helping the journey to become greener," wrote Yo Takatsuki, head of ESG research and engagement at AXA IM at the time.
"Transition bonds would allow the quality of the green bond market to avoid being diluted by issuances where the environmental benefit of projects being financed is less clear. The concept of the green bond has been proven; it works, and it is here to stay, but that market is now at a crossroads."
Takatsuki, who is seen as a cheerleader for the transition bond 'movement', tells IPE: "Eventually the ambition is that all of these carbon intensive sectors should be green industries, but many companies cannot make that singular jump today.
"Today as we stand in 2020, there's a significant need to get these companies on that journey. Green is the ambition but transition is how we get there."
Transition bonds, as envisaged by AXA IM, would rely on the use-of-proceeds principle that underpins green bonds. This means the proceeds must be exclusively used to fully, or partly finance or refinance specified projects. The issuer would need to explain why these are important from the perspective of commercial transformation and climate transition.
There are currently no universally accepted definitions in relation to transition bonds. When IPE spoke to Takatsuki in February, he said that in AXA IM's view only one transition bond has been issued, a €100m 10-year private placement by Crédit Agricole CIB that AXA IM subscribed to on behalf of AXA Group.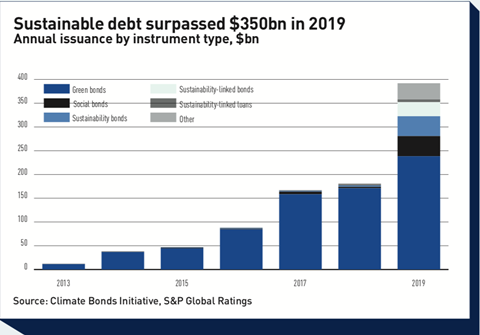 Last month Cadent, which runs the UK's largest gas distribution network, claimed issuance of the UK's first transition bond, a €500m 12-year issue.
BNP Paribas, which is also a proponent of transition bonds, helped create Cadent's transition bond framework and said the deal was more than 8.5 times oversubscribed. Cadent is to use the proceeds to replace pipelines that facilitate the carrying of hydrogen and other low-carbon gases and reduce methane leakage.
Enel innovates
Use-of-proceed transition bonds are not the only new game in town. In September, Italian utility Enel issued a $1.5bn (€1.3bn) five-year bond that, according to Federated Hermes, "marks a defining moment in the evolution of sustainable fixed-income markets". A month later a euro-denominated version, a €2.5bn triple-tranche issue was launched.
The deals were ground-breaking because although the bonds have a environmental theme they are not linked to a specific project. Instead, the proceeds are for general purposes but the issuer has promised a coupon "step-up" of 25 basis points if it does not meet specified renewable energy installation and greenhouse gas emission targets.
Enel called the bonds SDG-linked general corporate purpose bonds, having mapped the targets to two of the UN Sustainable Development Goals. "Put simply, Enel has attached the heart of its business to environmental progress and backed the promise with its own cost of capital," says Mitch Reznick, head of research and sustainable fixed income at Federated Hermes, and his colleague Aaron Hay, lead engager, fixed income in a joint article published on their firm's website.
"We applaud Enel's move and will closely watch further developments in sustainable-bond issuance."
The type of bond pioneered by Enel is also being referred to as a sustainability-linked, KPI-linked bond, or target-based bond.
Noemie de la Gorce, associate, sustainable finance at S&P Global Ratings, says new instruments such as sustainability-linked bonds help investors to "diversify their contribution to sustainability objectives".
"Some investors also see these as more powerful than green bonds to embed sustainability into the company's strategy because the environmental and social objec- tives apply to the whole company instead of a specific transaction"

Noemie de la Gorce, S&P Global Ratings
Because sustainability-linked bonds give companies incentives to advance their sustainability agenda by connecting the cost of funding to specific targets, "some investors see these instruments as a potential stronger driver of change than green bonds, which do not have a similar incentive mechanism," she says.
"Some investors also see these as more powerful than green bonds to embed sustainability into the company's strategy because the environmental and social objectives apply to the whole company instead of a specific transaction," adds de la Gorce.
Large pension investors have also made comments in this vein.
In the Netherlands, APG has said the format "takes sustainable financing one step further than green or sustainability bonds". At the investment subsidiary for Danish academics pension fund MP Pension, Pernille Jessen, head of fixed income, said the step-up in Enel's euro-denominated SDG-linked transaction was not very material, but does "point to the accountability of the issuer when setting long-term targets".
"A potential financial penalty that would reallocate funds from equity investors to bond investors may prove to be an effective tool to ensure focus is sustained," she said.
Downsides highlighted
There are also concerns about these new instruments.
Commenting on the KPI-linked structure, Colin Purdie, chief investment officer for credit at Aviva Investors, says that as an investor he would not want an issuer to meet its target "because then I get a better return on my investment. That doesn't sit well with us, and we're all about alignment of interests," he says.
Asked about transition bonds generically, Bram Bos, lead portfolio manager of green bonds at NN Investment Partners, which recently launched a corporate green bond fund, says he has "strong reservations".
"I think a green bond is by definition already a transition bond," he says. "The whole discussion about transition bonds in my view gives dark brown or dirty issuers the opportunity to became maybe medium dark brown or light brown, so you give them an opportunity to participate in this whole sustainable fixed income market, which I think is wrong."
If these companies really wanted to do something positive they should issue a green bond, he argues, and if they can't "they should change their business model because quite often we want these companies or activities that they do now to disappear".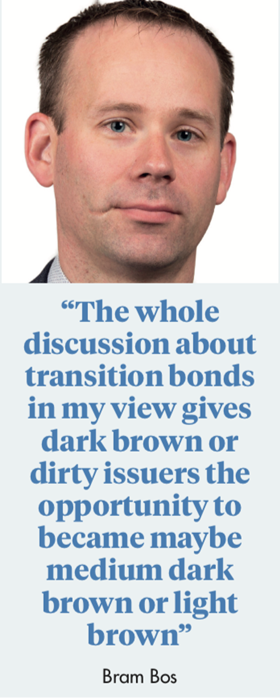 "I just don't get this whole discussion," he says. He calls for market participants to rally behind green bonds rather than "create confusion with another label".
The green bond market has been successfully used for transition finance, and some issuers, such as the European Bank for Reconstruction and Development, are confident the two can be combined.
Work in progress
Last September, the multilateral development bank issued its first 'Green transition bond', having created a portfolio for projects focused on decarbonisation and resource efficiency projects.
Corporate issuers from carbon intensive companies, however, "have been largely absent," according to the terms of reference for a multi-stakeholder working group set up last year to explore why this is the case. It also has as its remit "to consider providing guidance for potential future issuances" to corporates in hard-to-abate sectors.
The "climate transition finance" working group, as it is known, is one of two new working groups that have been set up by a body called the executive committee of the Green Bond Principles (GBP), supported by the International Capital Market Association.
The other grouping set up this January, is focused on what the GBP executive committee has called KPI-linked or sustainability-linked bonds. Its remit is "to take stock of the development of the sustainability-linked bond market in the recent past and in the coming months"; "establish the main characteristics of these bonds and examine concerns expressed with them"; and "consider and potentially propose market guidance".
The terms of reference for the working group refer to the possible creation of "Sustainability-Linked Bond Principles".
The idea of a new type of labelled bond instrument for companies in carbon intensive industries is, as Bos's comments illustrate, controversial.
Christopher Kaminker, head of sustainable investment research and strategy at Lombard Odier Investment Management, knows the topic is delicate, and expresses confidence "the market will get this right".
He says: "We need to figure out the topic of transition finance more broadly. We really need to have solutions for the hard-to-abate sectors. It's critical."
One thing is clear: what the two aforementioned working groups come up with in terms of analysis and recommendations will be closely watched.
To read the latest IPE Digital Edition click here
Private and green: Non-listed sustainable debt
1

2

3

Currently reading

Transition bonds: Questions of transition