The European Parliament has today agreed its position on the European Commission's proposal for a sustainability "taxonomy" to help define standards relating to sustainable finance.
The sustainability taxonomy will set the framework for establishing which economic activities substantially contribute to environmental objectives such as climate change mitigation.
The next step is for the EU Council, the body for EU member states, to adopt its position, and then negotiations can begin.
The proposal is one of the three legislative proposals in the Commission's sustainable finance action plan, which is being implemented at a rapid pace.
The taxonomy "file" was voted on in the parliamentary economic and monetary affairs and environment committees earlier this month, but, in contrast to the other two proposals, was not earmarked to go directly to negotiations with the Council.
Political agreement between the Council and the Parliament has been reached on the other two proposals – on low carbon benchmarks and reporting obligations.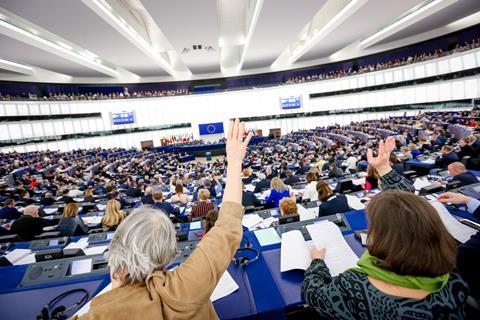 Sébastien Godinot, economist in the European policy office for campaign group WWF, said the taxonomy was a more "sensitive" topic.
In his opinion, the proposal adopted by the parliament today was better than the version adopted – by a slim majority – by MEPs at the committee stage, but not by as much as WWF had hoped.
According to WWF, MEPs decided to support a taxonomy that would "only… show the very small proportion of activities which are fully 'sustainable' and leave the rest out".
The campaign group had wanted a "fully-fledged" taxonomy ranking all economic activities by their environmental performance, and not just capturing what it referred to as "dark green" activities.
However, it noted that MEPs had voted to require investors to disclose whether their financial products had sustainability objectives, and, if they did, whether the products were consistent with the taxonomy.
Godinot told IPE these disclosure requirements were different from those contained in the disclosure-specific proposal because of the link to the taxonomy.
According to Joost Mulder, an independent Brussels-based public affairs specialist, MEPs today also decided that nuclear energy, coal-based electricity and "carbon lock-in" technologies would not be "stimulated" under the taxonomy.
Eleni Choidas, European policy manager for ShareAction, said social safeguards had been strengthened. Overall, the proposal adopted today was a "broadly much-improved outcome," she added.
According to WWF, the Council was expected to reach its final position in April.
🔴 I welcome the adoption of the taxonomy report by @Europarl_EN . The vote supports our view that sustainable finance is no longer optional. Now we are one step closer towards putting the financial sector at the service of citizens and the planet. #SustainableFinanceEU pic.twitter.com/JS65o5Zqae

— Valdis Dombrovskis (@VDombrovskis) March 28, 2019