---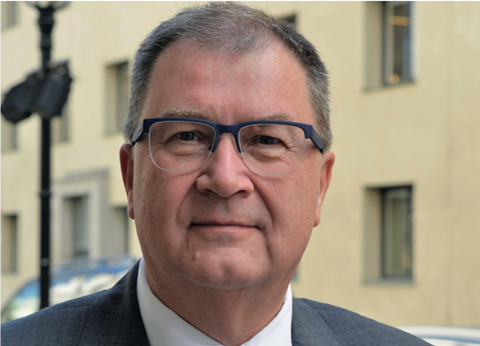 Peter Hansson, former CEO of Sparinstitutens Pensionskassa (SPK), decided to retire after 25 years with the pension fund for savings institutions in Sweden as new regulatory changes loom. Out of those 25 years he was CEO for 14 and during his 37-year career in banking and finance he has seen some drastic changes.
When asked about lessons learnt, Hansson immediately quips: "Imagine no internet!" And despite this being a retrospective, he is quick to point out that, in general, he prefers to look forward rather than back.
During his leadership SPK, assets under management grew from SEK6bn to SEK27bn. "When I joined, the assets were mainly in bank accounts and now we have a well-diversified, professionally managed portfolio with all the complexities which that entails."
Hansson is also proud that there have only been two negative years out of 25. The first was the result of Swedish banking problems in 2002 which led to a fall of 4.4%. A few years later, in 2007, the global financial crisis resulted in a loss of 1.9%. The fund has returned an average of 7% annually over 25 years with a Sharpe-ratio of 0.9 and a conservative risk budget, delivering above set targets.
His goal from the start was to have external fund managers rather than an in-house team. Sweden was lagging behind in this respect at the time so Hansson travelled the world to learn from the best. "We wanted to focus on the strategic and risk allocation of the total portfolio and let the best asset managers do what they do best, while they are the best," he says.
In another unusual step for Sweden at the time, SPK started asset-liability management (ALM) studies in 1994 with Lichtenstein consultancy Performa, helping the fund to optimise its portfolio. "I spent quite some time educating the board on all these novelties, changes and how the board would be in control while delegating all the operative parts to management," he says. "I have worked for seven chairmen and learnt a lot from all of them. Or perhaps I should say I have survived six."
Hansson says it is important that there is a clear division of responsibilities between the board and the CEO. Who is responsible for a decision and who is going to hold the decision-maker accountable? But equally important is the delegation of power to the CEO so that person can operate efficiently.
Apart from the emergence of internet and professional asset management, something that has dramatically changed over the past 25 years, according to Hansson, is the way interaction and communication is handled with government entities and regulators. "Back in the day, you could pick up the phone or even drop by for a visit. In the past few years this is no longer possible and there are lawyers present at every turn. And, having joined the EU, the complexities have only increased." Hansson contends that pension fund professionals need to understand the EU and its rules and regulations before local implementation, to have early discussions with local regulators. This is one of the main reasons he initiated the Swedish occupational pensions association, Tjänstepensionsförbundet, joining PensionsEurope, the Europe-wide pensions lobby organisation.
On the investment side, one of the biggest changes over the 25-year period, and perhaps even more so in the past five years, has been the role of environmental, social and governance (ESG) issues, Hansson says. "It is much more professional and efficient now, having moved from trying to follow some kind of moral compass, which is different for each individual, to measurable and quantifiable ways to incorporate these issues into investments."
One great improvement in Sweden, he says, is that the transparency of the pension fund business has increased. "I found that those that were competent were happy to be open about their business. Therefore, you have to be able to clearly state your vision and thought process when it comes to investments but also everything else. In countries where consultants are the main contacts and advisers, pension fund professionals tend to be more reluctant to talk about their decisions, share thoughts and ideas or take on board best practices from others. Tools for such information sharing amongst pension institutions are now rapidly being built."
Communication and transparency became a hot topic during the global financial crisis. "It was an extraordinary time. We had daily calls even while on business trips. Because of the market turmoil, within a few weeks we had created a bespoke risk-management action plan where we could follow our assets and liabilities in real time. This enabled us to analyse and see clearly if and when we needed to take action and at the same time let the board and the management team see the risks, funding level and actions taken. And 90% of the time we did not have to act – or react, as many did. Every part must be examined but not everything needed tweaking. That saved the members of SPK a lot of money," Hansson recalls.
Despite not having an internal asset management team, the staff has grown, as assets have grown, from six in 1993 to 21 today, mainly in internal strategic, risk management and reporting roles. "We are small enough to still sit in one room but large enough to develop constantly. We have the resources to be able to take our time developing new ideas. I am grateful and amazed that we have attracted people who all want to develop and be part of the journey," Hansson says.
"This 25-year period has been exceptional. Not only because of the great trust that was bestowed on me by the board but also because of the regulatory changes the industry has gone through. I doubt it will be repeatable due to the new regulatory landscape."
So what is next? Quiet retirement and golf? Maybe to some extent but as Hansson likes to look ahead he is likely to stay within the industry working on improving relationships between asset managers and asset owners to enhance the outcomes for members. He also keeps a keen eye on how new technology can help ease the reporting burden and help identify key themes. As a communicator, he is also looking at how artificial intelligence can be used to help with membership advice, even tailored advice. "We have come a long way from just buying and selling stocks."