Three major Finnish pension investors in focus
Ilmarinen, Finland's second largest mutual pension fund insurance company, is gradually increasing its exposure to real assets – including property and infrastructure – and reducing the share of fixed income in its portfolio, currently 40.6% of total assets, says the €38.27bn company's CEO Timo Ritakallio.
In particular, Ilmarinen is increasing the international holdings in its property portfolio, which currently make only 20% of all property assets. Overall, the mutual pension insurer invests 11.2% of assets in property, which it plans to increase to 15% in the medium term, Ritakallio explains.
In order to introduce new elements to the portfolio, last year Ilmarinen made investments in central European offices. In 2016, it invested in office complexes in Amsterdam, Frankfurt and Berlin. This year, the company will take further investments.
Ritakallio says: "The US property market seems to have the most return potential at the moment. Rapidly increasing prices of real estate in many markets, as well as the clearly declining level of rental income, however, are slowing down our process of internationalising our property portfolio."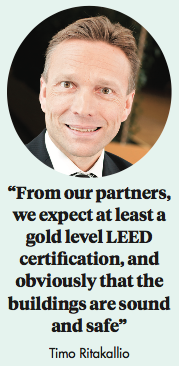 Last year, Ilmarinen made good returns from its US property investments. "Prospects look good for this year too," Ritakallio adds.
One new dimension of Ilmarinen's investing in real estate is its aim to reduce the carbon footprint of its real estate investments by 10% by 2020 and 20% by 2025. In practice, this means environmentally friendly and recyclable materials in construction projects.
Ritakallio continues: "From our partners, we expect at least a gold level LEED [Leadership in Energy and Environmental Design] certification, and obviously that the buildings are sound and safe for their users. We also pay attention, in several different ways, to improving the energy efficiency of the properties we already own." LEED is a green building certification programme.
Seeking foreign property
Veritas Pension Insurance, which manages assets worth €3.05bn, has a 12.6% exposure to property and a similar goal of total exposure of 15% overall, says the company's CIO Niina Bergring. Veritas recently made its first two commitments to international real estate funds.
Bergring says: "We do not plan to have a large allocation to funds in our real estate allocation though. We like the control aspect of direct real estate investments. In all investments we tend to take our time and invest very selectively."
Veritas recently invested in Finnish residential housing projects and in commercial properties in the Helsinki region. One of them is a new hotel at Pasila in Helsinki, where Veritas is one of three investors in a €88m project alongside the €22.4bn Elo Mutual Pension Insurance Company and the €19.2bn State Pension Fund (VER).
Timo Viherkenttä, CEO of VER, notes that the fund is interested in further geographical diversification of its real asset portfolio – which includes property funds and infrastructure. Currently the asset class makes up 3.3% of all holdings.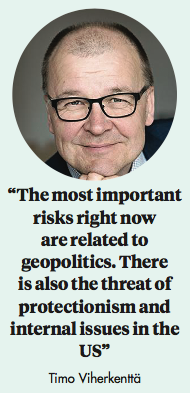 Viherkenttä says: "Our property portfolio is pretty Europe focused, meaning we can be looking at opportunities outside Europe. However, one thing to note is that in property and infra investments, the contents of a portfolio depends by and large on what kind of funds and projects are available in the market."
Within its equity portfolio, VER reduced its exposure to US equities and increased the dose of European equities over the first quarter of 2017.
Viherkenttä continues: "The European economy is currently in better shape than it has been recently. Valuations in the US are particularly high. Overall, the international economy is doing relatively well.
"The most important risks right now are related to geopolitics. There is also the threat of protectionism and internal issues in the US. The situation in the Korean peninsula seems to be becoming quite significant."
Two-thirds of VER's emerging equity portfolio is invested in Asia.
Ritakallio also finds European equities becoming more attractive. "At the moment, European equities seem more attractive than US equities, after a long time," he says.
Bergring of Veritas, on the other hand, is concerned about the shortsightedness and incoherence of the proposed policies of the new US administration: "I also think the cycle in the US is mature and as the Fed tightens, accidents may happen," she says.
"I am also a long term China bear because the amount of debt in the economy just looks too big and unsustainable. The EU and the euro have structural long term issues that need to be delicately and carefully managed and hence the year of elections warrants close watching and deep analysis," Bergring adds.
Ritakallio also mentions the importance of the French and British parliamentary elections. "Elections in several European countries this year will dictate the future course of politics and can therefore have a notable impact on our future investment decisions," he says.
Making an impact
Sustainability and impact investing plays a role in the management of Ilmarinen's equity portfolio. In domestic equities, the goal is to double the share of turnover that generates sustainable solutions in its listed equity investments from 6% to 12% by 2020, Ritakallio notes.
He says: "In practice this means that when we make investment decisions, we pick equities with the help of a responsibility classification. We have classified some 3,000 companies on their social responsibility."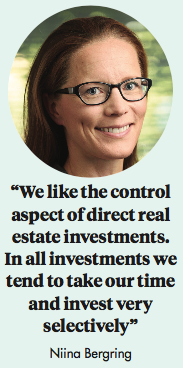 At VER, one new element in the portfolio is risk premium investments. Viherkenttä says 1% is invested in both fund risk premiums as well as those developed in-house.
Viherkenttä says: "We have started growing this part of our portfolio with quite a rapid pace, but overall allocation is still very small. One of the benefits of risk premium investments is that they balance our other investments as their return is rather uncorrelated to the return of our portfolio as a whole." The transparency and lower costs of risk premium investments compared to hedge funds also make the vehicle an attractive investment choice, he adds.
In the short term, VER plans to allocate approximately 2-2.5% of all assets to risk premia (alternative beta) investments. Regulations limit the fund to investing a small proportion of its assets to anything other than equities and fixed income. "The Ministry of Finance has ruled that VER can have at maximum 12% of its assets invested in vehicles other than equities and fixed income," says Viherkenttä. "Thus, we need to include all possible other investments in this 12% – from property to infrastructure, hedge funds and risk premia investments. The regulation does not leave much space for growth in these investment tools."
VER's hedge funds' exposure stands currently at 3.5% of all assets. Compared to other Finnish pension investors, which invest on average 9.6% of their assets in hedge funds, VER's exposure is minor. Returns from the asset class in the first quarter were 1.6%. "As a rule, we have primarily picked hedge funds that do not involve much equity market risk," says Viherkenttä.
Because of local investment regulations, fixed income will still continue to form a notable part of VER's portfolio, amounting to 46.1% in the first quarter of this year. Most of the fixed income investments are in Europe but a quarter of the portfolio is invested in emerging markets and the fund has reduced its exposure to developed market government bonds.
Viherkenttä says: "Emerging market debt made a healthy return of 4% over the first quarter of 2017. Local currency investments have produced sound returns, but hard currency debt and corporate bonds are also performing well".
Sweden: AP funds power on
1

2

3

4

5

Currently reading

Finland asset allocation: Views from Helsinki

6

7

8