Finland has woken up to the difficulties created by the flexible world of employment and the inability of pension regulation to ensure suitable provision for the self-employed
Key points
• A large proportion of the self-employed in Finland do not have work pension insurance
• Only freelancers who structure their businesses as companies pay into pension schemes
• The European Commission is paying attention to the number of self-employed whose pension arrangements guarantee them a pension
An informal working group of experts at the Finnish Ministry of Social Affairs and Health (STM) is considering if the pension scheme for the self-employed, YEL, needs updating. The unofficial working group is headed by Mika Mänttäri, an insurance specialist at the ministry. One of the questions needed to be addressed is that only 200,000 of the estimated 350,000 self-employed Finns have YEL work pension insurance.
The working group, which is expected to report by the end of 2018, is, for example, considering the minimum income limit for compulsory YEL insurance, time limits and insurance techniques, Mikko Kautto, director at the Finnish Centre for Pensions tells IPE.
A self-employed person in Finland must take out YEL pension insurance from a mutual pension insurance companies if they are aged 18-67, work in their own company, earn at least €7,656 annually and the business continues for four months or more. The cost of YEL insurance is 24% of gross income, paid in advance based on an estimate of earnings. The insurance must be taken out within six months of starting self-employment.
There are several reasons why so many self-employed do not currently contribute enough to their pensions. One is that only those who structure their businesses as companies pay into pensions.
"Many freelancers have not established a company of their own because they do not want to start contributing 24% of their salaries towards their pensions," says Kautto. "They consider the rate too high, but do not think of how valuable an investment it is for their future," he says.
Paying the contributions may become a burden for those who fail to earn as much as they initially estimated.
"The 24% must be paid in advance before actually earning the money. In case a freelancer fails to earn as much as he initially calculated he would, he can only apply to lower his payment level, but he will not get a refund of the possible overpayment," says Kautto.
Some business owners also criticise the fact that as an entrepreneur they pay 24% for their own pensions, but when they employ someone else they pay only 17% for their pensions and the remaining 7% is cut from the employee's salary.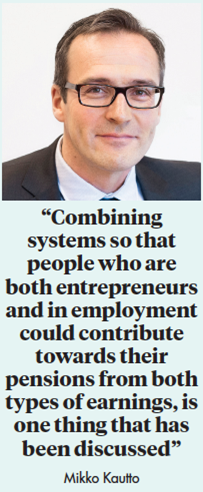 "However, the good in the Finnish system is that it forces the self-employed to insure themselves – after the certain income level – and the duties and the rights of those insured are the same as of those who contribute for work pensions. In many other countries, pension systems for the self-employed are not this equal and well-thought through," he says.
Another issue is that Finnish legislation has not kept pace with the evolution of working life.
"In Finland, from a legislative and pensions point of view, one is either an entrepreneur or a wage earner. Not much thought has been given to the fact that one can be both albeit that's the reality these days," Kautto says.
As a result, if one earns a small wage and, for example, €5,000 a year as an entrepreneur, one is perceived solely as a wage earner who can contribute little from his salary towards his pensions and potential unemployment benefit.
"Combining systems so that people who are both entrepreneurs and in employment could contribute towards their pensions from both types of earnings, is one thing that has been discussed in Finland," says Kautto.
The European Commission is paying attention to the limited number of self-employed whose pension arrangements guarantee them a pension. In March, the Commission recommended that the access to social protection for workers in "atypical employment situations and the self-employed" in EU countries be improved.
According to the Commission, almost 40% of people currently employed are in atypical employment. By that they mean not working under a full-time, open-ended contract – or self-employed – who are not always well covered in terms of social security.
"The lack of proper pension arrangements for many self-employed here is a real and a growing problem – not only in Finland but in so many countries in the EU. There are no easy solutions as access to social insurance also involves a duty to pay premiums. Many small entrepreneurs consider the contribution rate simply too high," Kautto says.
Iceland: Preparing for a second wave
1

2

3

Currently reading

Finnish Self-Employed: Freelance provision requires reform

4

5