Fourteen of the 21 investors polled for this month's Focus Group are confident that Europe's economic recovery is sustainable in the medium term. "No inflation and labour problems are too serious to be solved in the next 18 months," said an Italian fund.
A Dutch fund added: "In a number of euro-countries, reforms are necessary. Some of those countries are reluctant – Greece and France, for example – but they have to reform in their own interest. I think they will reform in the medium term and that will be conducive to Europe's economic recovery."
Six respondents are either not confident or are concerned about Europe's economic recovery. The CIO of a Dutch fund commented: "The euro-zone has not progressed sufficiently with the deleveraging process. Debt overhang is still too high." Another Dutch fund said: "Sovereign debt levels in several countries remain at very high levels. QE [quantitative easing] reduces incentives for structural reform and creates new bubbles in financial markets."
Most respondents expect European growth over the next 18 months to be driven by factors such as increased business investment, monetary stimulus, increased public expenditure on infrastructure, and increased global competitiveness of European companies. They consider labour productivity growth and sustained demand from US and emerging markets to be unlikely to drive European growth.
Respondents feel Europe faces several risks to economic recovery and financial stability, including Greek withdrawal from the euro-zone, the conflict between Russia and the Ukraine, and, according to a Dutch fund, "a new credit boom fuelled by artificially low interest rates".
A UK fund identifies several risks: "A lack of employment, lack of investment, lack of funds or lack of access to funding, social and political unrest within the European region, and countries threatening to leave the EU."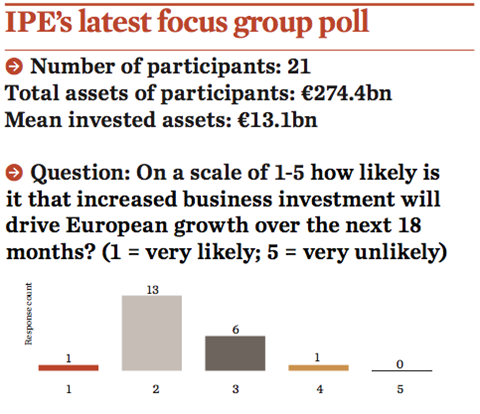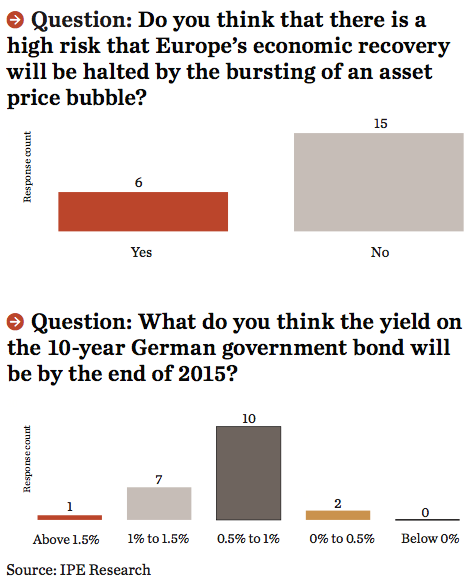 Eighteen of the funds polled expect Greece to still be part of the euro-zone at the end of 2015. "Greece wishes to remain in the euro-zone and is working hard towards staying in," said a UK fund. "It wishes to see the euro-zone prosper, but also needs to balance its economy."
However, the CIO of a Spanish fund disagreed: "I don't see any compromise by Greece authorities to apply reforms."
Six respondents said there is a high risk that the bursting of an asset price bubble will halt Europe's recovery. A Spanish fund said: "Bond assets are already in a bubble. If the bubble bursts this will imply interest rates going up in spite of QE. Beyond 2015, real estate assets, certainly super-prime and prime, are likely to shoot up in value. If this extends to real estate in general, then there is little hope of consumer demand going up, as housing price increases will eat up all added disposable income."
Three-quarters of funds expect the ECB's QE programme to achieve its target of price stability (below, but close to, 2%). Of the five funds that disagree, a Dutch fund stated: "Inflation will eventually pick up, but this would have happened regardless. As long as demand for finance is limited, QE has little impact on financing conditions in the euro-area."
Nine respondents expect the total return on euro-zone equities for 2015 to be above 10%, while six forecast 5-10% and four between 0% and 5%. Two expect returns in a range from zero to a fall of 5%.
Half of respondents expect the yield on the 10-year German government bond to be 0.5-1% by the end of 2015. Two forecast it to be 0-0.5%, seven 1-1.5%, and just one above 1.5%.
Nine funds plan to reduce their allocation to public debt in the second half of 2015. Seven intend to do the same with investment grade corporate debt. Five plan to increase allocations to real estate debt, and four to equities and investment grade corporate debt, respectively. Some 12 funds currently have no allocation to infrastructure debt and nine no allocation to real estate debt.