Former European commissioner Jonathan Hill has joined global investment bank UBS as a senior client adviser.
A former lobbyist and public relations executive, Hill served as commissioner for financial stability, financial services and the capital markets union between 2014 and 2016.
UBS said the former Conservative Cabinet member was "one of the very few people who can interpret politics in both the EU and the UK at a moment when businesses around the world are keen to know what recent developments might mean for them".
Hill was at the Commission when IORP II, the revised EU pension fund legislation, was being negotiated, and was reportedly well-liked in Brussels.
At an industry conference shortly before his resignation as commissioner, Hill uttered what were then welcome words for pension fund delegates, reassuring them that the Commission had no plans to harmonise solvency rules for occupational pensions and that, once IORP II was finalised, "that will be it. We don't have any more changes up our sleeve."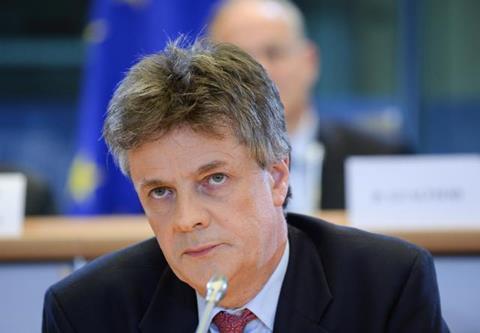 He resigned in 2016 in the wake of the UK's decision to leave the European Union, saying at the time he was "very disappointed" with the result of the referendum.
Hill also served as leader of the House of Lords, the UK parliament's upper chamber, under then-prime minister David Cameron.
However, critics were quick to note comparisons with the furore that greeted former EC president José Manuel Barroso's appointment to US investment bank Goldman Sachs in 2016.
Puertas giratorias. Barroso de la Comisión Europea a Goldman. Lord Hill de la Comisión a UBS. https://t.co/2SJGoeA8rG

— Claudi Pérez (@claudiperez) May 29, 2018
#Reconversion : @UBS recrute Jonathan Hill, ancien commissaire européen en charge des services financiers, pour conseiller ses clients sur le Brexit. Après le transfert de José Manuel Barroso chez @GoldmanSachs, une nouvelle polémique en vue… pic.twitter.com/c7T8WjWSsM

— Amélie Laurin (@AmelieLaurin) May 29, 2018
UBS declined to comment further, but in relation to his appointment the bank said Hill's experience in both Brussels and the UK meant he was able to speak "with authority on the challenges and opportunities for business arising from recent political and economic developments in Europe".
"That in turn means we will be able to offer richer advice in relation to Brexit and the wider political and economic environment to our… clients," UBS added.