---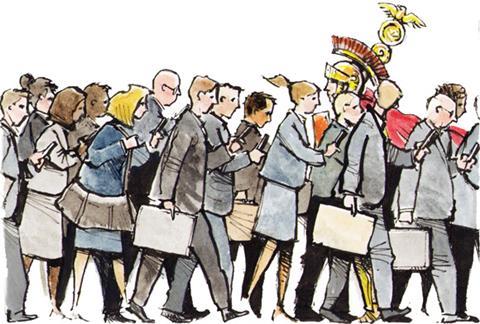 Around the beginning of the 2000s enthusiasm for pension funding was at a high. As Germany took measures to unwind the cosy 'Rhineland capitalism' cross-share-holdings that had characterised its corporate sector since the end of the Second World War, book reserve pension liabilities seemed like yesterday's solution.
Book reserves historically gave German industry access to capital by allowing firms to hold pension promises on balance sheet until they fell due. In any case, these were fairly modest liabilities, a top-up for staff when they retired. Having a company pension marked a person out as someone who had enjoyed a solid career. These were not for everyone. In effect, the pensions were invested in the plant and machinery of the employer but backed by the Pensions-Sicherungs-Verein insolvency scheme.
By the 1990s, financial market orthodoxy began to scoff at this set-up. International analysts did not understand the book reserve system and were prone to consider the obligations as debt. This led to pressure to fund them along more traditional Anglo-Saxon lines. Equity markets were riding high, which also encouraged politicians like George W Bush to propose partial privatisation of social security, something which never came to fruition and which seems unthinkable today. The World Bank pensions model was taking root in central and eastern Europe.
Even after the equity market crash of 2001-03, the wave of pension funding continued in Germany through the chosen method of contractual trust arrangements held on balance sheet, particularly for listed corporates. Today, the pension obligations of DAX-listed German companies amount to some €396bn, up 9.2% over the previous year, according to Willis Towers Watson 's latest annual study. Assets grew 5.7% to €249bn, implying a funding rate of 63%, a figure that has remained fairly constant in recent years.
German balance sheet pension promises are, in effect, unregulated, although in practice corporate finance teams carry out strict risk management and closely observe the asset allocation and strategies of their peers. The average discount rate is 1.8%, having declined by 70bps over 2016, which seems prudent, particularly when compared with the rates applied by US public schemes. Willis Towers Watson also finds that three-quarters of German Mittelstand (small and medium-sized) firms are considering restructuring their book reserve pension obligations because of lower rates.
Most pension fund members probably do not notice or care terribly much whether their pension is financed directly from their ex-employer's balance sheet, from a funded pension fund or from an insurer that the scheme has used to back the promise – as long as their pension will be paid in full. Underfunded defined benefit (DB) pensions are now a fact of life across the world: in the UK there has been a strong shift since the Pensions Act 2004 towards the assessment of sponsor covenants; in the Netherlands there have been measures to counteract the effects of low interest rates.
But overall, the cost of security for DB pensions means the trend is clearly towards greater individual ownership of pension assets, accessible through online unitised accounts, as has been mooted for the Netherlands as it considers a wholesale reform of its pension system. As European countries like the UK stand on the threshold of a new era of defined contribution (DC) or collective DC, both fully funded and book-reserve DB schemes increasingly seem like a relic from the past.