Companies need to find the right balance between making pension deficit contributions and paying dividends to shareholders
As a broad principle, the long-term interests of both shareholders and pension schemes should be aligned. They both need the employer to prosper and the benefits to be secure.
This leaves a key question on the use of corporate resources over the short to medium term. Should companies pay more in pension deficit contributions and reduce ongoing dividends?
In 2017, the Pension Regulator, the UK regulator of work-based pension schemes, explicitly stated it will consider investigating where shareholder dividends exceed deficit contributions, unless the deficit is expected to be removed quickly and the scheme has a low-risk investment strategy. The Pension Regulator's 2018 and 2019 funding statements have strengthened their tone.
In 2018, FTSE 100 companies paid about seven times more to shareholders in dividends than they paid into their defined benefit (DB) pension schemes. This is an increase of a multiple of about six on 2017. While pension contributions remained steady at about £13bn (€14bn) – which could be interpreted as a sign that sponsors are firmly behind their pensions promise – there was a £10bn increase in dividend payments from £80bn in 2017 to £90bn in 2018.
It is necessary to be careful not to over-interpret such a broad metric as contributions versus dividends. The appropriate balance between dividends and pension contributions depends on a range of factors, including the size of the deficit, the investment strategy, and the amount of security provided to the scheme through the 'covenant' of the sponsor plus any additional security (which will typically not be included within the headline deficit figure in accounts). This is a nuanced question and there is no single one size fits all answer.
The regulator recognises this and has developed its guidance according to the following three principles:
● Dividends and other shareholder distributions can exceed deficit contributions, if there is a strong funding target and a relatively short recovery plan (this is broadly defined to be less than seven years).
● Deficit contributions should be greater than shareholder distributions if the covenant is classified as "weak" or "tending to weak", unless the recovery plan is short and the funding target is strong.
● Shareholder distributions should have ceased if the employer covenant is classified as "weak" and unable to support the scheme.
While further government intervention will be needed in order for the regulator to be able to enforce these principles they will already begin to affect behaviour.
The potential tension between the payment of dividends to company shareholders and contributions to pension schemes to meet the funding deficit has led to debate over what is right and what is appropriate. Companies, credit rating agencies, equity analysts, trustees, shareholders, politicians and the media all have their own perspective. For companies, it is therefore necessary and important to strike a balance.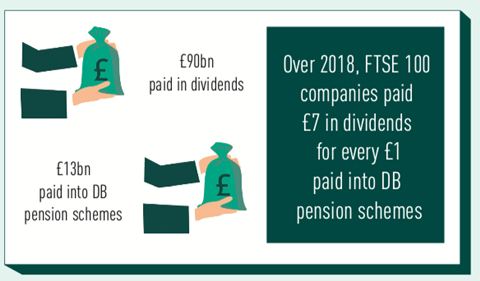 In our autumn 2018 corporate pensions report, we surveyed the opinions of senior corporate decision makers on this issue.
As can be seen, opinions on this question are mixed (see figure 1).
Some clients explicitly consider the impact of the payment of any dividend on their covenant and the support available to their pension scheme. This is discussed and agreed at executive management meetings as part of the dividend process. It provides a robust process to ensure the interests of the pension scheme members, the shareholders and the wider business are all taken into account in a balanced way, and manages the regulatory and reputational risks for all concerned.
More widely, the direction of travel at the Pensions Regulator (TPR) may be interpreted as requiring increased prudence and additional contributions to pension schemes so that they have reduced long-term reliance on companies. TPR has said that companies with strong covenants should continue to pay contributions where warranted and that it will focus on any dividends paid where the pension contributions are not deemed appropriate.
On the other hand, the assets in a pension scheme may already be enough to pay all the benefits that are due.
As part of our 2019 Accounting for Pensions report released earlier this year, we found that about half of FTSE 100 companies with DB pension schemes were in surplus based on the assumptions used within their accounts. These same companies paid about £7bn of contributions into their pension schemes.
In some (perhaps many) of the cases with an accounting surplus, the pension scheme is arguably well funded on a low-risk basis. That is because modern investment strategies are expected to deliver significantly more than the accounting assumed return (broadly 1% a year above Gilts) with a high degree of confidence and a low degree of downside exposure (subject to support from the sponsor covenant and any contingent assets).
In such cases, shareholders' rating and equity analysts might not look favourably on large pension contributions once the scheme is fully funded on the corporate balance sheet, as that could be viewed as an inefficient use of capital.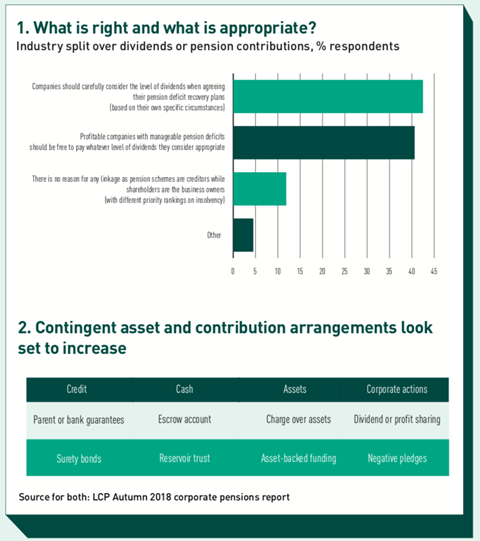 However, the direction of regulatory travel is to shorten recovery plans, 'mend the roof while the sun's shining', and perhaps increase prudence (subject to the upcoming new funding code). While the last point is not a stated regulatory objective, it is possible that market practice may move in that direction. Potential changes to accounting rules could further highlight this pressure by requiring companies to book the liability for any extra contributions above those implied by the accounting assumptions immediately on their balance sheets.
Some companies may therefore find themselves being pulled in opposite directions by these forces. A balance needs to be struck over what is appropriate given the competing demands for cash within a business. This will lead to tension as companies seek to use their limited resources in an efficient way and could push the treatment of pensions up to board level.
This competition for cash looks set to lead to a marked increase in the use of contingent asset and contingent contribution mechanisms, including guarantees, negative pledges, escrow accounts and asset-backed arrangements (see figure 2). These contingencies can ensure that pension schemes have access to assets at times when they are needed (such as when a sponsoring employer fails or defaults on contributions). Equally, they do not commit companies to paying and locking up contributions that, over the course of time, may not have been necessary if experience over the long term is better than expected at the time of the valuation.
Over the next few years, contingent assets look set to play an increasing role. Many companies are poised to develop a long-term strategy and journey plan to secure their pension scheme in a stable and capital efficient way. That would be fair to pension scheme members and shareholders alike.
Phil Cuddeford is a partner and head of corporate consulting at LCP and Jonathan Griffith is a partner at LCP
UK: ESG moves up the trustee agenda
1

2

Currently reading

Funding: Striking the right balance

3

4

5