General pension funds nearly doubled their AUM last year, to €10bn. However, one of the six commercial players has already closed and another will probably leave the market
Key points
Most Dutch company pension funds in liquidation favour the APF vehicle
APFs have yet to be established by multiple company pension funds
The APFs are upbeat about their prospects for 2019
Increased competition from industry-wide pension funds expected
According to supervisor DNB, most Dutch company pension funds that liquidated in the past years, found shelter with a general pension fund (APF). This relatively new vehicle can accommodate various schemes under a single and independent board. Since 2016, six commercial players have launched an APF, although only five remain.
The fact that an APF can carry out multiple pension plans is an important reason for its prominent role in the consolidation of the Dutch pensions sector recently. "Employers consider it as an advantage that they are able to continue their own pension plan in an APF," says Sander Baars, partner at Montae. "If a company scheme merges with an industry-wide pension fund, it often has to adjust its plan. Employers find this complicated, because they have to consult their employees."
According to Baars, a difference in coverage ratio between a company scheme and an industry-wide pension fund is another obstacle to merging. "If the company scheme has a lower coverage ratio, it has to cut the pensions of its participants first, before it can blend into the sector scheme. This is unacceptable for many pension funds."
The option to transfer the pension plan to an insured scheme is also unattractive in the current low interest environment.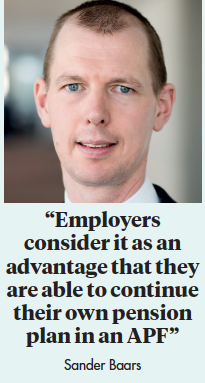 Tobias Bastian, partner at Sprenkels en Verschuren, says for many companies, an APF offers the best of two worlds. It allows the company to get rid of the growing governance burden that pension funds experience. At the same time, it can still have its own pension plan and have a say in it. "That is why most employers who opted for an APF, have chosen a so-called single client compartment, instead of a multi-client compartment accommodating many pension funds and employers."
Insurers dominate
The APF market is dominated by insurance companies. Although the vehicles operate as independent foundations, they are mostly established and financed by insurance companies and their affiliated asset managers. This is interesting because, initially, the APF vehicle was meant to be established by multiple company pension funds themselves. Unilever is the only company that had started its own APF, housing its two pension funds, Forward and Progress.
It turns out that several company pension funds did consult each other on whether to create a joint APF. Yet talks between pension funds within the financial sector and the engineering industry ultimately failed because the parties considered the set-up cost too high.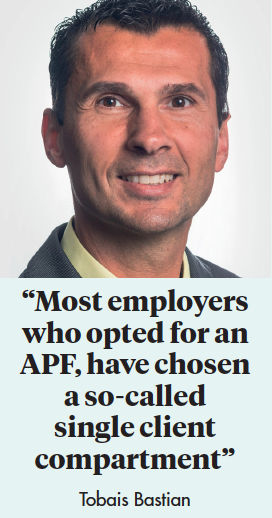 In addition, requests for quotes from APFs set up by insurers have shown that they offer competitive fees relative to their services. The company pension funds concluded that starting an APF was only attractive to commercial players.
Bastian pointed out that talks between company pension funds also ceased for non-financial reasons. "Board members preferred to stick to their own service providers, such as the fiduciary manager, asset manager, actuary and accountant. If this becomes clear at an early stage, the willingness to co-operate disappears. Another problem was that the investment beliefs of the involved pension funds did not match well."
Baars finds that sometimes employers have little appetite for placing their pension scheme in an APF with competing companies. "The management and supervisory boards are wondering why they have to work with a competitor to implement an employment condition. What are the benefits, what are the risks? They fear that running the APF could become complicated, and therefore prefer joining an existing APF or an industry-wide pension fund."

Combined assets under management of the five remaining commercial APFs doubled from €4.9bn to €9.8bn, last year. The number of participants rose from 44,000 to 94,000 in total. Together they have attracted 17 company pension funds.
However, in contrast to the start of 2018, the APFs have not announced any new clients in 2019. Nevertheless, the APFs are upbeat about their prospects. Arnout Korteweg, executive trustee at De Nationale APF – set up by NN Group – says that his scheme received about 30 requests for information last year. The interested schemes included pension funds with assets exceeding €2bn.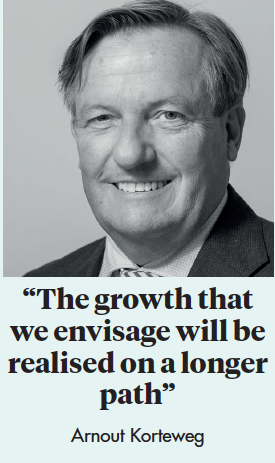 However, Korteweg says that several pension funds are reluctant to commit themselves because of uncertainty about the Dutch pensions system. In addition, the process of consulting stakeholders was also delaying the decision process.
The APFs made clear that their AUM will have to increase before they can show break-even results. According to Gerard Frankema, director of the €5.8bn Stap – established by insurer Aegon – his APF was not operating under cost-covering conditions, because the setup of the organisation was based on growth of the number of collective compartments for pension funds. De Nationale's Korteweg says that at least €5bn of additional assets would be needed to reach a certain break-even point. "Hence, the growth that we envisage will be realised on a longer path."
Market departures
Currently, two APFs are expected to exit the market in the future. The Delta Lloyd APF is already in liquidation after the takeover of its founder Delta Lloyd by NN Group.
The liquidation of PGGM's Volo seems to be a matter of time, following the pension provider's announcement last year that it wanted to discontinue its APF.
Bastian is in doubt whether the four remaining APFs (Stap, De Nationale APF, Het Nederlandse Pensioenfonds and Centraal Beheer APF) will grow to the initial targets. "When the APF vehicle was introduced in 2016, it was predicted that the market could grow to €40bn to €50bn in 2021. With the current AUM of €10bn, this is no longer a realistic goal."
Baars says APFs have turned out to be an interesting solution only for pension funds with AUM of €1bn to €5bn, with perhaps an upper limit of €10bn. He notes that the number of single compartments that an APF can absorb is limited, because of governance issues.
Baars also predicts increased competition for APFs from several industry-wide pension funds following a growth strategy. Given the nature of mandatory sector schemes, he expects that it would be unlikely that they will be allowed to enter the APF market.
However, Bastian says combined AUM of APFs could grow to €20-25bn in 2025. "This scale allows the four remaining APFs to cover their operational costs and make some profit. Another option could be to look for companies elsewhere in the EU as new customers. APFs do have a European passport under the IORP II regulation. So far, none of the existing APFs has shown much interest in such a strategy. Belgium though, proves that there is a market for cross-border pension plans."
Fiduciary responsibility: A question of legality
1

2

3

Currently reading

General pension funds: A market stirred but not shaken

4

5

6