The planned sale of Generali Germany's life insurance business, including pension contracts, to run-off platform Viridium could be given the green light over the coming months, according to executives at the companies.
Speaking at this year's Handelsblatt occupational pension conference in Berlin, Heinz-Peter Roß, CEO at Viridium Holding, and Michael Stille, head of pensions for the Generali Group in Germany, said they were "confident" regulatory approval would be given before the summer.
Generali announced the external run-off of Generali Leben, its life insurance business, last summer. It is worth around €41.5bn and includes over 550,000 individual pension contracts set up by employers as part of employee-only financed occupational pension plans.
The selected buyer is the life insurance run-off platform Viridium, for whom the deal with Generali Leben would be its biggest since 2014.
In an unprecedented move, BaFin, the German financial supervisor, had issued a press release – in German as well as English – last summer after the sales announcement to reassure the public.
"BaFin can prohibit the planned acquisition if the interests of the insured are not sufficiently safeguarded," it had said.
Viridium's Roß said BaFin had carried out "in-depth screenings" of his company to ensure "financial solidity and the operational capabilities". Talks were still ongoing.
The deal with Generali Leben would mark the first time Viridium takes on occupational pension insurance contracts and for those it would buy-back Generali's expertise, he said.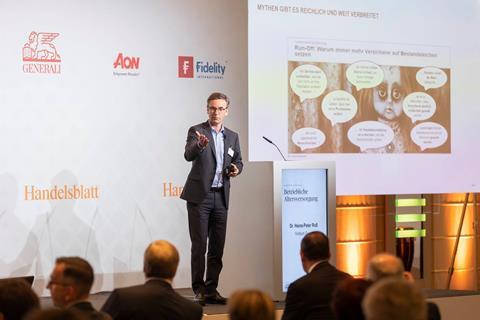 "Generali has a very complex occupational pension offering and this is a field in which we lack the necessary resources – and an area where we do not aim to build in-house know-how," Roß acknowledged.
Viridium would therefore take on the assets in the pension insurance accounts – for which no asset value has been disclosed – but would then "commission Generali's occupational pension team to administer the accounts".
The announcement last year of Generali's plan to sell the life insurance business branch in Germany came at a time when external run-offs had suddenly appeared on many insurers' agendas.
Two occupational pension plans, AXA's probAV and the pension plan for the Cofra Group, were also sold to run-off platforms last year.
In his presentation to delegates, Roß addressed fears about the outsourcing of parts of an insurance business.
"Occupational pension provision is not something to toy with"

Heinz-Peter Roß, CEO, Viridium Holding
He told them that the private equity group that co-owns Viridium was "itself rooted in the pension provision for miners in the UK".
"Occupational pension provision is not something to toy with," he added.
Private equity firm Cinven was an investment arm of the former British Coal pension schemes before becoming independent in 1995.
Roß stressed that it was not new for insurers to close parts of their business, but that what was new for Germany was the outsourcing the assets and liabilities of these closed branches.
He reminded the audience that Viridium was "a regulated insurer just like any other" with the only difference being that its only business was in run-offs.
A poll at the Handelsblatt conference showed that over half of the delegates think the run-offs make it harder for companies to convince worker representatives of the long-term security of occupational pension arrangements.
Next steps
Roß explained that Viridium would have to find a new label for the Generali products it would be taking on as the insurance group "has not given permission to keep on using the name".
He also noted that Viridum had committed to using Generali Investments Europe for the management of the Generali Leben assets for five years.
Earlier this year, Generali started pushing its new provider of occupational insurance solutions, Dialog Lebensversicherung.
The long-term subsidiary of the Generali group is now taking on new occupational pension business for the group using the insurance group's occupational pension team and know-how for client and account administration.
Also speaking at the conference in Berlin, Stille, who is also CEO at Dialog Lebensversicherung, said that selling off Generali Leben was "part of the strategy".
Several life insurance companies in Germany have been struggling to continue business with their old fully guaranteed products.
Some decided to keep this part of the business open but Generali closed the sales department for classic life insurance contracts, which also sold occupational pension insurance contracts.
Stille is also CEO of Generali's Pensionsfonds AG, a vehicle to which companies can outsource their pension plans. It is not part of the deal with Viridium as it is a separate entity within the Generali Group.